words by PV Influencer, Megan Jones
"Dirty British coaster with a salt-caked smoke stack,
Butting through the Channel in the mad March days, With a cargo of Tyne coal…"
 – Cargoes by John Masefield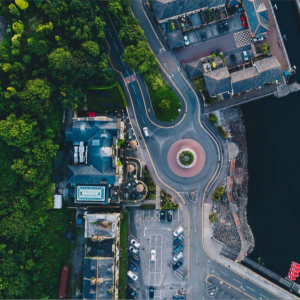 As construction work for the Custom House began on the site of the former Penarth Head Inn, a Victorian commentator remarked: 'the navvies are digging the footings; I suspect that they would prefer a glass of ale in hand rather than a pick or shovel!' Fast forward 150 years and today's thirsty workers are more likely to have a laptop or mobile in hand, but the inclination to down tools and prop yourself up on The Custom House's 45-foot long bar on your commute across the barrage is probably just as strong. Plus ça change, plus c'est la même chose.
Penarth's Custom House now enjoys a good reputation for having a considered wine list drawn up from its well-stocked cellar. Part of the building's ongoing gentrification from a time when its cellars were somewhat more infamous…
In the late 1850s, as a result of increased demand for coal from South Wales overcrowding Cardiff docks, attention shifted to the shipping potential offered by neighbouring Penarth harbour. The river Ely harbour opened in 1859 for the shipment of coal and a few years later Penarth dock opened for business. This is where the grade II-listed, Wrenaissance-style dock building makes its grand entrance: the Custom House was erected in 1865 to cater for Penarth's flourishing shipping trade. It functioned as a government building where papers for goods entering or leaving the country were checked and taxes paid in a crackdown on illegally-traded goods.
The Custom House has long since traded salt-caked boats lugging coal for salt-baked fish dishes by its further conversion into the 30-year-established restaurants, El Puerto and La Marina.
In light of the building's former function, processing coal shipping of close to 2.5 million tons at peak, you can appreciate – as you dine on fine local Cardigan lobster – the restaurant's guiding principle to minimise its carbon footprint with locally-sourced seasonal ingredients cooked on site using traditional skills. The Custom House's European flare with its rusticated design also allows you to just as easily transport yourself to sunny Spain for the cost of an Estrella Galicia, as you bask in the busy view of iconic Cardiff Bay.
It's easy to observe how Penarth remains loyal to its rich shipping history, as you sit sipping your Welsh-brewed Felinfoel ale in a sunny spot on the terrace. Drink in the panorama of Cardiff Bay, the water taxis, yachts and speedboats that now bob across its sparkling surface, and reflect that today's leisure cruisers sail in the wake of murkier waters and more industrious times.
Trading places
A bracing walk across the barrage or leisurely boat cruise over the bay lands you in Mermaid Quay where a plaque on the floor by Cadwaladers ice-cream parlour casts in steel the poem 'Cargoes' by John Masefield. The poem charts the course of three different ships and their changing cargo through time in a concise history of trade. Try finding the 22 steel sculptures inspired by the poem dotted around the surrounding buildings in the time it takes you to eat your ice cream.
(Fun fact: John Masefield was the last poet to be interred at Westminster Abbey before they ran out of space!)