Historic Women of Penarth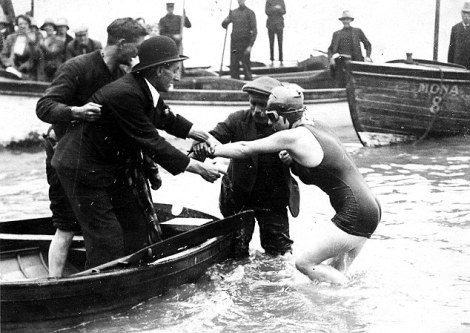 With Penarth history month in full swing, two of our contributors, Georgina Bartlett and Meg Holland, have discovered some of Penarth's most influential women, sharing how they helped shape politics, journalism, sport as well as supporting troops during World War I.
Words by Georgina Bartlett
EDITH PARNELL (1913 – 1938)
At just 16 years old, Edith followed Kathleen Thomas' example and swam the Bristol Channel from Penarth. It is a triumph she is remembered for, but her long-term career is also more than noteworthy: as the first woman reporter ever to enter Reuters News Agency, she proved herself to be a multi-talented trailblazer from swim feat to Fleet Street.
Edith completed her swim – approximately 20 miles long – in just over 10 hours. An extensive 1929 Penarth Times article draws the scene: a "plucky young swimmer" pausing only occasionally for bovril and sips of tea, accompanied by a boat of passengers playing songs and pranks, including the President of the town's Swimming Club on his ukulele. Edith was met with "rousing cheers" upon her return to Penarth and carried on shoulders down the pier's gangway. That day was a great source of local pride, with Mrs J.P. Pertwee, Chairman of the District Council, praising Edith's accomplishment as "greater than she expected of any woman".
A thriving career in journalism would take Edith to London two years later, where even the House of Commons would herald her as one of their "most well informed young writers". Following her remarkable position as woman editor of a national Sunday newspaper, she was then appointed the editorial manager of Sir Charles Higham's advertising agency – one of the greatest in the world. Edith's work took her across the globe, from Paris to Boston, over a short life of only 25 years. In her own words, "she certainly did not intend to give up her career on her marriage".
HESTER ('HETTIE') MILLICENT MACKENZIE (1863 – 1942)
Given her myriad accomplishments, it is little wonder that Hester became the first Welsh woman to stand for Parliament in 1918. The Labour politician ran her campaign from Glebe Street, where she also worked closely with the Cardiff and District Women's Suffrage Society. Having acted as one of the "law-abiding and non-party" society's founding members from 1908, she chaired its first Penarth meetings in the Paget Rooms to an audience of reportedly 500 members of the general public.
Hester had plenty of experience to mark her as a capable candidate in the 1918 election. Not only was she the first woman to be appointed to the Cardiff Senate in the years preceding her bid, but she also became Wales's first female professor at what is today known as Cardiff University. Her work – teaching Education and publishing several works on her subject of expertise – pushed boundaries, and it came little under a decade before the suffrage movement's first significant step towards equal voting rights. Across campaigns and though her role in training female students, she marked her place as a leader in the wings of creating opportunities for women.
KATHLEEN THOMAS  (1908 – 1987)
When Kathleen Thomas swam across the Bristol Channel, from Penarth to Weston Super-Mare on September 5th 1927, she secured her name in history books (as well as the Guinness Book of World Records) as the first person to ever do so. Whilst the patriarchy remained central to everyday society, Kathleen defied her male peers by beating them in her success. A Penarth local, her record was commemorated with a plaque on the Penarth Pier for its 80th anniversary. Kathleen Thomas should not only be celebrated for her sporting success, but also for its prevalence at a time when women were often forced to set records in the shadow of their male equivalents. 
EMILY PICKFORD (1881 – 1919)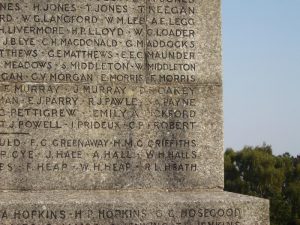 A stroll through Alexandra Park will likely see you stumble upon Penarth's War Memorial. One name, Emily Pickford, holds with it a truly unique story about a woman who died a 'tragic death, brought about by the conflict of war by a strange quirk of fate.' The 'well-known elocutionist and singer' performed to troops on the Western Front during World War I and on February 7th 1919, after performing in France, her car slid on an icy bank into the River Somme. Although Pickford did not perish as may be expected during the turmoil of the war, her unique story is bound up in it. 
"No effort to brighten the lives of our soldier boys far away from home and loved ones was deemed too great, and it was with this in view that she consented to go to France."