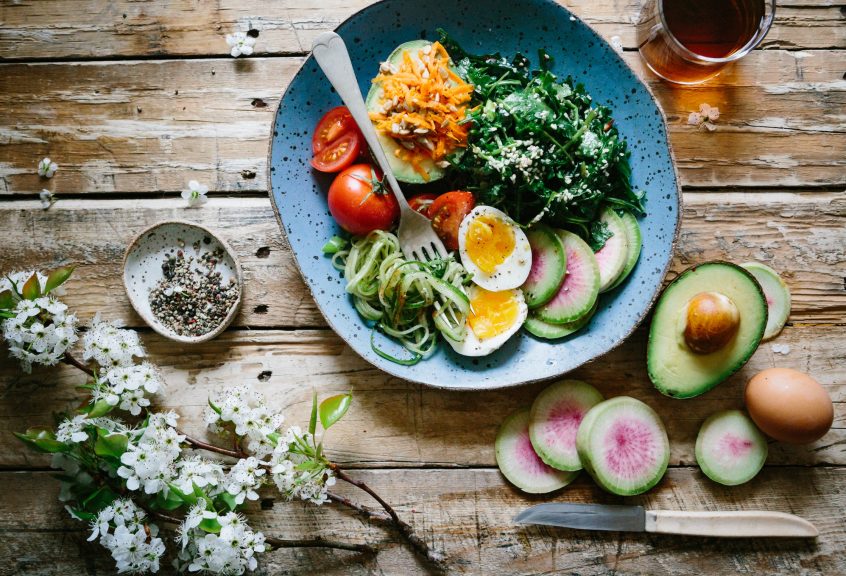 Words by PV influencer Angharad Evans 
We are inundated with a barrage of healthy diets, but what exactly do they entail? And are they right for you? Here's a whistle-stop tour of the main diets you can implement into your eating regime and the benefits and food types you can use.
VEGAN
In a nut-shell, this approach features no animal-based products, so no meat, dairy or even honey. Despite the absence of these traditional foods, a vegan diet can ensure that you feed your body with a healthy amount of vitamins and minerals. Be sure your diet includes:
vegetables (especially leafy greens) and fruit
high fibre, starchy foods (sweet potato, oats, wholemeal) – omega 3 (chia, hemp, flax, pumpkin seeds, walnuts)
calcium (green leafy vegetables, beans, soya milk)
However, you may need to consider taking some supplements, to ensure that you consume all the right material for your body.
Let's focus first of all on protein. The best sources are soya beans*, tofu*, tempeh*, lentils, chickpeas, black beans, pinto beans (plus most other beans), Nutritional Yeast (which contains B12), hempseeds (which have the optimal ratio of the good fats), green peas, amaranth*, quinoa*,oats, chia seeds, nuts, seeds, nut butters. The vegetables which contain the most protein are broccoli, asparagus, artichokes, potatoes, sweet potatoes, and Brussel sprouts.
To get your complete protein (meat, for example, contains all the amino acids needed) you need to ensure you combine, beans and peas, wheat and rice with added sesame/tahini
*are complete proteins.
Meal ideas:
  Hummus (beetroot, butter bean, sweet potato)
  Nut butters: choose your nut/nuts, roast and pop in your food processor!
  Roasted kale: be sure to oil & season well
  Roasted chickpeas: drain thoroughly and season with your favourite spice!
  Roasted sweet potato chips: have you tried with turmeric / paprika / cinnamon / cumin?
  Granola: it's quick and easy to prepare and so much cheaper than shop bought.
 Curries: tomato or coconut based e.g. chickpeas, aubergine, butternut squash, sweet potatoes, kale, black beans.
 Quinoa: lemon juice, olive oil, tahini, fresh herbs, nuts, roasted vegetables. Excellent for work and keeps in the fridge for a few days.
 Burgers: fava beans help to bind and add your favourites! black beans, sweet potato, beetroot, and lentils
 Moussaka, bolognaise, lasagne, shepherd's pie, stews, chilli – swap your meat for beans, peas, and lentils
BUDDHA BOWLS
This is the perfect way to use what's in your fridge! It's quick and easy and can be super tasty! The only rule? Combine your vegetables, grains and proteins e.g. quinoa, hummus, pak choi, black beans, pine nuts, roasted veg (an excellent way to use up the leftovers)
PALEO
For this diet, you would need to only eat natural unprocessed food, so no gluten, grains, dairy, and refined sugars Whilst this may seem harsh or even difficult, reducing our intake of processed food offers a variety of benefits, by cutting the amount of salt, preservatives, and sugar which we consume.
Whilst this may seem radical, taking small steps such as removing packaged meats, sugary cereals and crisps from our diet is a step in the right direction.
Did you know that white potatoes are considered non-paleo? Vegetables should dominate your plate with a side dish of your chosen protein.
Meal ideas:
Cacciatore (chicken and tomato based Italian stew)
Tomato Sauce: an excellent base for chicken, fish, sausages, mushrooms.
Pesto: minus the cheese of course, but again perfect for chicken fish vegetables etc
Baked fish with vegetables
Stews, Cawl, Chilli, Soups: the possibilities are endless!
Tray Bake: quick and easy chicken and vegetables
Salads: sweet potato and vegetable salad/chicken, avocado – both with all the trimmings, but no mayo.
Loaded Frittatas, Omelets.
Eggs: any which way you like!
Grilled grapefruit for breakfast is divine!
Grilled banana with honey
Pancakes: made with almond flour and milk
Granola: nuts, seeds, honey, dried fruit and served with almond milk.
ACID/ALKALINE DIET
This diet is based on the premise that all food contains both acid and alkaline forming elements after digestion. For some foods e.g. eggs, chicken and cheese, this results in the production of more acid. Whereas, higher amounts of alkaline is produced with foods such as fruit, vegetables, and nuts.
In order for us to maintain a healthy body and mind, we should consume more alkaline rather than acid-producing foods. The suggested ratio is 80 (alkaline) to a 20 (acid) diet.
What foods score at the top of the 'alkaline' list? Here are some of them …
VEGETABLES: artichoke, asparagus, avocado, broccoli, kelp, kale, fennel, carrots, celery, Brussel sprouts, raw tomatoes, cabbage, aubergine, cucumber, mushrooms, okra, lettuce, parsnips.
FRUIT: grapefruit, dates, grapes, kiwi, lemon, lime, apples, apricot, mango, papaya, peach, coconut water.
NUTS: almonds, macadamia, sunflower seeds, walnuts, sesame seeds.
GRAINS/PULSES: chickpeas, lentils, barley, buckwheat, quinoa, soya beans, soya milk, tempeh, tofu.
FOOD COMBINATION
If you experience digestive issues or are looking to improve your diet, it's good to consider the combination of foods which you eat. It is known that protein and carbohydrates are digested differently in the body, however, a different combination of foods can be more beneficial than others. For example, a good combination for both protein and carbohydrates is to combine these with non-starchy vegetables. Whereas, it's good to avoid combining both protein and carbohydrates together. Fruit, however, should be eaten separately and on an empty stomach.
NON STARCHY VEGETABLES:Â aubergine, asparagus, broccoli, Brussel sprouts, cabbage, celery, cucumber, courgettes, garlic, green beans, kale, leeks, lettuce, mushrooms, onions, parsley, radish, spring onions, spinach, squash, sweet potato, sweet peppers, swiss chard, tomatoes.
PROTEINS:Â meat, fish, eggs, cheese, yoghurt, milk, nuts, olives, seeds, coconuts, soybeans.
CARBOHYDRATES:potatoes, bread, grains, beans, lentils, cereals, bananas, split peas.
MILDLY STARCHY VEGETABLES:artichokes, beetroot, carrots, cauliflower, corn, peas.
FATS/OILS:Â butter, cream, avocado, nut olds, olive oil, soy oil, sesame oil, sunflower oil, safflower oil.
Excellent food group combinations
non-starchy veg & protein

non-starchy veg & carbs

non-starchy veg & fat/oils

non-starchy veg & mildly starchy veg
Good food groups combinations
mildly starchy veg & protein

mildly starchy veg & carbs

mildly starchy veg & fats/oils
Poor food groups combinations
proteins & carbs

protein & fats/oils
Many of these diets follow similar themes, introducing healthier options to our diet. If you are wanting to introduce change, don't feel like you need to introduce radical changes overnight. Make small changes to your diet at regular intervals – before long, you will find the diet which works for you and your body.