Keyif- 3 Years in (and out) of Business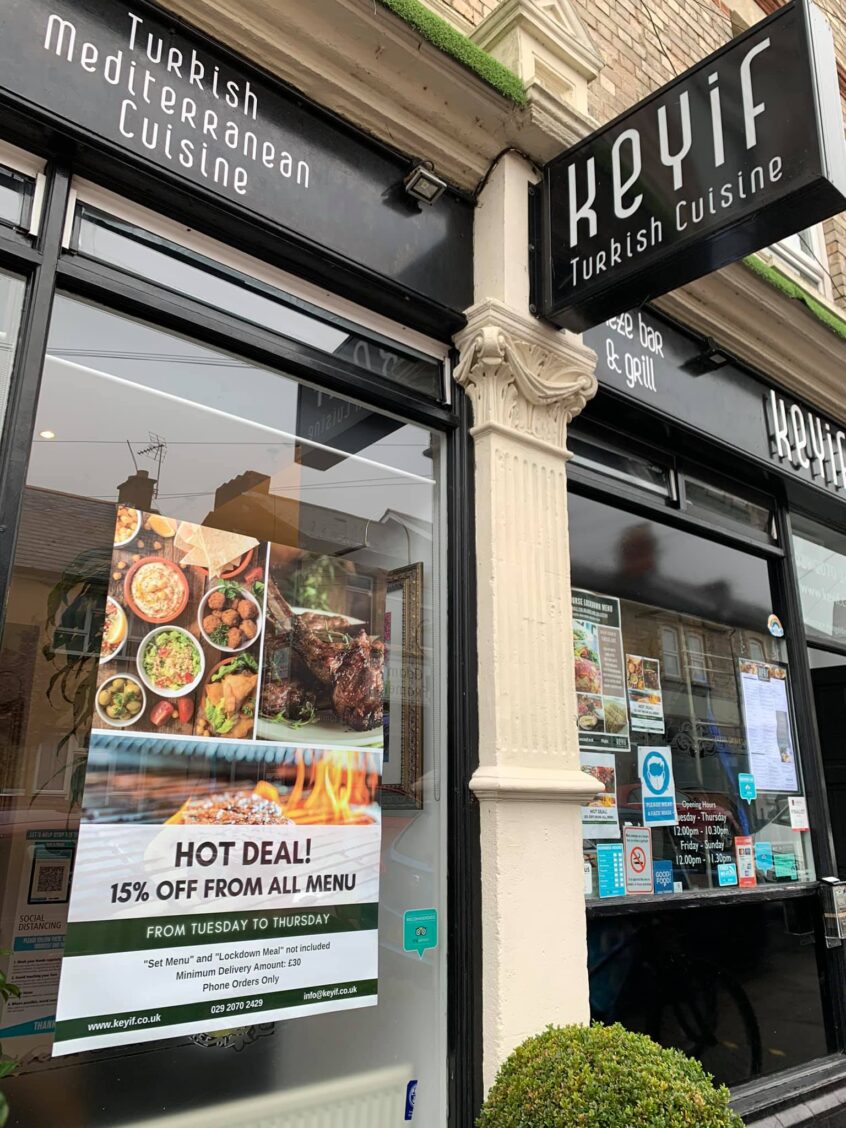 Penarth View would like to congratulate Keyif on 3 years of business. This past year has been difficult for everyone, especially independent businesses who rely on face-to-face interactions. But Keyif have embraced this new normal, morphing into a takeaway service, instead of their usual sit-down style dining. Here at Penarth View, we spoke to owner Mehmet Yildiz about those 3 years in (and out) of business.
Congratulations on your 3 year anniversary! What have those years been like for you?
These three years, despite their obvious challenges, have been brilliant. I never imagined being so welcoming by a community. It has been so much more than I thought it would be. I received such a positive, welcoming response from my customers and other members of the business community.
I have made lots of new friends that have been there to help me from the moment I opened my doors.
What was the transition from sit-down restaurant to takeaway like?
It was a big surprise to say the least. Admittedly, I never wanted to become a takeaway service. When I first opened, I only wanted to be a sit-down restaurant but obviously Covid-19 forced my hand. It was weird to get used to at first, it was something we'd never done before, but we acted quickly and soon got into a routine. There was no point sitting around being annoyed that things weren't going the way we wanted, so we got on with it and it actually worked out great.
From March 2020 to April, we were very busy. People were getting regulars orders in every week from our regular customers. They said they wanted to support me, and didn't want to lose me. It was very heartwarming to see the support from the community.
It has been a difficult year for everyone, but what is something you've been grateful for this year?
Aside from being grateful for mine and my families general good health throughout, I'm also very grateful to my customers, staff and other members of the business community in Penarth. From day one of lockdown, even when they had their own things to worry about, they were there to support me in any way they could. It was very heartwarming to see such a reaction from everyone.
We also tried to do our best throughout this past year to do our part in return, helping businesses where we could, donating food and money to NHS charities.
Why do you think your customers come to you? What is something that makes Keyif special?
Throughout my many years in this industry, I have learnt that customers want good food, good drinks and good customer service. It's as simple as that, and that is what Keyif brings to the customers. I have the experience, have worked in hospitality most of my life, to know what my customers want and they best way to do it.
I also think people enjoy a taste of Turkish food brought to Wales. It's something different for people to try and they seem to love it.
Many people might not have heard of raki, can you tell us a little bit more about it?
Raki is a traditional Turkish liquor. This sweet, but strong, drink can be had straight or more commonly it's had with water. When you add water to this clear liquid it turns a white, milky colour, which seems to entertain my customers. I love to introduce raki to my customers, because often they have never of heard of it, or at least never tried it. It's another way we bring a taste of Turkey to Wales.
Raki is also thought of as the drink that brings people together. With the world we're living in now, being encouraged to stay away from each other, keeping isolated from the rest of the world. Sometimes it's wonderful to share a drink with friends and family, or even a stranger. For a town that has such a strong sense of community, it has been received very well.
Keyif means 'practising the art of quiet relaxation and living in the moment', how did you decide that it was the right name for your business?
Keyif is a common phrase used in Turkey, people will refer to it as "doing a keyif". The word encompasses the whole idea of just enjoying the moment you're in. In this day and age, people are so focused on the past and the future, and never take the time to appreciate the present. And that it was Keyif is all about.
I wanted Keyif to be a place where people can meet with their friends and family and simply enjoy a drink and some good food. I'm glad I was able to create a place where people know they can come and do just that.
And finally, what's your favourite thing about Penarth?
It has to be the community! I have lived in a lot of places but no where has felt this close to home. I love that everyone knows everyone, people will just smile or say "hi" to you on the street. Coming to Penarth felt like a big hug, you can feel the positive, friendly and supportive atmosphere here. You can never feel lost in Penarth.
There was a time when I thought about expanding, taking Keyif to other towns but I've found that I love being the resident, local Turkish restaurant. I like seeing the same, regular faces come in each week, who genuinely love coming here. If I was to expand, it would be to a bigger place within Penarth. That would give me the opportunity, and space, to broaden the options and try new things.
Independent businesses are the heart and soul of Penarth and we love to see them thriving and supporting one another. Sit-down restaurants are due to open of the 17th May (fingers-crossed), so keep an eye out and make sure to head down to Keyif to sit down and enjoy the moment with some great food and lovely company.
You can find Keyif at 21 Glebe Street, Penarth, CF64 1EE
And find out more about Keyif on their Facebook, Instagram and Twitter
Order Online here on their website or by giving them a call on 02920702429