Growing Flowers Down the Docks: A Turner House Exhibition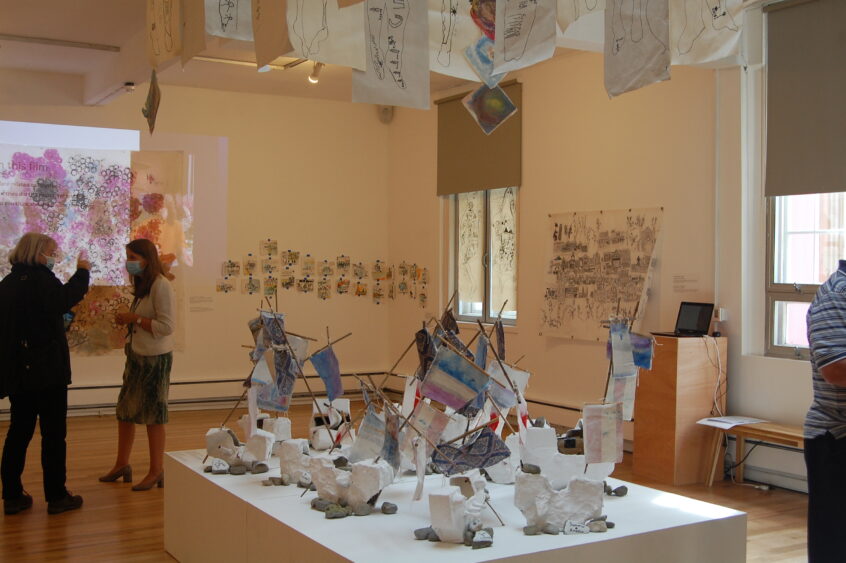 On the 23rd and 24th of September, the Turner House houses a very special pop up exhibition. 'Growing Flowers Down the Docks' is a collection of art created by children from Cogan Primary School and Ysgol Gymraeg Bro Morgannwg. This exhibition was inspired by the story fo Royston Smith, a local man who discovered unusual flowers growing down the docks a hundred years ago. The seeds had been brought from ships and sailors that came from all over the world, and started growing at Barry and Cardiff docks.
Here at Penarth View, we just had to take a visit down to this exhibition. We listen to a talk by Haf Weighton, a textile artist who helped the children with this project, along with the staff from Cogan and Bro Morgannwg Primary schools.
"We were lucky to get a Creative Learning grant from the creative learning recovery fund. And as you can see, the results are absolutely amazing. Just goes to show what the new curriculum in Wales is all about. With all these rich tasks that all joined up to create this project, it allows the children to be really creative. It's absolutely fantastic."
The children were excited about the project as they fell into the fascinating story of Royston Smith.
"The story really captured the children's imaginations and they absolutely loved it. A very rich task that involved so many different aspects of learning and the children have thoroughly enjoyed it."
One teacher from Cogan Primary School thanked Haf for all the effort she'd put into this project, giving the children this wonderful opportunity .
"They have learnt so many new things. For example, countries of the world using maps and they've learnt about the history of Penarth and it's people of the past. And with Haf's expertise, the children have learn so many new artistic techniques. A famous Japanese technique of brushing flowers onto fabric and using vegetables dyes to create colour."
The project has been in the works for quite some time, taking about 5 months in total due to lockdown. A piece I was particularly intrigued by was the Identity Outlines. Where the children drew outlines around each other on the surface of the paper. They then created symbols, that they drew within the outline, of their own identity. Seeing the reflection of themselves before and after lockdown was very interesting.
This exhibition was truly something special. Turner House giving these children an opportunity to see their work in a gallery is something they will always remember in their school careers. Inspiring creativity and an interest in history is something that's so important, and we hope to see more projects like this in the future.
You can see more about Haf Weighton and her work on her website here and on her Facebook.
And for more upcoming events at Turner House, visit their website here.