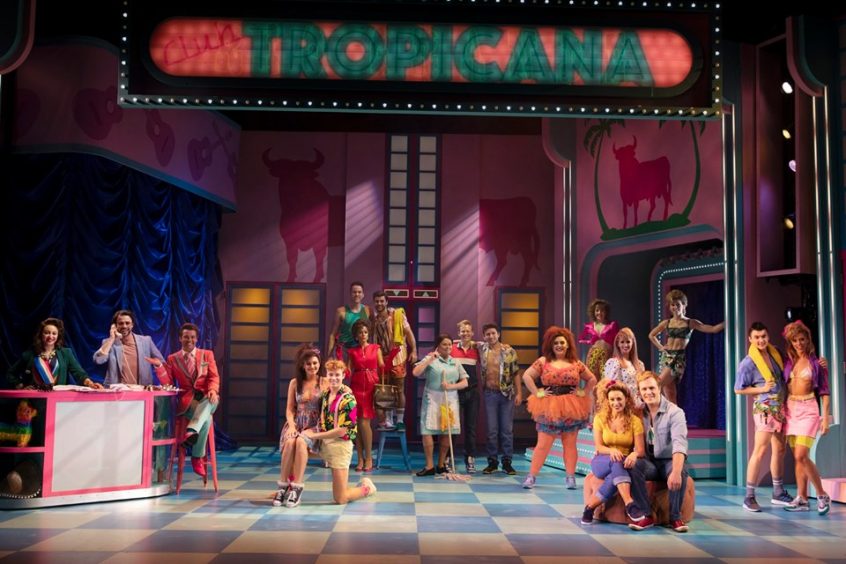 Last night, we checked into Club Tropicana at Wales Millennium Centre, where the drinks are free (only one, mind), and fun and sunshine? Well there's enough for everyone.
Club Tropicana, the Musical tells the story of two lovers, the bride having left the groom at the altar, and their calamitous return to romance. In an attempt to lift the spirits of the forlorn lovers, their friends whisk them away for a spot of Spanish sunshine. Little do they know that they all check in to the same hotel…Club Tropicana. A shifty hotel inspector, whirlwind romances aplenty and a cheeky game of Blind Date add to the mayhem.
The show is full of high energy, high camp and plenty of classic pop hits that got everyone in the mood for dancing. The headline role, Garry, is played by Joe McElderry, of X factor fame. He belts out the class 80s hits with gusto, as you would expect, and his performance is energetic and up-lifting. It is this character that holds the show together
We have to give a special mention to Kate Robbins, who played Consuela, the hapless janitor-cum-entertainer who kept the whole audience in fits of laughter. Picture a continental version of Julie Walters' Mrs Overall from Acorn Antiques. We'd go as far as to say that the comedy factor brought by Robbins is the key ingredient of the show's success. Her ability to impersonate Shirley Bassey, Margaret Thatcher and Tina Turner, as the script necessitates, is wonderful to see.
This star cast is led by Joe McElderry (X Factor winner and star of Joseph and the Amazing Technicolor Dreamcoat), Neil McDermott (EastEnders, The Sound of Music), Kate Robbins (Spitting Image, Dinnerladies), Emily Tierney (Wicked, The Wizard of Oz); and former Sugababe star Amelle Berrabah, making her musical theatre debut.
Take a trip back to the electric 80s and embark on a summer of love and smash-hit classics! It's at Wales Millennium Centre until Saturday 17 August 2019.
Book tickets at Wales Millennium Centre.