Belle Vue – Music In The Park 2019
Belle Vue's Music In the Park has been a staple in the calendar of Penarth Summer events for over 10 years. This year, the Friends Of Belle Vue Park group are taking us back to the roots of the festival, capturing Penarth's vibrant community, and of course its great music! With each year boasting bigger and better line ups, 2019 is no different. Here's a little of what you can expect from this year's event.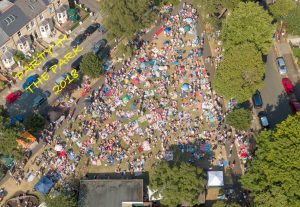 Let the music play
With a mixture of local and wider talent from South Wales, this year's program begins at 2pm and is guaranteed to get people of all ages and musical persuasions up dancing, smiling and enjoying the day. With Andrew and the team working hard on organising a great line up this year you can expect to see Little Rock – a musical duo playing folk, rock, country, and pop.
The Cheatin' Hearts – a country band playing songs from the likes of Lindisfarne, Bonnie Raitt, Steve Earle and more

Maddy Carver – Penarth-based singer-songwriter performing original and cover songs from a range of styles and genres

Karmen Field – a heavy psychedelic rock band playing funk, blues, 70's rock, and metal influences

Little Rock – a musical duo playing folk, rock, country and pop
The Snorklers – a local favourite!

Knitwear Junkees – a groove-driven originals band playing jazz, funk soul and groove

 The Woods - a repertoire including tried and tested classics from The Beatles and Rolling Stones to the latest rock & pop tunes

Grooveline – the finale with classic songs from Heatwave, Earth Wind & Fire, Kool & The Gang, O'Jays, Sam & Dave.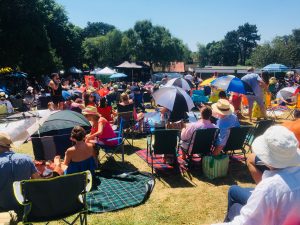 Eats & Beats
Taking the festival back to its roots this year means that food stalls will be replaced by good-old-fashioned picnics. Cue the cucumber sandwiches, humous, salt & vinegar crisps, and prosecco! We're also talking to our wonderful local businesses to see if they will be able to offer picnic hampers – lookout for more details on our facebook.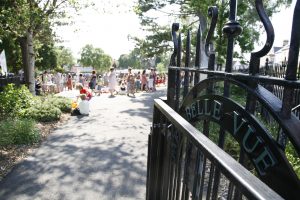 Tickets
Due to the success of Music in the Park, the event has attracted larger audiences and means that health & safety procedures along with adequate facilities are required. Tickets also cover the ever-growing cost of the event such as rental of toilets, stage, park clean-up, security and more.
The surplus funds raised from ticket sales also go towards other events and activities for the whole community to enjoy in Belle Vue Park throughout the year.  You can get your tickets from Penarth's local firm, Ticket source, and are priced at for £5 adults, under 16's go free but still need a ticket if aged between 3-16. Tickets are released the 1st July and can be bought through the Belle Vue website: http://musicintheparkpenarth.co.uk/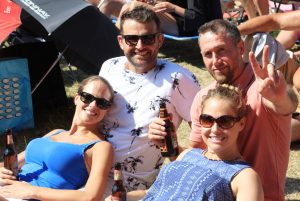 Volunteers
The Friends Of Belle Vue Group are always on the lookout for community driven and friendly volunteers to join our lovely team. You may want to help backstage, or show off your brilliant tea making skills, or greet excited ticket holders coming through the gate. We want everyone, including our volunteers to enjoy the day. If you're interested in volunteering for a couple of hours please get in contact with k.e.martin@hotmail.co.uk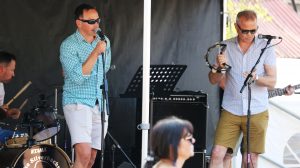 Calling for Sponsorship
Community events like ours rely on support from local businesses to ensure a safe and successful day. It's no secret that a lot of planning and preparation goes into staging, sound, facilities and safety all of which requires funding. Luckily we always managed to engage our amazing local businesses to help support us and in return, we're always happy to shout about the great services and business we have on our doorstep! Confirmed sponsors we already have this year are:
Masons Self Storage, Seabreeze Homes, Watt's & Morgan, Chalkhouse Kitchens, IT PIE, Thompson's butchers, The Business Centre Barry, David Baker & Co, Keyif, Romily Finacial, Beauty Box, Willmore's 1938, Penarth Bowling Club, CVA services, Shelly Norton, and Boys to Men barbers.
Belle Vue Music in the park is brought to you by the Friends of Belle Vue Group. For more information leading up the event, visit their facebook page:Â https://www.facebook.com/BelleVueParkPenarth/