A guided promenade: Penarth pier pavilion, beach and esplanade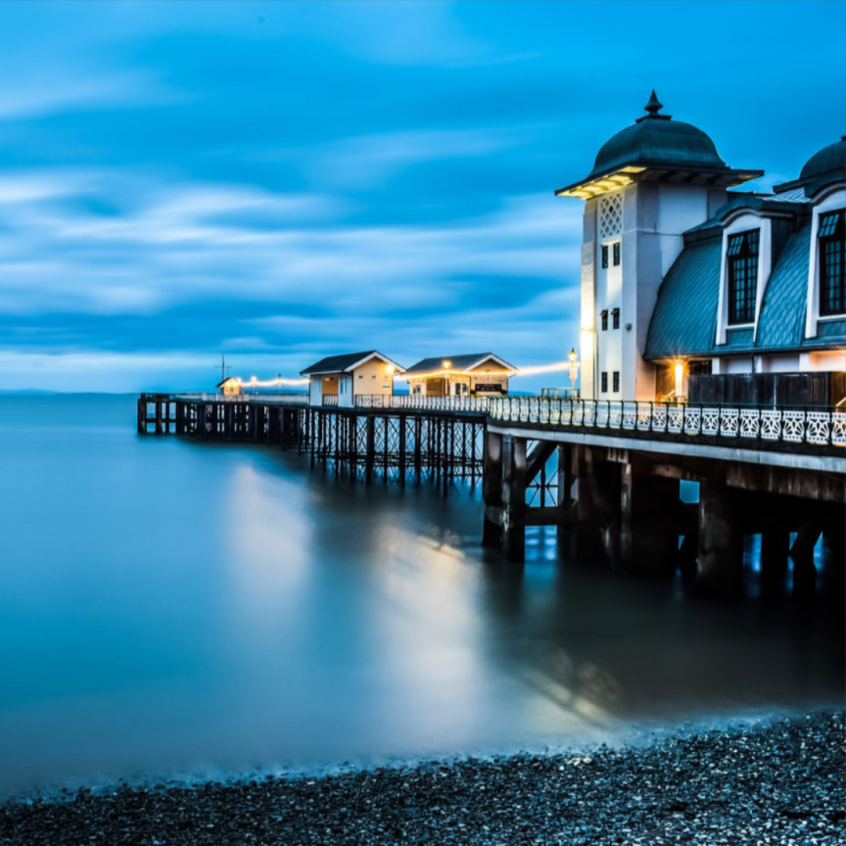 Words by PV Influencer, Megan Jones
Celebrated as county treasures by local residents and tourists alike, Penarth's pier, pavilion and esplanade epitomise 'The Garden By the Sea'. From the early 1900s this iconic landscape has provided space for entertainment and hasn't wavered in its dedication to the public to the present day.
Pier and pavilion 
Photography by Phil Lewis
Following in the footsteps of Welsh legend Gareth Bale, who famously booted a football into the sea from here for BT Sport in 2014, I think it best to kick off our promenade at the end of the pier.
Alongside its TV fame, the pier is celebrated as a popular fishing spot in the months outside of June, July and August. Free sea fishing is open to the public at the end of the pier, no permit required. Annual angling competitions with high reward reel in a good crowd (and some whopping conger eels) at events like the one-day RNLI open fishing competition.
The pier has weathered a few showers of bad luck since it first opened in 1895, cycling through drastic renovations after the 1931 fire and the 1947 ship collision. Nowadays you can rely on Nicola's Juice and Coffee Bar to revive you any day of the year (except Christmas when the pier is shut) come rain or sunshine.
If you want to get your taste buds tingling, pop into the quaint Olde Sweet Shoppe found at the pier's entrance gates. Here you can transport yourself, with a stick of rock or bag of candy floss, to days gone by. In traditional Victorian style, pick a handful of sweets from the jars filled to the brim with sugared mice, sherbet fizz and all things nice.
Photography (left) by Phil Lewis
In its youth the pavilion dabbled with different guises as a ballroom, a night club and even a gymnasium founded by former Olympic gymnast Gwynedd Lingard. Today, since its £4.2 million renovation in 2013 rewarded 'Project of the Year' by UK's Royal Institution of Chartered Surveyors, the fully restored art deco building has been redesigned as a multi-functional space for culture and community, offering exciting programmes of exhibitions, live music and theatre.
Indeed, the pavilion has come full circle and spooled back to its 1930s roots as a cinema. Join up for the loyalty card scheme at Snowcat cinema and enjoy 5 films from its curated selection from the hottest film releases to timeless classics and see the 6th one for free.
Step inside to browse the pavilion's eclectic pop-up art gallery before taking a breather in Waterloo Tea rooms, an ideal spot for breakfast, lunch or afternoon tea with expansive views across the Bristol Channel.
Inspired by a special art history lecture in the pier or feeling at one with yourself after a pre-booked or spontaneous drop-in to one of the weekly yoga sessions, you can wander down the esplanade and take an artsy picture of the pier for the Instagram because, let's be honest, are you a true Penarthian if you haven't posted a pic of the pier,  #LovePenarth #lovewhereIlive?
Photography by Phil Lewis
Esplanade
Be sure to sample some of the flavours available from the assortment of refreshment pit stops along the esplanade serving locally-sourced food and drink to enjoy with a sea view; but not before channelling your inner beachcomber at the Shore gift shop to collect a coastal-inspired souvenir from a range of puffin prints, pebble pouffes and pillows.
Those of you with rich taste buds will enjoy fine-dining at Penarth's very own Michelin-starred, award-winning restaurant, James Sommerin, for a luxurious lunch or all-out evening do. Or, after a leisurely stroll through the urban Italian Gardens opened by Her Royal Highness Princess Diana, rekindle the Welsh–Italian relationship by popping into Romeo's By the Sea, an old historically-recognised boat house, which promises 'fresh Welsh ingredients prepared with Mediterranean flair and know-how'.
Next door you will find our friendly neighbourhood hero, the RNLI boat club. Keep an eye out for the 60 yellow wellies hidden within local Penarth businesses as part of the 2019 RNLI Yellow Welly Hunt this summer.
Beach
I'll leave it up to you to decide how you want to interact with the beach. The plucky amongst you might be tempted enough to brave a swim. If you keep swimming for another 7 hours and 20 minutes you might just reach Weston-super-Mare as Miss Kathleen Thomas did in September 1927, the first to swim the Bristol Channel. Others may prefer to fossil hunt with younglings, beachcomb for sea shells on the sea shore or simply perch for a polite summer picnic. Perhaps you may be moved to play cricket on the sand, if the tide is far out enough, as once was tradition.