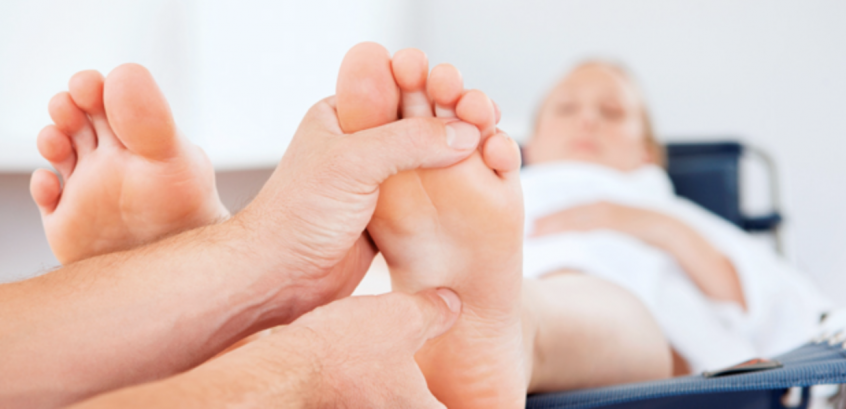 24th – 30th September is World Reflexology Week, what better time to find out more about this wonderfully relaxing complementary therapy and see if its something you might like to try.
Penarth View quizzed Penarth-based Reflexologist Jane Lorimer when we recently sampled a Taster Session. Jane established her clinic Hand to Heal in 2017 which can be found in the leafy and tranquil Bellevue Park area of town. 
PV : So is it all about the feet?
Jane : Well yes and no. The practice of Reflexology therapy works on the principle that the whole body, from tip to toe, is reflected in the feet.  So technically it's about the whole body, accessed through the feet.  Pressure points on both feet relate to the anatomy of the body; so for example, toes are the head, the ball of the foot represents the chest area and so on.  The belief is that by expertly massaging areas of the feet, Reflexology can help aid relaxation, improve mood, release tension, and generally help improve wellbeing; allowing us to cope better with the stresses that life can bring.
PV : Why would someone choose to have Reflexology?
Jane : Most people seek help from Reflexology when they are feeling run down or struggling with a health condition.  As a complementary therapy it very much works alongside mainstream approaches to managing health.  It adds something unique by tuning in to the para-sympathetic nervous system ("rest and digest") and thereby strengthening the body's natural abilities to heal.  All too often because of our busy lives we fail to listen to the warning signals our bodies give us when things start to get out of kilter.  Reflexology is great for restoring balance and taking stock of life, the first session includes a 30 minute discussion about health and lifestyle. This is great for helping people make connections between their symptoms and think about small changes they can make which will work alongside their Reflexology treatment to help feel better.
PV : Where did Reflexology originate?
Jane : Records of foot care date back thousands of years through visual representations in Egyptian tombs and in artefacts throughout Europe, Native America and the Far East.  Modern Reflexology has its roots in America where the first foot maps were produced in the early 1900s.  Strong links can also be made to Chinese medicine where alongside acupuncture its traditions were established thousands of years ago.
PV : What do you like most about your job?
Jane : I find it so rewarding meeting people and being able to help them feel better.  I'll never forget when one lady arrived for a session in tears of joy because after Reflexology she had been sleeping well for the first time in over 20 years.    
Reflexology is one of the most popular of all complementary therapies, and it's no wonder why. I found it to be a strangely pleasant and relaxing experience.

During the hour-long session, Jane said she found some sensitivity in one area of my foot, this felt like tiny crystal deposits under the skin. She said this area corresponded to the lower spine and being sat at a computer for large chunks of the day means that I do get some lower back pain ( – don't worry though, I am addressing that!) By gently massaging this area on my foot the treatment aimed to ease off the pain in my back.

The benefits of reflexology are wide-ranging and will differ dependent upon your personal needs and requirements. Following a series of treatments, Jane says clients often report that chronic medical conditions are eased, stress is reduced, restorative sleep resumes, and they enjoy a calmness of mind thanks to having a genuine feeling of being able to cope better with the stresses and strains of life.

I'd certainly recommend a session, or even a course of sessions with Jane, and what better time to try it out than during World Reflexology Week? You won't regret it.
Jane offers holders of the Shop Penarth card a special price for a taster session if you would like to try Reflexology.  You can book on-line www.handtoheal.com or by phone 07769 774764.