Windsor LTC, Penarth To Host Wales' Most Prestigious Tennis Tournament In 2019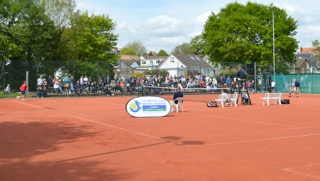 Windsor LTC, Penarth will once again be hosting the only Welsh leg of the LTA British Tour in 2019. Running from Monday 6th to Saturday 11th May this tournament will be a showcase of top quality tennis including many professional players.
Following the success of the inaugural event last year, which saw Windsor Penarth pick up the Tennis Wales Competition of the Year Award, the organisers plan to make this an even bigger and better event with enhanced prize money, courtesy of the major sponsor Chiltern Sports.
Running throughout the UK the LTA British Tour comprises approximately 30 events during the year, of which only 5 are Premier events and 5 are Tier 1 events, the remainder being Tier 2 events. The Penarth Windsor leg will be a "Tier 1 with enhanced prize money" making it one of the top events on the tour. It is also the only leg of the tour to run in Wales.
Attracting a number of UK's top 100 players last year, the men's final turned out to be an all-Welsh affair with former professional circuit player Chris Lewis losing out to eventual winner Evan Hoyt who is currently ranked within the World's top 500 players.
Hosted by Penarth Windsor, the tournament is organised by Tennis Wales and sponsored by Chiltern Sports.
Simon Johnson, CEO for Tennis Wales said: "We are delighted to partner with Chiltern Sports for 2019. Their sponsorship will go directly into growing the recently established British Tour competition, providing elite competition for male & female British tennis players here in Wales. The improved event will feature increased prize money for players and allow more people to compete than in previous years".
Club Chairman Anthony Phillips said: "We were able to host our first event in 2018 due to the excellent quality artificial clay courts fitted by Chiltern Sports. Last year saw some of the best tennis players in Wales competing here along with a number of the UK's top 100 players and also a number of players from overseas. We had over 500 people spectating for the finals and with increased financial support from Chiltern Sports, this year is going to be even bigger and better. We would love to see more people from the local community and the tennis community in Wales coming along and enjoying the tennis which is free to watch".
The British Tour 2019 provides a circuit of tournaments designed to give up and coming players the opportunity to gain experience in their quest to become professional tennis players. Entries for the Chiltern Penarth British Tour will open on 22nd March and remain open until the closing date on 29th April.
Anyone is able to visit and watch the tennis taking place free of charge. Details can be obtained by emailing tenniswales@tenniswales.org.uk Chiltern Sports can be found on twitter @ChilternSports on online www.chilternsportscontractors.co.uk.