Wellbeing Breaks You Must Try
Words By PV Influencer, Jo Baldwin
Occasionally it's time to hit the reset button. Health and well-being holidays are becoming increasingly popular as we look for ways to take a break from the frenetic pace of modern life and take a step back. If you're looking to invest in a holiday that holistically remedies your mental and physical health, and inspires you to focus entirely on healing and recharging away from the regular demands of your life then a wellness break is for you. Geographical escapes are no longer enough. We want to escape in mind, as well as in body. Here I look at three breaks which offer exactly that: Unique luxury wellness hotels located in spectacular settings in Iceland, India and The Caribbean.
Blue Lagoon, Iceland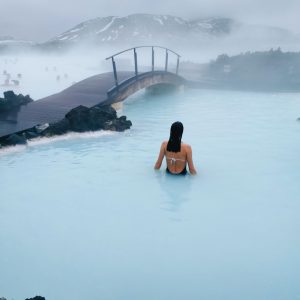 Iceland's iconic Blue Lagoon provides the perfect natural backdrop for a blissed outbreak from routine. The Retreat at Blue Lagoon promises to unwind the clock of modern life and unlock the door to a wonder of the world. The Retreat lives up to its name, offering a luxurious, ethereal escape from it all surrounded by the bright blue healing lagoon waters and rugged moss-coloured lava landscapes. An other-worldly scene awaits. The hotel's spa is set within an 800-year-old lava flow and has direct access to the Blue Lagoon as well as its own private lagoon for unwinding with a soak in the warm mineral-rich waters. A few suites at The Retreat even have direct access to the lagoon for the ultimate luxury. Included in each stay is 'The Ritual', a relaxing treatment which makes use of the Blue Lagoon's natural health-giving properties through the application of mineral salt, silica, and algae.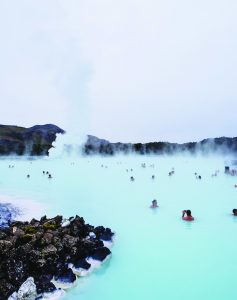 The spa here offers to rejuvenate with daily yoga, in-water massages, suspended nest chairs, and a steam cave, all set within the towering volcanic rock and lit with thousands of twinkling lights. Climb up to the top of the lava flow for far-reaching views of the unearthly volcanic horizon. For those who want to get out and about into the mythical landscapes of Iceland can choose from guided hikes, quad bikes, glacier walks, kayaking, snorkeling and snowmobiling. All ages are welcome at the hotel but it's best suited to couples looking for a romantic retreat and perfect for a honeymoon or anniversary break. Visit in the winter months and if you're lucky the Northern Lights will also make an appearance, reflecting the ghostly green moss on land with magical swirling green illuminations in the sky.
Ananda, Himalayas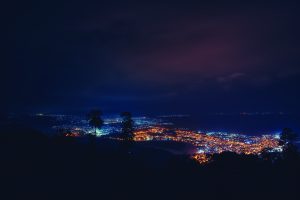 Undo Time's work with a spiritual retreat into the mountains in India. Ananda In the Himalayas is a luxury destination spa hotel devoted to spiritual wellbeing, regarded as one of the best in the world. It lies in the Himalayan foothills surrounded by forest within a hundred-acre Maharaja's palace estate above the holy city of Rishikesh overlooking the sacred Ganges River. The award-winning spa here offers Ayurvedic, Oriental and European approaches to holistic health and healing, with a team of qualified nutritionists, physicians, and spa therapists to service body and mind.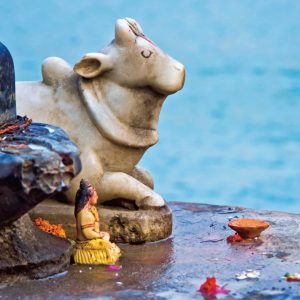 Ayurvedic medicine was developed over 3,000 years ago in India and is one of the world's oldest holistic healing systems, based on the belief that health and wellness rely on a delicate balance between the mind, body, and spirit. Experiences aimed at balancing these elements form an essential part of the wellness programme here at Ananda with physicians on hand to advise on lifestyle, diet, and well-being. Time spent here is formulated to your individual requirements, and this will include yoga, diet, meditation and healing rituals. Packages range from detox, stress management, weight loss, rejuvenation, fitness or yoga. Activities beyond the spa are abundant in the local area with opportunities for hill walking, white water rafting, safari drives at Rajaji National Park and sightseeing in the town of Rishikesh, famed for its yoga and meditation schools. Ideal for solo travelers wanting some time alone for a spa detox and a break from it all- why not leave your phone at the door and give yourself a full digital detox as well?
The Bodyholiday Hotel, St Lucia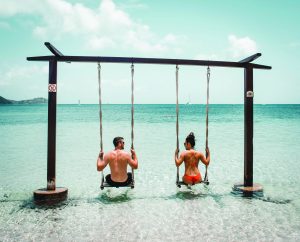 The BodyHoliday Hotel on St Lucia has a bold claim: "Give us your body for a week and we'll give you back your mind". Set on a secluded white sand beach at the edge of the azure Caribbean Sea, surrounded by tropical gardens and rainforest this is an all-inclusive wellness holiday with a difference. Don't be concerned that you'll be marched off to exercise at every opportunity, the reality is very different. Yes, there are an abundance of activities you can take part in from tennis, yoga, spinning, water sports, scuba diving, water polo, duathlons, tai chi… the list goes on, but they are all entirely optional and you can do as little or as much as you want. Relaxation here is as important as being busy.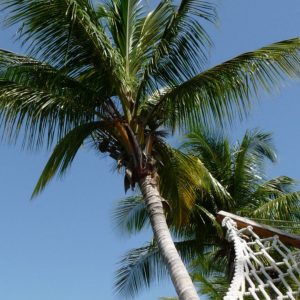 Every guest at the hotel is pampered with an indulgent daily 50-minute spa treatment, included in your stay. There's an extensive vegetable plot on site which provides much of the fresh produce for the kitchens, reinforcing the resort's approach to well-being and a healthy lifestyle. Guests here must be 16 years plus, except for July and August, when the minimum age is lowered to 12. This makes it a popular choice for families with teenage children who want a wealth of activities to keep the whole family happy. The sociable atmosphere at the Body Holiday also makes it very popular amongst single travelers – there is even a week in September dedicated to solos. If you're looking for a luxury Caribbean resort dedicated to well-being then look no further- BodyHoliday is a one-of-a-kind treat for both body and mind.
I have worked in travel all my life as an adventure tour leader and now as an independent Travel Counsellor. I provide friendly, professional travel advice and trusted tailor made holidays. I live in Penarth with my son and I love running, yoga and travel (of course).