Town Mayor backs Penarth Fiver Fest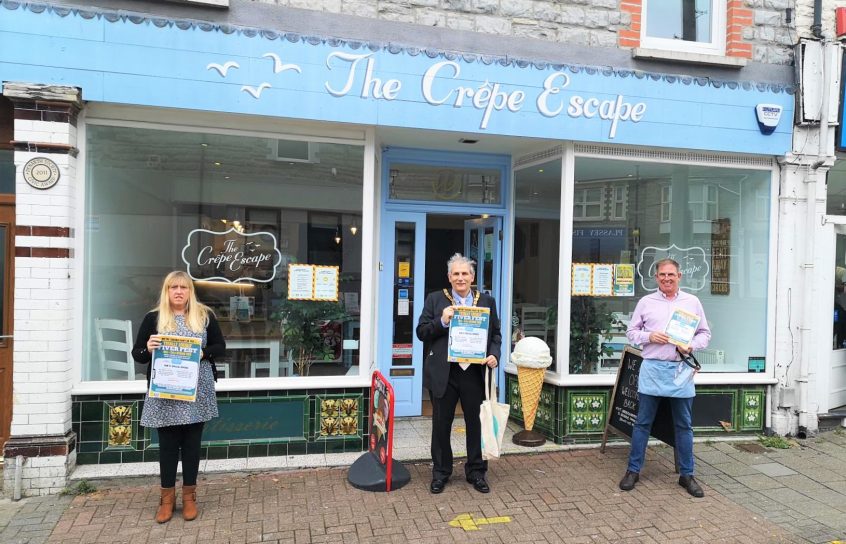 Penarth's Town Mayor, Cllr. Mark Wilson was delighted to lend his support to the town's Fiver Fest today.
The new scheme aims to encourage shoppers to support their local area, with bargains rewarding those spending their money in our community. The Totally Locally Fiver Fest runs from 10th to 24th October, with an array of special £5 offers in Penarth's independent shops, cafes and businesses.
The Mayor made a number of stops around the town centre, chatting – at an appropriate distance – with local business owners. Cllr. Wilson was pleased to discuss their experiences during the pandemic and the many ways that businesses are helping to make the shopping experience safe.
The Mayor said "It was great to visit two fantastic business today: Lillypad Florists and The Crepe Escape. The Fiver Fest, which the Town Council is promoting with local traders, is about giving residents and visitors to Penarth some exclusive £5 deals at our local businesses. Moreover, it will act as a catalyst for greater local spending so more of the residents and visitors cash goes into the local economy which ensures that our town centre can become more resilient. I look forward to visiting more local businesses within the next fortnight."
Fiver Fest highlights the astonishing fact that if every adult in Penarth spent just £5 per week in their local independent shops and businesses, it would mean £4.3 million per year going directly into our local economy. This can lead to more jobs, a better high street, a stronger local economy and a nicer place to live.
Penarth's independents have risen to the challenge posed by Covid-19, with new and innovative ways to support the local community and lockdowns have highlighted how important it is to have the wide array of services on our doorsteps.
A healthy independent business sector is vital to the health of the town and with challenges continuing, it is crucial that the town works together to support each other. Fiver Fest is a partnership with Penarth's long-running shop local scheme, Shop Penarth, which runs benefits for shoppers all year long.
You can keep up to date on the Totally Locally Penarth offers via the Totally Locally Penarth Facebook account.