The story behind Penarth Skytown Gateway, Penarth's newest public sculpture.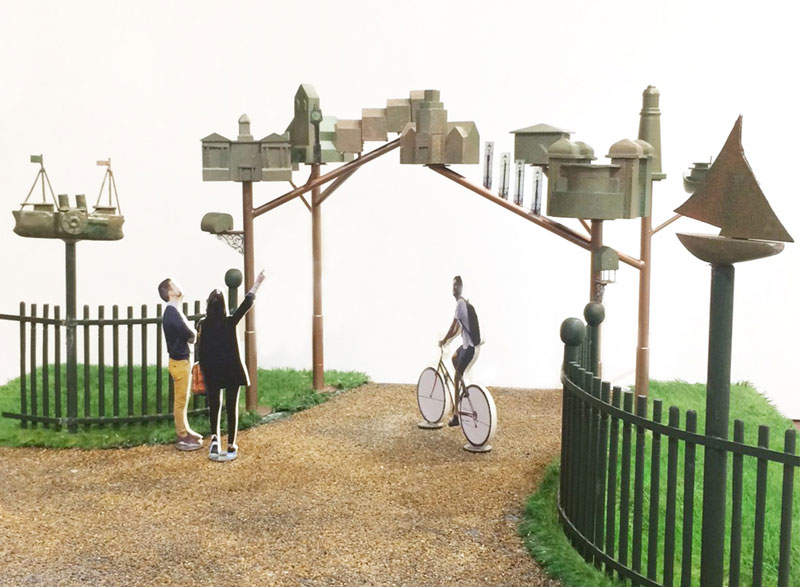 You may have already seen Penarth's newest public sculpture taking shape at a new entrance to Dingle Park, Windor Road, one of the town's gateways. Always interested to find out more, we've been talking to Ruth Spiller, Creative Designer at Bristol's Cod Steaks, who won the public commission to design the sculpture, about the new addition.
"This artwork celebrates the unique heritage and character of Penarth and provides a striking gateway into the town. We are delighted with the design and hope it will become a well-loved landmark."

Gareth Phillips, Principal Landscape Architect
How did Cod Steaks start, and what's the inspiration behind the name?
That's without a doubt our most commonly asked question ? The company was started nearly 40yrs ago by our MD, Sue Lipscombe, working in the film, TV and animation industries building Oscar winning sets, props and modelmaking. We design and build everything in-house which also includes museums, theming and exhibitions, and we have a particular passion for public art. When Sue created the company she wanted a memorable name – one evening, on opening the fridge at home saw the cod steaks and the rest, as they say, is history.
What can you tell us about your most recent project, Penarth Skytown Gateway?
We've absolutely loved working on this commission and were honoured to be selected as the artist. After researching the area we had a loose concept in mind and following several weeks of community engagement developed Skytown to celebrate the area – it's distinctly Penarth, characteristic of the area and we hope it will bring an enormous amount of enjoyment to everyone that sees it.
What did the project involve? Could you talk us through the process.
After a process of tendering for the commission, we worked closely with the council team to first build a community engagement programme – this involved going to local schools to run hands-on workshops, an open day and public display to get feedback from the very people who will live alongside the final artwork. It's absolutely critical that the end result is something for the community: past, present and future generations, as much as its adventurous and unique in its own right. We then developed our concept for presentation and once it had been given the green light started fabrication at our workshops in Bristol. This included the lighting design, plans for the installation and structural calcs as well. Over 4000 individual elements were precision cut in steel and welded together to make Skytown.
What impact did Windsor Road being a gateway to the town have on the design?
The commission brief was specific from the outset that the artwork should be both a gateway to the park and gateway to Penarth: as such we wanted something that celebrated the whole town and its heritage as well as sitting sympathetically within the park. I think the buildings we've chosen reflect the unique architecture of the area, bringing well-loved and distinctive landmarks together, but the lamp-post trees and lighting make this a charming and welcoming feature symbolic of the natural environment around it.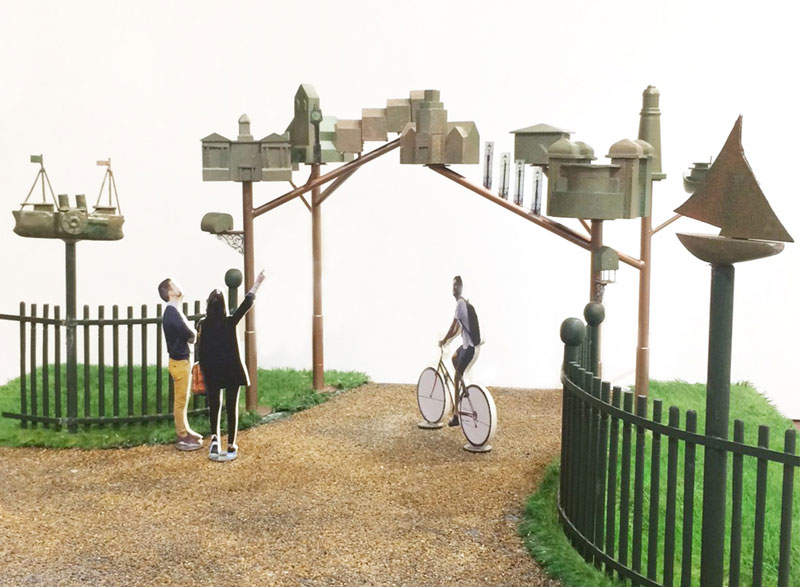 How did you choose which buildings to use?
During the community consultation phase we asked local residents what they loved about Penarth and if there were landmarks that they felt particularly attached to, or held significance for the area. From a long-list we whittled it down to a wonderful spectrum of buildings that had been suggested and, from an artistic perspective, sat well together. The buildings we've used represent both landmarks and a sense of place, also referencing Penarth's proximity to the sea and tourism, as well as its history and importance. Collectively too, we felt the buildings used were distinctively Penarth — unlike nowhere else.
How tall is it?
The sculpture is a few millimetres shy of 4m tall at its highest point.
What is it made from?
The sculpture is handmade from steel, and painted with highly robust exterior paints.The paint finish is artworked to look like bronze, with a verdis-gris patina on the buildings.
What was most challenging working on this project?
In all seriousness it has been an absolute joy to work on throughout. The most challenging aspect has been out of everyone's hands, in that we haven't been able to complete the site works yet. We're looking forward to coming back after the lockdown lifts to complete the artworking and see the lights working.
What stands out as being one of the highlights from Penarth Skytown Gateway?
Without a doubt it's been meeting the people in Penarth and working with local schools in the workshops. Their enthusiasm and ideas were hugely valuable in those early stages. Knowing too that the sculpture will be lit is also a huge highlight – look out for the lighthouse!
What makes the work you do so special?
Everyone at Cod Steaks loves what they do, and loves working together – it's a team effort, combining great integrity and creative experience. We put an enormous amount of passion and imagination into our work and I hope that comes across in Skytown.
What do you feel when you deliver some great work for communities like Penarth?
We feel an enormous sense of achievement when we create something that is embraced by the community. To know we've captured their imagination and heart is extremely valuable to us, and we feel very proud to have contributed something so permanent to their legacy.