Review: XXXmas Carol at Wales Millennium Centre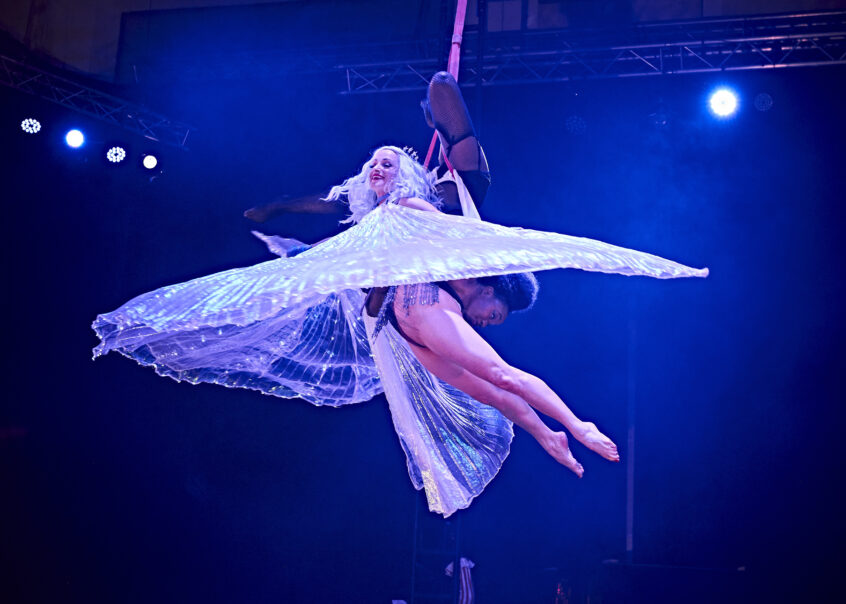 We all know and love the classic pantomime. The gags, the tropes, the costumes. This is altogether different – a bizarre retelling of Charles Dickens' yuletide nightmare, which is perfect if you like things a little more naughty than nice for your festive season. It's dubbed an anti-panto, telling the same story as the classics, but using an adult-only delivery of drag, burlesque and circus.
XXXmas sees some of the city's most talented drag, burlesque and circus artists performing their brand new take on Charles Dickens' Christmas classic.
Putting the 'ass' back into Christm-ass
XXXmas sees the well-known Cardiff drag queen Polly Amorous, take to the stage as both narrator and Ebenzer Scrooge, and she is joined on stage by a great cast.
Rahim El Habachi as Fred, Scrooge's nephew and only living relative, entertains the crowd with singing, dancing and a range a fabulous costumes. Of course, he is kind-hearted, cheerful, and always generous, especially when sugar-daddies come knocking on a lonely Christmas Day.
Burlesque and circus artists Foo Foo LaBelle, Bunmi Odumosu and Eric McGill interpret the ghosts of Christmas past, Christmas present and Christmases yet to come through a mix of racy, sensual and devious routines of dance trapeze, acrobatics and contortion. It's wonderful to watch, and the whole room was in laughter and in awe at just the right times.
On the piano, providing music accompaniment is Geraint Owen, who plays the character of Tiny Tim and adds warmth, innocence and magic.
Our highlights
A particular favourite with us and the whole audience was the scene where we see Mrs Cratchit preparing the Christmas feast in front of the stove, wearing little more than a comedy Christmas apron. We are then taken to what can only be described as a highly-charged, innuendo-laden, dirty-dirty-dirty (yes, that's Nigella Lawson) Marks & Spencer food advert on poppers. It's an excellent scene between Polly Amorous and Foo Foo LaBelle and we were all in stitches.
There was also a nice nod to Welsh folk custom, when the mysterious and menacing Mari Lwyd appears on stage, as the ghost of Christmases yet to come. A sultry dance involving whips, chains and power follows, and we were all taken in by the darkness.
More details
The show is 2 hours and 30 minutes long, including 1 interval. Suitable for over-18s only. The stage is in a cross shape, with the audience are sat in cabaret style seating around the stage. Drinks are ordered via an app and brought to your table. This creates a great, immersive experience, where everyone feels close to the performers, and there is no need to leave the experience.
XXXmas Carol is at Wolfson Studio, Wales Millennium Centre until 8 – 31 December 2021. Tickets available online here.
Photo credits: Jorge Lizalde at Studiocano.co.uk