Review: The Play That Goes Wrong at Wales Millennium Centre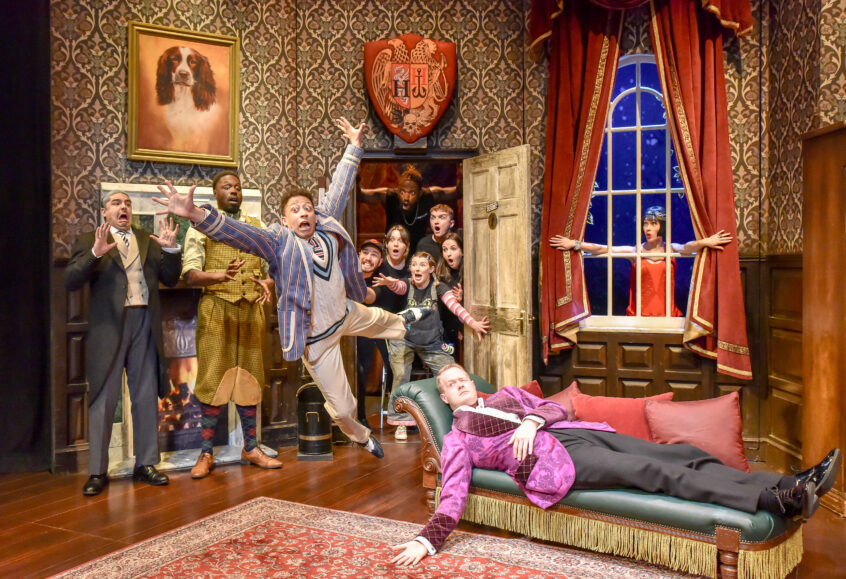 "Mischief's multi award-winning international smash hit comedy The Play That Goes Wrong is crashing in to Wales Millennium Centre this Spring."
On 14th June, we were lucky enough to be invited to see 'The Play That Goes Wrong' at the Wales Millennium Centre. My expectations for this production were quite high going in, as I'd heard nothing but great reviews from anyone else who's seen a Mischief Production performance. But from the very start I couldn't stop laughing.
The show is The Cornley Drama Society's 1920's classic who-done-it mystery and the 'directors' debut production but from the start things aren't going quite the way they planned…at all. As the accident prone actors try painfully make their way through the script, you start to wonder if they'll ever make it to the final curtain.
Even before the light go down, the audience is pulled into the performance as we watch the "crew" running about onstage and in the audience trying to get ready for the show. For a moment you start to wonder what is real and what isn't. Comedy is a hard medium to get right and this cast hit the nail on the head, having the whole audience in stitches are everything you could possibly imagine going wrong, does. The comedic talent of the cast is to be commended, essentially playing two characters throughout.
Something I loved about this performance, was that it wasn't just a reel of trips and forgotten lines. Each fumble, mishap and broken set piece was just as funny as the next and you start to feel sorry for the characters, especially the 'director' who plays Inspector Carter portrayed by Chris Bean, who's short fuse and raging temper had the audience in stitches.
Despite everything "going wrong" throughout the performance, this show is a technical marvel. We've all been to those chaotic school plays and awkwardly-funny amateur dramatic performances, but this show's mishap are seamless and only get funnier as the show progresses. From falling set pieces to disappearing props, you never know what to expect next.
The whole cast deserve a standing ovation; Inspector Carter portrayed by Chris Bean, Charles Haversham portrayed by Jonathan Harris, Thomas Colleymoore portrayed by Robert Grove, Perkins portrayed by Dennis Type, Florence Colleymoore portrayed by Sandra Wilkinson, Cecil Haversham and the gardener portrayed by Max Benner. And the hilarious "stage crew" portrayed by Annie Twiloil and Trevor Watson.
This show will be at the Wales Millennium Centre until the 18th June and I urge you to go and get your tickets now. It's the perfect show for all ages and will have even the grumpiest of audience members in stitches.
For more information about the show and where you can buy tickets, head over to the Wales Millennium Centre website.
And check their social medias;
Wales Millennium Centre: Facebook, Instagram and Twitter
All photo credits to Robert Day