Review: Penarth Chamber Music Festival
Friday Evening Concert
With Alice Neary, Kate Gould and The London Bridge Trio
Words by Meg Holland
If there was any genre of music that I felt I hadn't delved into properly, it would undoubtedly be classical. Penarth Chamber Music Festival's Friday concert offered a perfect introduction for newbies to the genre, whilst bringing world-class musicians to lifelong fans, all in the beautiful setting of the Pier Pavilion. After buying a programme and a glass of wine I took to my seat, completely unknowing of what was to come.
Starting off the night, festival director Alice Neary and the London Bridge Trio's Kate Gould wowed with Tovey's sonata in G major. The power of their two cellos was undeniable, and the fluidity between the duo had the entire audience captivated. Following this, the London Bridge Trio, who formed way back in 2002, took over the rest of the evening and performed two different trios by Schumann and Mendelssohn. The power of festival director David Adams (violin), Kate Gould (cello) and Daniel Tong (piano) together was enough to catch the listener entirely off guard. An emotionally driven performance, both trio's toyed with feelings in such a way that meant each change in the piece was rarely expected or anticipated.
If you have a chance to stop by to any more of the concerts this weekend, I highly recommend it. No matter if you are a long-term fan of classical music, or a bit of a novice (like me), Penarth Chamber Music Festival was a welcoming and fun introduction to the genre and it certainly opened my mind into exploring it further.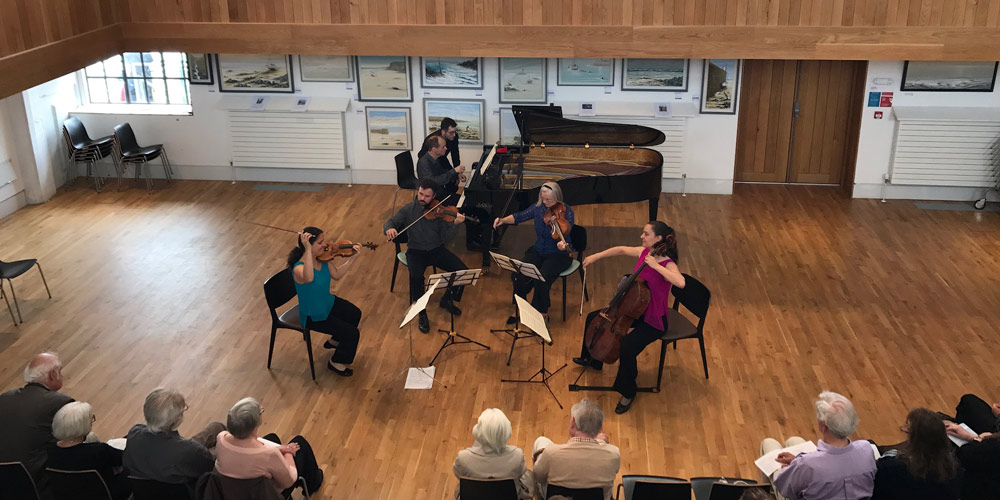 Sunday Evening Concert Festival Finale
With David Adams, Lesley Hatfield, Tom Hankey, Rebecca Jones, Robin Green, Alice Neary, Rebecca Evans and David Stark 
Words by Will Summers 
With a spectacular line up of world-class musicians, Penarth Chamber Music Festival delivered a jam-packed programme of classical music for all tastes and ages. I was lucky enough to be invited to the finale of the festival where I joined a packed room of audience members who genuinely admired the skill and prowess of each performer.
Listening to classical music on the radio really doesn't compare to seeing a live ensemble at work. I hadn't quite realised how much I've missed seeing a live ensemble play. It was a joy to listen to the beautiful tone and precision made by each musician. A live performance also lets you see at first hand, the speechless communication that each performer conveys to provide their audience with a well-phrased performance.
Starting with Mozart, a composer who contributed greatly to the quartet genre, Tom Hankey violin, Rebecca Jones viola, Kate Gould cello and Robin Green piano, began the concert with Piano Quartet in G minor to ease the audience in and set the tone for the rest of the evening. The ensemble really captured the spirit of all three movements, gently showcasing their talents with cadenza-like passages and melodic motifs that appeared seamlessly in their scores. Whilst the quartet delivered everything you'd expect from listening to a Mozart concerto, what you might not expect is the sense of calm you feel in that moment watching someone convey their music from the stave.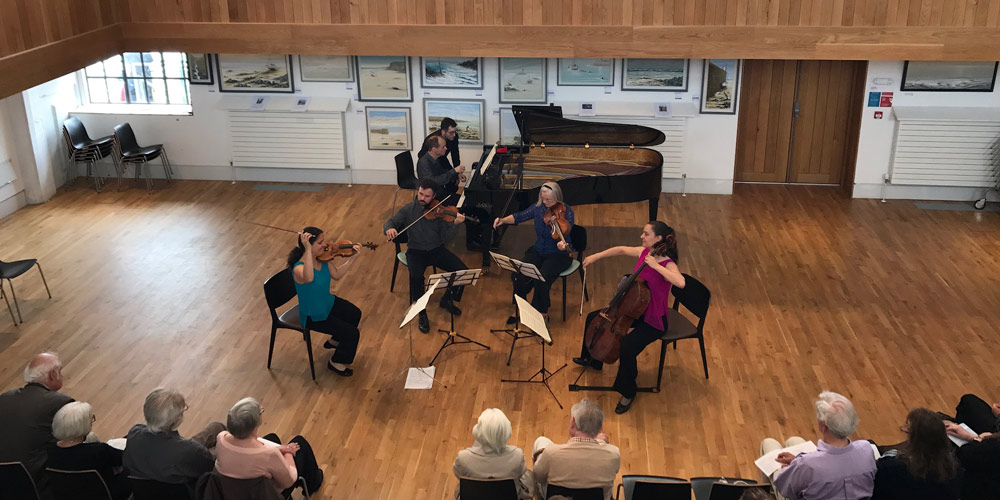 Following the first ensemble David Adams violin, Alice Neary cello, Robin Green piano accompanied Rebecca Evans soprano, who charismatically sang 3 Irish songs and Dream With Me from Peter Pan which complimented the balmy evening sun outside the Pier Pavilion. An audible "ah" was followed with applause for Evans' virtuosic vocal scales and control over the beautiful passages. The Irish pieces also added Volksleid (folk song) element to the concert. The performances were bookmarked with both Alice and David adding introductions of how the program was created, taking inspiration from friends, colleagues and their own students who regularly like to perform new pieces.
After a quick ice cream from Decks on the pier, watching the sunset and the remnants of Penarth Summer Festival being packed away, David and Alice invited a string quintet back to the stage to finish the night off with a dramatic piece by Dvorak. The piece employs rich melodies and harmonies which filled the room with music con movimento (with motion). The piece passes each instrument a measured amount of melodic drama in a contrapuntal fashion, and in true Dovorak fashion built tension that ended the whole concert on the right note.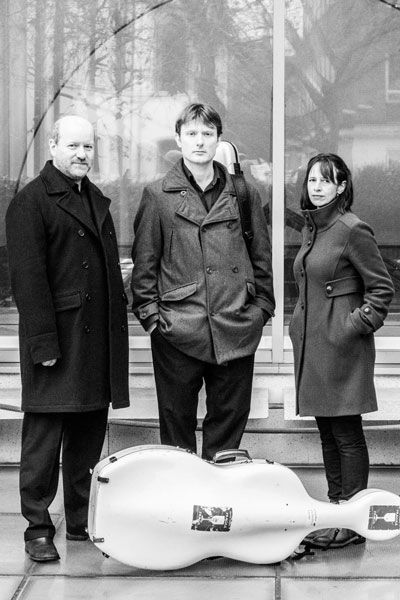 What was endearing to see was the mixture of people who attended the concert with some being avid classical music fans to others who are trying something new. It's wonderful that Penarth has a great venue with creative people to organise these events. If classical music is not normally something you would go and see, Penarth Chamber Music Festival is a good place to start. With fantastic initiatives for students and young people under the age of 21 who go free, opportunities for young musicians to perform as well as family and lunch times concerts, it's hard not to find a reason to give it a go.
If you're a classical music lover like I am, you won't be disappointed. You can keep posted on Penarth Chamber Music Festival events by following the website and signing up to their mailing list.
Thank you, and congratulations David and Alice, we can't wait until next year.