Penarth's Downhill Derby 2020 open for entries!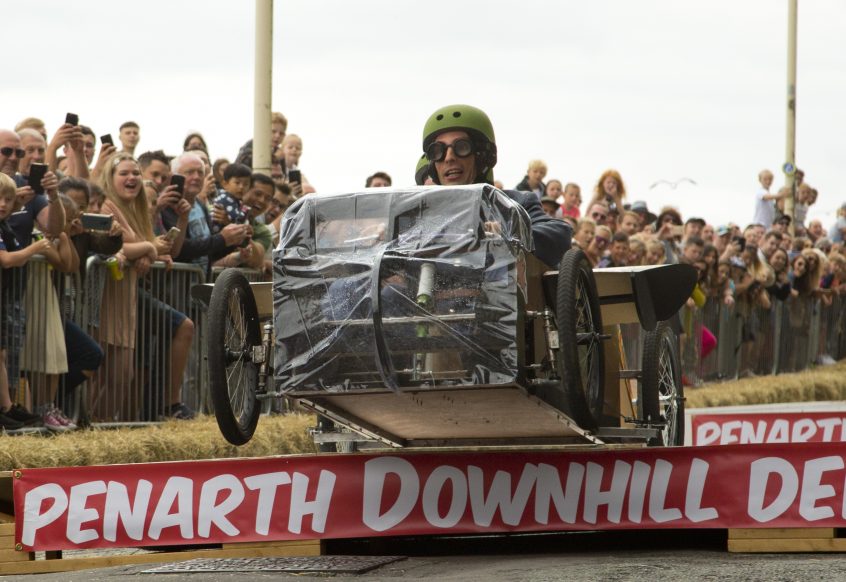 Penarth's wackiest event of the year is officially open for entries.
The Downhill Derby, now in it's 10th Year, will kick start the 2020 summer festival weekend taking place on the 11th and 12th of July at Penarth's seafront. The event attracts thousands of spectators and entrants travel from far and wide to participate in the annual soapbox race
Organisers especially welcome homemade go-kart racers who've never taken part before. Anyone can enter, including under-16's, as long as the kart is human powered, homemade and able to stop!
Racers will rattle down the 300m length of Cliff Hill, with a finish line outside the yacht club. Karts battle against chicanes, water hazards and ramp jumps against the backdrop of the vibrant carnival atmosphere.
Prizes are awarded for speed and creativity in each age group and special prizes include most spectacular kart, the trader's cup and the hotly contested 2020 King of the Hill title.
Co-founder of the race, Elliot Penn said "We're very proud of how Penarth has embraced the event. Every year gets bigger and better and 2020 is sure to bring new thrills and surprises. We welcome all entrants, whether they're regular racers or new to the Derby."
More information and entry forms can be found at www.penarthtowncouncil.gov.uk//whats-on/downhill-derby/ and enquiries can be made at enquiries@penarthtowncouncil.gov.uk or via the Downhill Derby Facebook Page.