Penarth Remembers, 1918 – 2018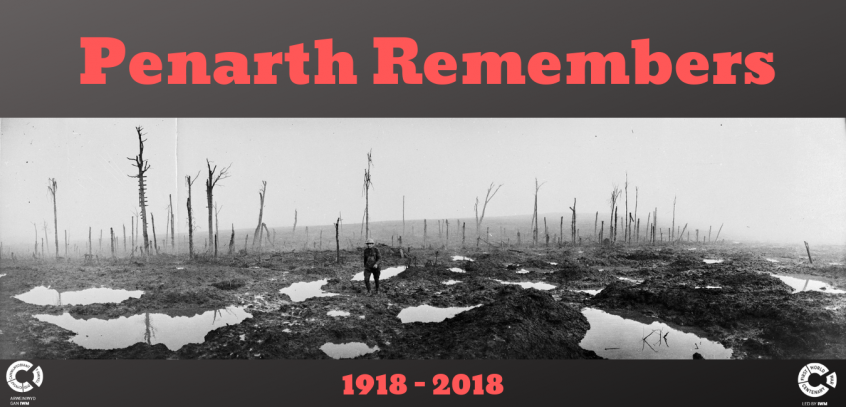 To mark the centenary of Armistice Day, Penarth's communities have come together to remember the sacrifices made during the Great War, the efforts of and effects on survivors, and the social changes that followed.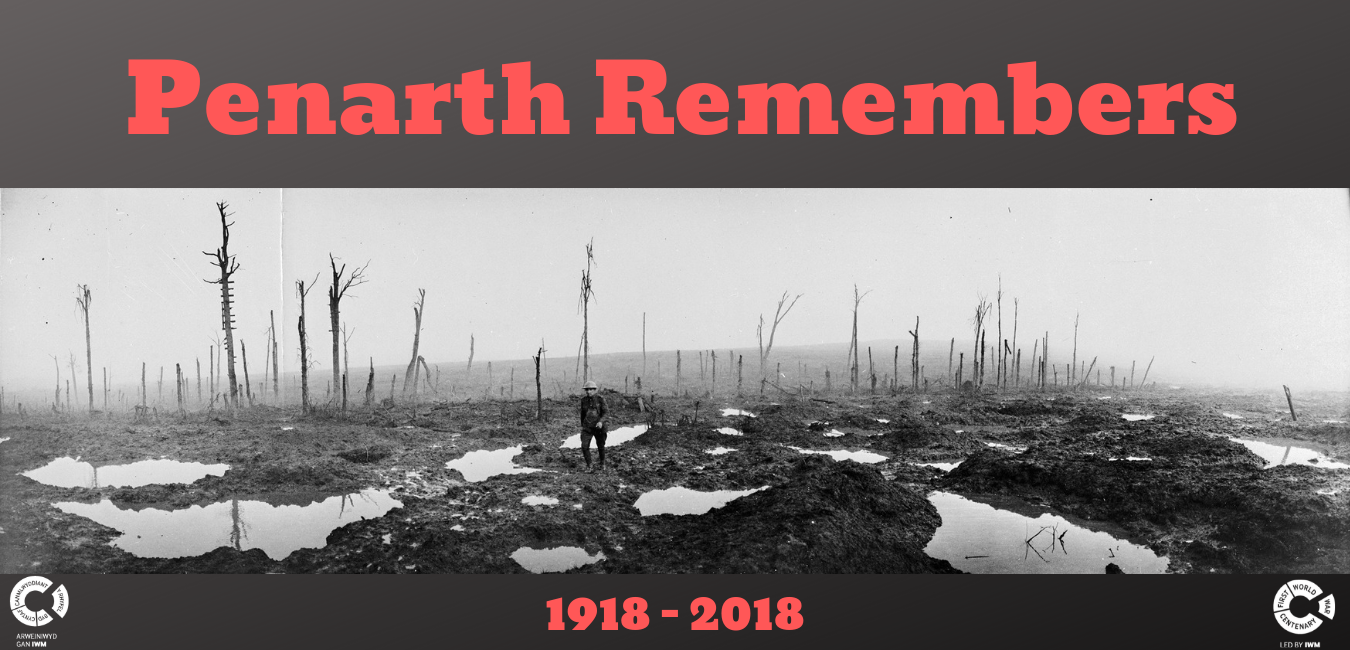 Over the past two years, local groups and individuals have met to share plans and develop projects together. 2018 has seen a number of important WWI related events in our community and this November brings a period of commemorations.
West House Gardens
Joining the Silent Soldier that has been in place during 2018 is an installation highlighting Penarth Remembers. A curtain of poppies flows from the facade of West House, bathed in red light. This poignant reminder draws attention to Penarth's commemorative activities. West House Gardens is being redeveloped as part of Penarth in Bloom and is open to the public.
Town Window Displays
Glass By Design have developed a project based on the 32 Penarth lives that were lost during the War. Wireart poppies are being placed in shop windows of independent retailers, with information on each of the men who died, the Roll of Honour.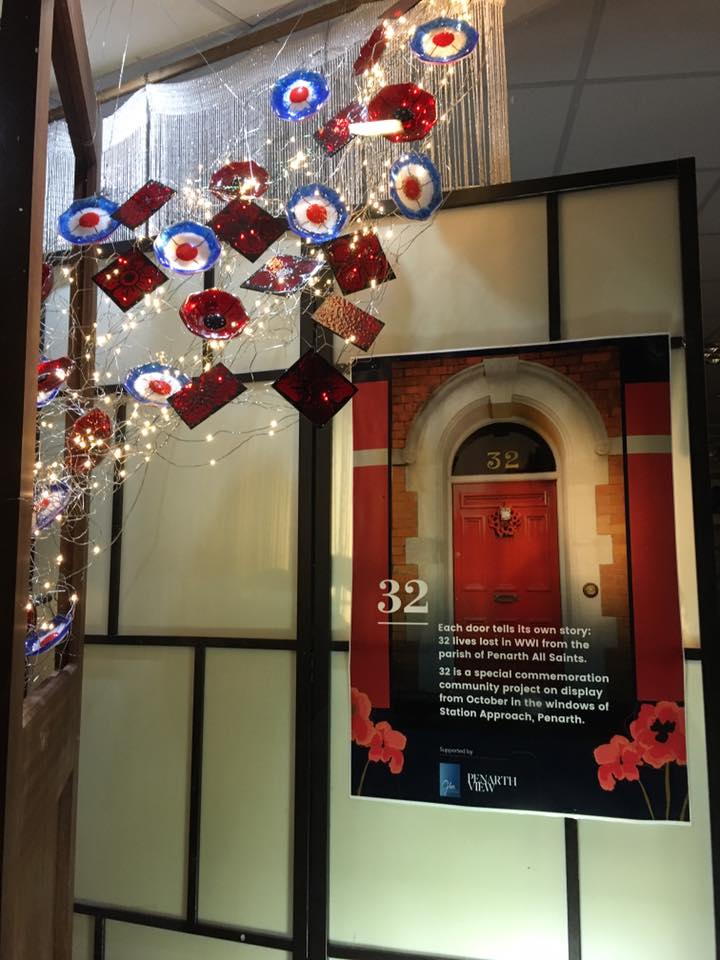 Thursday 8th November
Stanwell Remembers
Over the past few years, Stanwell staff and students have been researching the names of the men on the Stanwell Roll of Honour in order to learn more about their lives and their service to their country.
The Roll of Honour pays tribute to Arthur and William Monroe,  Arthur Tudor Thomas, Beresford Vyvyan, Bertram Spence, Charles Herbert Stanley Wakeford, Francis Reginald Steele Wakeford, Charles Matthews, Charles Wilfred Tucker, Clive SJ Yule, Douglas Pettigrew, Leonard and Arthur Tregaskis, Ernest Rees, Arthur Trevor Jones, Frederick Wall, Garnet Hammond, William Hugh Thomas, George Johnston, Henry L Hall, Humphrey Wynne-Williams, Kenneth Window, William Henry Thomas, Nowell Edwin Cooper, Ralph L James, Reginald P Thomas, Thomas Henry Cox, Thomas Le Breton Roscoe, William Ernst and William Hale.
As the nation marks the centenary of the end of the war, Stanwell are hosting an event Stanwell Remembers to honour the sacrifices made. On Thursday 8th November there will be a pop-up museum displaying the findings of this research and will include tributes from current students and those from our local primary schools. In addition, the Performing Arts students will bring some of the stories of these men to life through drama, music and dance.
The event begins at 6pm until 8pm. Tickets are £3.50 per person and all proceeds are to be donated to the Royal British Legion. Tickets are available from Stanwell School's reception. This event is open to everyone who wishes to join us.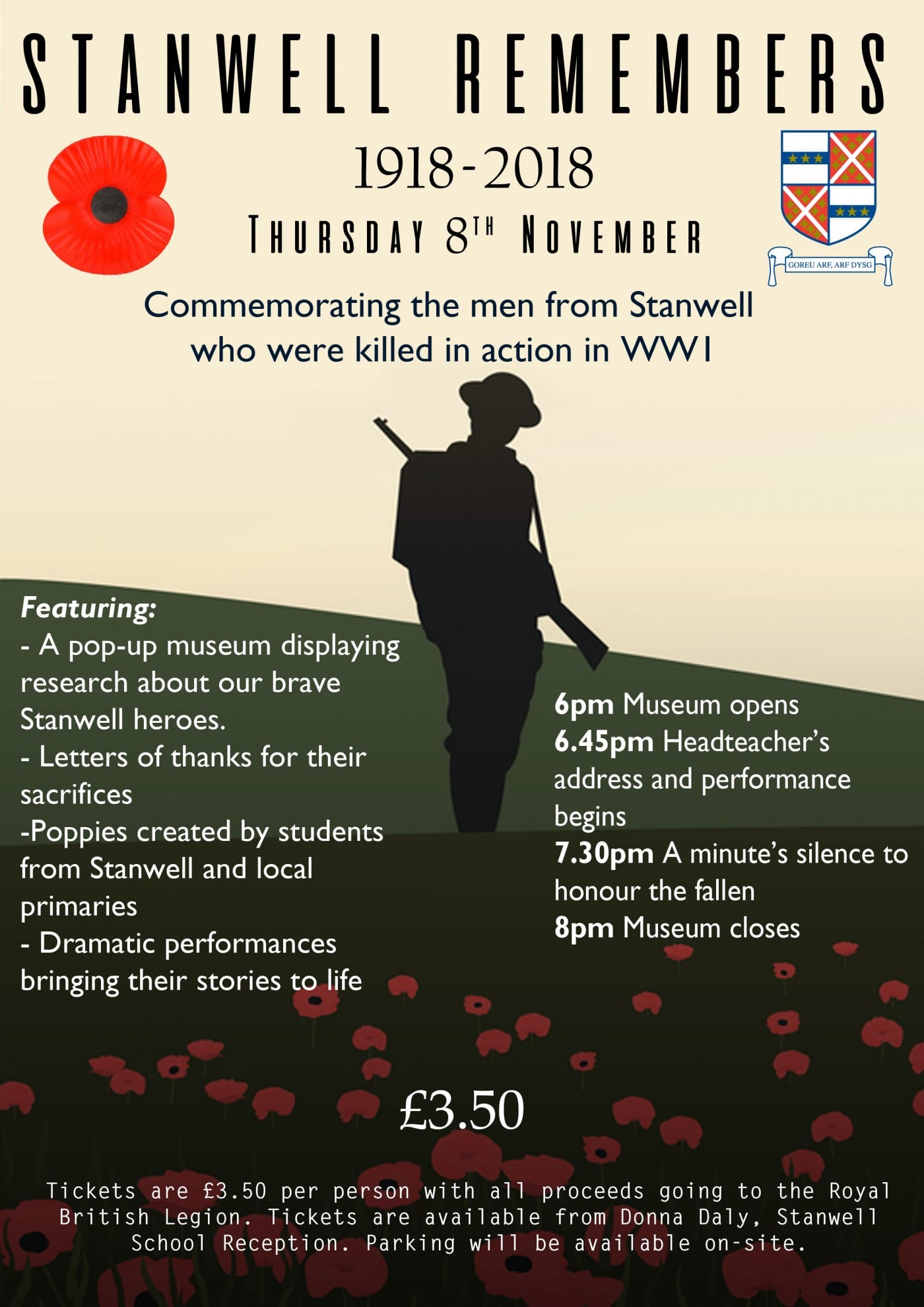 Friday 9th November
All welcome.
10 am – Commemorative Tree at Cliff Walk
On behalf of the town, Penarth Town Council is dedicating a commemorative oak at Cliff Walk to mark the Centenary. Groups and individuals who have joined together over recent years have been passionate that a living memorial was placed for those who lost their lives, those who supported the war effort, and those who survived. A short service will be held. Many thanks to Richard James and Roger Munday.
11am – Garden of Remembrance Service 
Tree dedication – Penarth Civic Society
James Long, Vice Chair of the Penarth Civic Society says –
'The Penarth Civic Society is proud to contribute to the World War 1 commemorations by planting a beautiful Rowan tree in the Garden of Remembrance.
The Civic Society's aims are to cherish the best of the town's heritage – and what better way than planting a tree to continue the splendid tree canopy of Penarth in acknowledgement of the sacrifice of the men and women who lost so much in protecting our town and country.'
Victoria Cross memorial stones – Join us as we unveil and dedicate two new memorial stones to Penarth's recipients of the Victoria Cross, Capt. Richard Wain and Sgt. Samuel Pearse. These tributes become a permanent fixture of Penarth's Garden of Remembrance on Rectory Road. The local community welcomes the regiments and the families of both men to this service.
11.30am – 4pm – Penarth Remembers Memorial Event, Paget Rooms
Learn more of Penarth's VC recipients' stories as the community comes together to share the commemorations. Along with hearing the stories of Capt. Wain and Sgt. Pearse will be an opportunity to see numerous projects developed by community groups and schools, memorabilia, history displays, music and film.
This event is free to enter. It has been developed by the participants to share and pass on knowledge of the Great War.
Special thanks to Dr Jonathan Hicks.
Saturday  10th November
St Augustines's Church 2 – 4pm Open Church Extra
This is an opportunity to:
View the town's first memorial to those who died in the First World War
Meet the Roll of Honour Project Team
Wander at leisure around this splendid church, designed by William Butterfield and built in 1866.
Meet the Church Archivist who will have Parish Records available
Meet the Habitat and Heritage Team who will be available to help locate family graves.
Organised by the Friends of St. Augustine's https://www.friendsofstaugustines.org/
All Saints Church, 2-4pm
The Church  will be open, with a display based on the 32 young men from our parish who perished in the War.
There will also be an opportunity for people to lay their wreaths and Poppy crosses
Refreshments will be served during the afternoon
Also invited are  the families of the 32, found in 2016 when the memorial to the rededicated in church, along with the families of the houses traced last year who now live where the men set off for War. Last year these families kindly agreed to place poppy wreaths on their doors or gateposts and they are part of our story too.
7 pm Concert – Penarth Remembers
Entertainment by children from local schools and 'Gentlemen Prefer Blondes'. The Royal British Legion will be in attendance for a traditional finale remembering the 32 men from All Saints.
Sunday 11th November
Remembrance Sunday and Armistice Day Parade
The parade will leave Station Approach at 09.45hrs and proceed via Rectory Road to the Garden of Remembrance at the corner of Alexandra Park.  After the Wreath laying ceremony we will march to St Augustine's Church for the service which will start at 10.30hrs  A Community Bus, provided by EVCT will be available for those who feel unable to carry out this journey on foot.Please contact the Penarth Town Council at West House on 029 20700721 at least a week before this event if you will require assistance.
 All who feel inclined to join us on this march will be most welcome.
This year's Remembrance Sunday will of course fall on Armistice Day, as well as marking the centenary of the first Armistice Day. It was probably the most important day of their lives for so many who lived through those tragic and turbulent times, and still holds great significance for us today. We would be very pleased if you could take part in this parade. The service will be held at St Augustine's Church and attendees are asked to be seated by 10.30am.
The parade will assemble at 0930 at Station Approach to march off at 0945. It will then proceed via Rectory road to the garden of remembrance in Alexandra Park for the wreath laying ceremony, followed by the march to St Augustine's. the parade will fall out at St Augustine's Place for us to enter the church for the commencement of the service. Standards will be paraded and decorations worn.
After the service, the parade will reform and proceed via Albert Crescent, Albert Road and Windsor Road to the Ex Servicemen's Club where the parade will terminate for refreshments.
Please join us in the Ex Servicemen's Club for refreshments after the parade.
10.30am – Penarth Yacht Club
Short service to remember those members who lost their lives.
Thursday 15th November
No Petticoats Here – 7pm, Ex Servicemen's Club
Exploring the lives of inspirational First World war women through original songs and storytelling
£8 – Tickets from Griffin Books, Eventbrite, or on door.
These events form part of Wales Remembers, 1914-1918 – the national commemorative project.