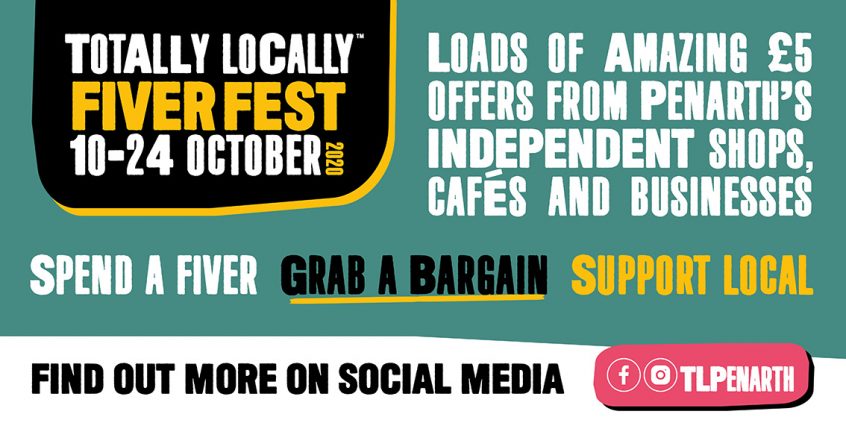 Invest in your high street with Penarth Fiver Fest
Penarth has signed up for this autumn's Totally Locally Fiver Fest- a national celebration of independent shops and businesses that make our town and high streets unique. Close to fifty indie shops, cafes and businesses in Penarth will be taking part in the two-week campaign, which runs from 10th to 24th October.
Fiver Fest is based around the now famous Totally £5 message. Based on figures calculated by Totally Locally- the grass-roots High Street organisation behind the campaign- if every adult in Penarth spent just £5 per week in their local independent shops and businesses it would mean £4.3 million per year going directly into our local economy. This would in turn lead to more jobs, a better high street, and a stronger local economy.
Each of Penarth's 47 participating business will put on special £5 offers over the two-week celebration highlighting the diversity and value of what our high street has to offer.
Angelina Hall, chair of Penarth Business Group and co-owner of Glass by Design, said, " Our local community has been fantastic in supporting us. This is our way of offering our thanks with some fantastic £5 offers. Come and be a tourist in your own town and explore it with new eyes. Walk through doors you normally pass- you might just discover there is so much more we have to offer than you ever thought."
Fiver Fest has been running successfully in individual towns in the UK and abroad for the past 7 years. Totally Locally is now partnering with Visa to encourage customers to divert £5 of their weekly spend to support the small businesses in their communities. The last national Fiver Fest (held in February 2020) saw over 100 towns and thousands of independent businesses joining and reported an increase in sales and new customers as well as a buzz in the towns.
Mel Griffin, owner of independent bookshop Griffin Books, added: "During lockdown, local businesses have worked tirelessly to adapt their services and look after their customers, for example creating an online presence or introducing free delivery. The majority of us live locally and spend locally ourselves, so every fiver you spend during this Fiver Fest fortnight has a much wider benefit than it first appears. Now more than ever we need your support to keep the town thriving."
Penarth Fiver Fest flyers and town maps will be available from the participating shops and a full list of offers will be released via social media and the Penarth Fiver Fest Facebook page soon. Keep an eye on the Totally Locally Penarth Facebook and Instagram accounts for the latest announcements.
Here is a list of the participating businesses in Penarth:
Andrea's Flower Boutique
Artisans Corner
Amorio
Anne Morgan Jewellery
Bar 44
Beauty Box
Blu Hair
Brod
Brutons the Bakers
Crafty Devil Cellar Penarth
The Crêpe Escape
Langdon Osteopathy
Ener-chi
Frangoulis
Foxy's Deli
Funky Monkey
Foothills Reflexology
Glass by Design
Gin 64
Gifts @ No.9
Griffin Books
Hi Plan Copy Print
Hamptons
Jo's Organics
Jewels Canley Interiors
Lily Pad Florist
Lou's for Men
Lush Butchers
Not Socks Again
Northern Star
Penarth Eye Centre
Penarth Music Centre
Penarth Pet Shop
Polka Dot Door
The Queen B
Refresh Skin Studio
Rowley's the Jewellers
Rowley's of Penarth
Shore
The Pantry
Street Food Hut
Thompson's Butchers
Umpa Lumpa Sweet Shop
EBS Voisey & Partners
Windsor Fruit Stores
Windsor Tea Rooms
Willmore's 1938