Penarth Chamber Music Festival 2018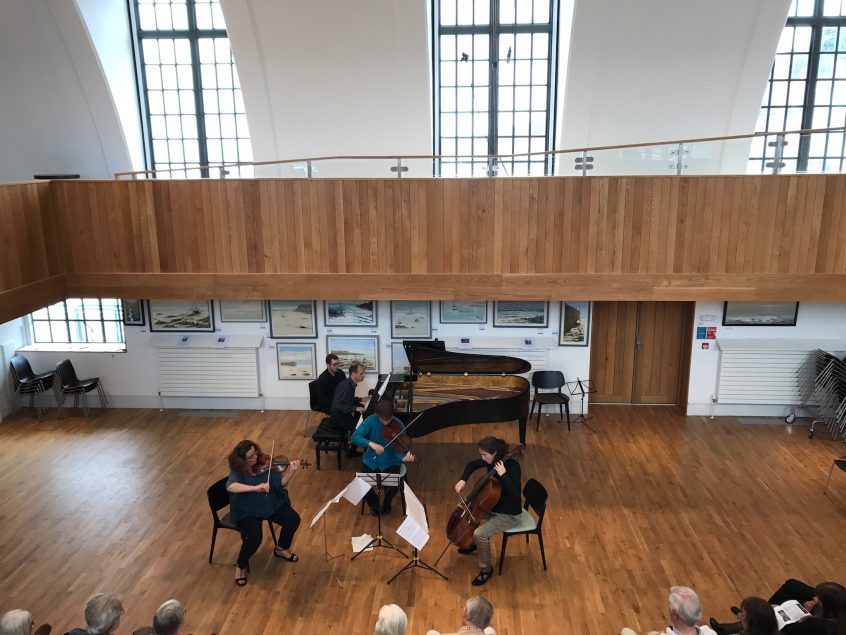 Words by Alice Neary
As musicians living in Penarth, David and I saw a golden opportunity to start a chamber music festival, for the many music-lovers in the community, to draw visitors to come to spend a weekend in the "garden-by–the sea" and for ourselves – as a musician it's a rare treat to play to a "home crowd"! 5 years ago, when the Penarth Pier Pavilion was nearing completion, we visited the gallery and thought what a wonderful space this would be for chamber music concerts – a beautiful acoustic, unparalleled views over the Bristol Channel, ice cream and fish and chips at hand – what more could we ask for! We have now added the beautiful venue of All Saints Church, and are looking forward to presenting our 5th festival in July 2018.
We aim to bring top-class chamber music concerts, given by musicians on the international stage to Penarth. We have had many memorable moments – visits by some fantastic musicians including Elias and Endellion String Quartets, Gould Piano Trio, Malin Broman, Laura Samuel, Tom Dunn, Alasdair Beatson as well as extraordinary performances by our "locals" Rebecca Evans, Robert Plane and Lesley Hatfield to name but a few. We aim to not only provide concerts for knowledgeable music lovers, but also introduce great works to new audiences and young people (through our free ticket scheme), and through our Family and Relaxed concerts, provide opportunities for first experiences of the wonderful world of chamber music.
This year we have chamber music classics, Brahms and Mozart Piano Quartets, Mendelssohn and Schumann piano trios, Mozart and Dvorak string quintets, alongside less familiar works by Fanny Mendelssohn, Donald Tovey, Saglietti and Schoenberg. We are also exploring some contemporary music; Welsh composer Huw Watkins is currently Composer In Association with BBCNOW and his string trio is a dynamic and beautiful gem. Don't miss Das Buch by The Latvian composer Peteris Vasks, a piece for solo cello full of extremes of emotion and spellbindingly beautiful sounds- you won't believe your ears!
We are especially grateful to Rebecca Evans for joining us in 3 programmes this year and for becoming our irrepressible Patron!
Tickets from £5-£16, free for 8-25-year-olds. www.penarthchambermusicfestival.org.uk or phone ticket source 0333 6663366