November Events with Griffin Books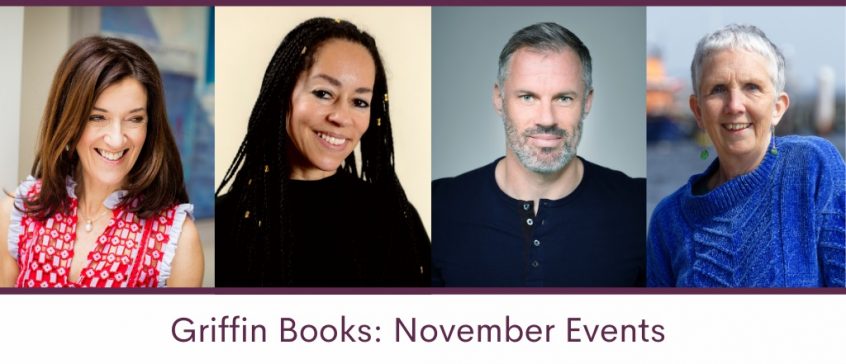 Victoria Hislop, Jamie Carragher, Kadiatu Kanneh-Mason, Ann Cleeves and more in an unmissable November line-up from Griffin Books!
From musical memoirs and sporting greats to bestselling crime fiction and fantasy noir, there's something for everyone in Griffin Books' November event line-up. So why not book yourself a ticket and treat yourself (or a friend) to the perfect literary night-in.
First to step into their virtual bookshop next month is number one bestselling author, Victoria Hislop (5th November), who will be talking about her latest novel, One August Night– the long-awaited sequel to her multi-million-copy bestseller, The Island. Tickets are selling fast, book now to avoid disappointment.
The packed November line-up also features: Cathy Rentzenbrink (11th November) author of Dear Reader– a moving funny and joyous exploration of how books can change the course of our lives; Kadiatu Kanneh-Mason (17th November)- the mother of seven musical prodigies, including the gifted cellist Sheku Kanneh-Mason; Liverpool legend and Sky Sports pundit Jamie Carragher (19th November), who will be in conversation with Geoff Shreeves in an unmissable event for all fans of the beautiful game; and crime fiction royalty Ann Cleeves and David Baldacci (24th November) will be talking about their latest must-read novels before taking questions from the audience.
Griffin books has also announced that it will host the official online launch events for local authors D.K. Fields (12th November) and Sam Hurcom (26th November).
Events take place via Zoom video call and give attendees the unique opportunity to chat 'face-to-face' with their favourite authors from the comfort of their own home. To view the full event programme and book tickets, visit: Â www.ticketsource.co.uk/griffinbooks, or contact the shop on 029 2070 6455 /Â info@griffinbooks.co.uk