Nine Wands Light up London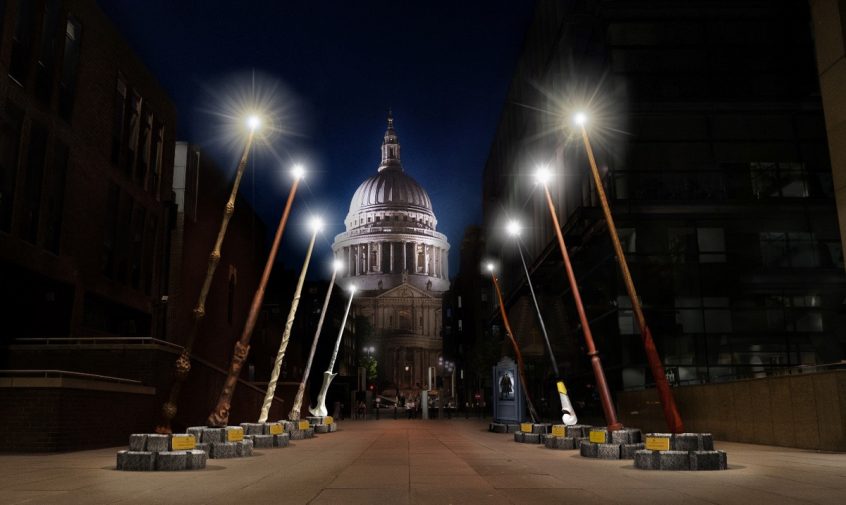 NINE WANDS
LIGHT UP LONDON
16 November sees the release of Warner Bros. Pictures' highly anticipated new film Fantastic Beasts: The Crimes of Grindelwald. To mark the occasion, an installation of nine giant wands will illuminate the walkway between Millennium Bridge and St. Paul's Cathedral in London. We spoke to Matt Wild, of Cardiff-based Wild Creations, who worked with his team to bring the project to life.
What can you tell us about your most recent project, working with Fantastic Beasts: The Crimes of Grindelwald?
It's an installation of nine exact replica wands from the movie. They're each four metres tall, with a light at the tip. At night, they flash in sequence to a music track.
What was most challenging working on this project?
We were lucky that the turnaround time on this project was plentiful—it's usually never enough time. When something is blown up to four metres tall, detail gets lost, so we had to add a lot more texture to the wands to make sure they looked lifelike close up.
What do you feel when you deliver some great work for international brands?
There's a great sense of pride from myself and from the team. We'll all hang around the project in a nearby café and watch people's reactions. When we deliver projects outside London, that reaction is even more intense, because the work is more unexpected.
How did Wild Creations start?
Long before Wild Creations, I was a carpenter. A mate invited me down to work on the Doctor Who set, and it grew from there.
I'd always wanted to set my own business up, so at 26 I used my connections to set up Wild Creations. I'd call on my friends for help along the way, so there wasn't really a project we wouldn't tackle. I'd bring in any skills that weren't in-house. We'd done some work internationally, but it was Ball in the Wall that put us out there.
What makes the work you do so special?
It's the attention to detail. It's walking the line between fake and 'could be real'. Of course, Ball in the Wall was fake, but the detail, the angle of the ball, it all blurs the line with reality. It's the introduction to fantasy world, which makes people pause.
What would be your dream project?
A project related to the Olympics would be a highlight for me personally.
What's the best thing about the team you have?
The team work incredibly hard, and they all live and breathe Wild Creations. People often underestimate the craftsmanship that goes into each piece, and everyone is passionate to deliver a great project every time.
And closer to home, how is the TV and movie scene in Cardiff?
It's growing! And it's being recognised as a creative city with a great talent base. For us, it can be a challenge to find enough people with the right skills, so we offer our own training and nurture them in-house. It's great to have Bad Wolf Studios round the corner too. We've worked on a few projects for them, including His Dark Materials and A Discovery of Witches.
And how is life treating you living in Penarth? What are your three go-to places?
Well we have an amazing view. There isn't anything to dislike. You'll usually find Sam and myself in the Pilot, Bar44 or the new Keyif restaurant! Oh, and a pint in the Lion too.