New Penarth business—Shroot—launch their first Growing Greetings products
Here at Penarth View, we'd like to introduce you to Shroot, who's ingenious range of growing greetings are sure to be a hit with people who want to give more than just a card.
2020 was a year like no other in living memory. Whilst much of it most of us would rather forget, the enforced social isolation did bring with it some gems, including the creation of a fantastic new local business.
Late last week I spoke to Shroot's entrepreneurial creators Carolyn and Jude—both Penarthians who have been friends for over eight years—about their growing new company.
"We are really excited to launch our first range of Growing Greetings. Watch this space for more exciting products from Shroot. Like the microgreens themselves, we aim to bloom and grow"

Jude Cook
How did Shroot start, and what's the inspiration behind the name?
Jude: I was looking for a fun lockdown project, so decided to try growing a variety of microgreens on my windowsill. I love animals and nature, but I am by no means green-fingered. Flowers don't fare well in my care, but as I discovered, that's the beauty of microgreens—they're so easy to grow and very hard to kill!
I wanted to share my new obsession with friends but given that we were in the midst of a global pandemic, I had to find a creative way to posting and growing microgreens with minimal fuss or waste.
Carolyn: Jude shared the idea with me, and together we formed Shroot. We worked hard to hone the product and designs until we had our three launch products—of which we're very proud.
The name is actually a blend of shoots and roots, and it's so evocative of the product itself. We're really looking forward to seeing people's very own #photoshroots on social media.
What can you tell us about your three launch products: growing greetings?
Growing greetings are a post-able, watertight, plant pot and envelope in one. We added an attractive design and a personal message to the pouch, so people have the perfect way to send friends and family a greeting.
And what exactly are microgreens? Why should people be excited by them?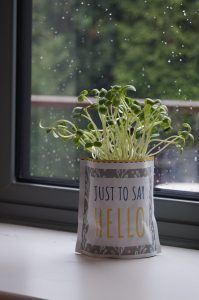 Cress, mini herbs, microgreens. They are the seedlings of leafy herbs and plants that are harvested and eaten when the plant is still immature and small. You'll have success every time—they're so easy to grow. And they start growing within a couple of days, so you get that instant gratification if you're impatient.
What stands out as being one of the highlights so far?
Jude: For me, the highlight was absolutely to see the finished product. Throughout the design and manufacture process, it was all just in our minds really, so seeing everything come to fruition was great.
We loved working on the look and feel of the products. We worked through very many concepts and ideas for the logo and packaging—the cutting room floor was littered with discarded ideas, styles and colours. We then engaged a graphic designer to finesse everything.
Carolyn: For me, as soon the website started to come together everything felt so much more of a complete business.
How do the products fare on sustainability?
We both have a background in nature and science, so we've been very mindful of sustainability from the beginning.
We avoid single use plastics where possible; the stirrer is wooden and the seeds are contained in a little glassine envelope – it's made of water resistant paper that is recyclable/biodegradable.
Our seeds are from a UK supplier and are non-GMO and untreated. The expanding soil discs are an eco-friendly alternative to peat pellets, made from coconut husks (which would otherwise be agricultural waste). They readily absorb and hold water so are ideal for growing in our pouches.
The pouch is not yet recyclable, but plans are certainly on the way. In the meantime, the pouch can be reused to grow another batch of microgreens!
What do you feel when you see your products out in the public?
Carolyn: I just want people to think: "What a brilliant idea!"
What are your pointers for running a business?
Get other people's opinions. On marketing, on product development, on everything. And that is to generate feedback and make the product foolproof.
Not to underestimate how long it takes to launch, and how much work is involved.
Don't launch a business when home-schooling 🙂
Value having a business partner with a similar mindset and use it as an opportunity to bounce ideas off each other.
What other products are on the horizon?
A range of plant-based products in the sidelines, including other greetings ideas. Also some other ways of growing microgreens in the house, especially for the non-green-fingered.
Biographies
Carolyn Davies
Role: Marketing and social media.
Has lived in Penarth for over 15 years. A mum of two, and previously a BBC Wales researcher, having worked on Iolo Williams' environmental shows, some History of Wales shows, The One Show, and more.
Jude Cook
Role: Product development and fulfilment.
Masters in Environmental Engineering. Always dabbling with project, and always looking for the next idea. Set up an eco-goods business 15 years ago.
Previously a science teacher at Stanwell School
Shroot are currently offering free P&P on your first online order, so click here to find out more and to place your order.