Meet the Maker: Emily Van Keogn of Boo Brolly
Here to shine a light on the home-based ventures in Penarth, this issue we speak to Emily Van Keogh from Boo Brolly.
What is the inspirations behind the craft? Where do you get your inspiration from?
I love design, so I relish is spending time (maybe too much time!) browsing different design channels on Instagram; from home to fashion, to product design to photography. I also have a passion for home magazines! I take inspiration from what I see around me, especially here in beautiful Penarth.
What is unique about your craft? Why do your customers come to you?
On a rainy day, what can be more uplifting than a bright, colour popping umbrella. It can cheer up any wet journey! Boo Brolly is all about bright designs and injecting colour into the everyday. Most umbrellas out there are dull and dreary but ours definitely buck that trend. I think people are attracted to Boo Brolly in particular for our unique colour changing canopies- as the rain falls, the umbrella changes colour and the design comes to life!
Plus on top of this, all of our umbrellas are the best of the best, in terms of quality. So our umbrellas honestly really do last! No more bent and mangled ribs. We use fibreglass throughout out brollies to ensure that there is no snapping or twisting. This ultimately makes our umbrellas seriously durable.
And, well, is there any better place to design and sell umbrellas than here in Wales! We all need umbrellas, so why not make them as fun and uplifting as possible.
What is the biggest challenges you face? How do you overcome them?
I have many years of experience in the field of umbrellas, so I am very confident in umbrellas themselves- in terms of choosing the right umbrella and best technology. That side of the product is easy for me, as I know where to invest to ensure the frame is lightweight and how to ensure that we opt for the right materials, to ensure a strong and robust brolly. However, getting designs right, I guess, can be the hardest part- but also the most fun! It is essential to select the right design to ensure that it has wide appeal and that people want to own one of our umbrellas!
To overcome this, I make sure I speak to as many people as possible. Family, friends and audiences on social media. By showing them my designs, chatting about what they want and opening up a discussion, I get honest and precious feedback.
How long, on average, do you spend working on a new design?
The whole process takes a few months at least. I start by researching key current trends and finding a pattern that would work for different age groups and genders. I then adapt this so it would work on an 8-panel umbrella canopy, together with the colour changing element too. There are limitations in terms of the colours and designs within.
I have experience in design, so I do all the design work and colour pairing myself. After lots of feedback from family and friends- and social media, I then get the final options made into samples. I can then physically check all aspects of the design, so I can make the final decisions on the design to go for.
How did you come across this craft?
My husband, Dan, set up Brollies & Parasols 10 years ago, after working within the umbrella industry for nearly 20 years. After having my daughter, I decided to focus on the business to help it grow and strengthen, resulting in us working together and running the business here in Penarth. Brollies & Parasols design, produce and manufacture high-end umbrellas and parasols (did the name give it away?) for breweries, restaurants, hotels, marketing companies, festivals etc. Clients include; The Dorchester, Queens Club, Jamie Oliver restaurants, 45 Park Lane, Osborne & Little, Dorset Cereals, Martini, LTA, Heineken, Johnnie Walker, Goodwood Festival of Speed, Fever Tree and Waldorf Astoria hotels, to name a few.
Utilising the experience I have the high-end umbrellas, I wanted to do something with a more local, personal focus. I set up Boo Brolly as of last year, to bring some new umbrella innovation (like colour changing canopies) together with some quirky designs to the lovely general public- both locally as well as nationally and internationally, through channels like Etsy.
If anything, this winter has shown us that we all need umbrellas! My craft has allowed me to bring quirky and colourful brollies to the market.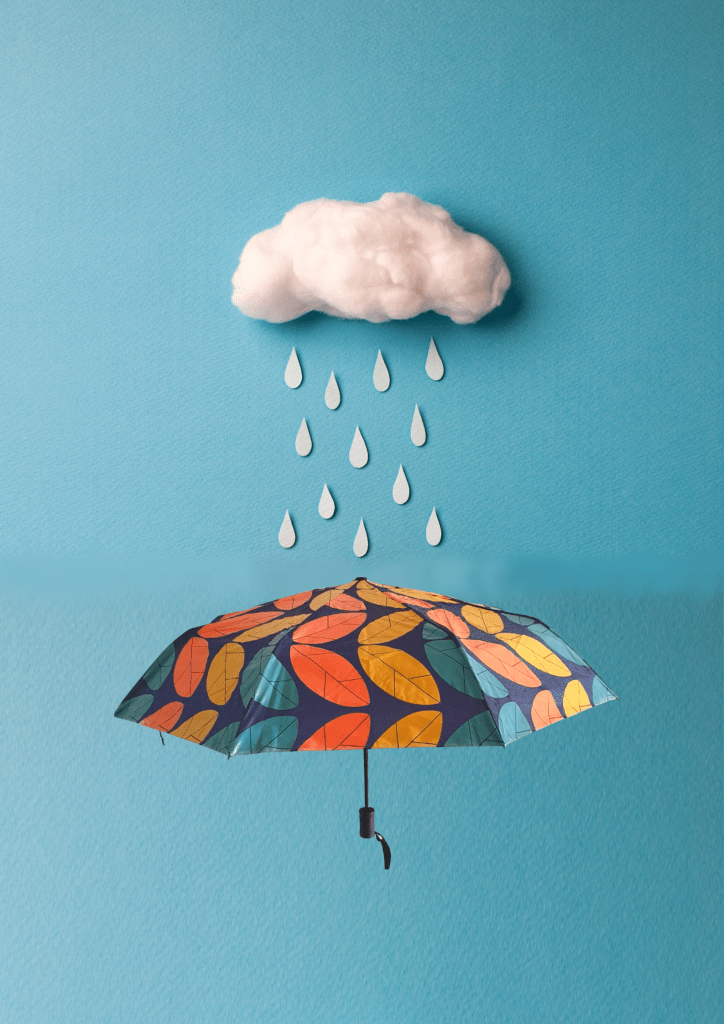 How influential would you say social media is in getting your work out there?
I believe that social media is integral for small businesses in this day and age. It has been a brilliant tool for me to build up my audience and get exposure for my brand. It is just the perfect place to showcase my products and I also use it to get feedback on potential designs. It is the modern-day survey of opinions! It can really help me decide what will catch people's eye and essentially what will sell.
What has been your favourite design/project to work on? Why?
I am currently working on a range of colour changing umbrellas for children, which I am just loving! The designs are so fun and you can go a little wild with colours. I love bright and beautiful and with children's patterns you can really let your imagination go. Kids have naturally gravitated to the colour changing concept. Watching the brollies change colour and the colourful patterns the rain makes on the canopy really captures their attention so to design a children's range just made sense.
Are you someone who stays with the trends, or do you create your own path? Why?
A bit of both I guess! I use what is out there and what is trending and popular as my starting point. However, I love injecting something new too. Colours, adaptions and re-visualising is so essential. Creating something unique is my driving force!
Want to find out more? Make sure to go and check out Boo Brolly's platforms. And keep an eye out for their new website!
Facebook: @BooBrolly
Etsy Shop: BooBrolly