Introducing CATALYST 360º- An Immersive Programme of Installations and Virtual Exhibitions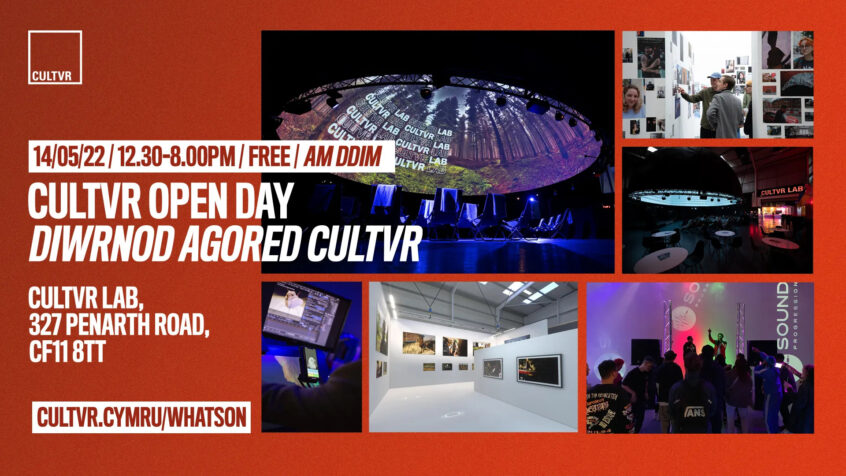 Introducing CATALYST 360º- a new immersive programme of installations and virtual exhibitions from local, national and international artists. 3 new immersive residencies, 6 online exhibitions and a FREE Interactive Family Day of Discovery on Saturday 14th May, 12:30pm-8pm.
CULTVR is the first immersive cross-disciplinary space in Europe and hosts the largest screen here in Wales enabling shared virtual reality experiences through a variety of live performances and digital platforms. This unique arts venue facilitates research, development and exhibition of shared immersive cultural experiences for the artist and the audience.
Conceived by 4Pi Productions, the Lab provides both a nurturing and playful environment for producers, technologists, film and theatre makers, artists, academics and performers to come together in the pursuit of this unique medium's capabilities.
CATALYST 360º has enabled CULTVR Lab to commission the creation of new immersive artworks from a range of local, national and international artists. The initial programme, supported by the Arts Council of Wales, includes 3 immersive arts residencies, 6 virtual exhibitions and an open day as part of our 0 barriers of engagement strand. The aim is to annually provide opportunities for like-minded artists and collaborations to develop creative projects that delve into the unknown of XR through multidisciplinary practices. The final showcases are documented on CULTVR's online portal contributing to the immersive archive and creating a lasting legacy for future generations.
"It has always been out long-held dream to make the immersive arts not just more accessible to audiences but to fellow creatives to actually produce new work that is outside of their conventional practice. Catalyst 360º virtual exhibitions and residencies programme is enabling artists to leverage the extensive in-house equipment that we have and also to realise this passion by lowering the barriers of engagement that we faced ourselves working within this complex medium."- Matt Wright, Director 4Pi/CULTVR.
The programme consists of three immersive installations, "Entangled Structures"; a captivating XR live performance by Vienna based AV artist Monocolor on Friday 6th May at 8pm; followed by "Semi Diurnal Spaces" by Studio Above & Beyond and Einar Fehrholz- a living sculpture drawing together unseen connections between humans, machines and the environment on Saturday 14th May, 12-8pm. The third commission, "Illusory Contours" by Tom Slater and Jeremy Keenan of Call & Response Studios will open on the 20th May at 8pm. These 3 installations will be supported by six virtual art exhibitions online at www.cultvr.cymru or you can experience them at the Lab during the open day on the 14th May,
"I throughly enjoyed my residency at CULTVR. Working on full dome pieces can be difficult as access to these facilities is often limited. The residency allowed me to completely focus on continuing my research on the medium, especially on the intertwinement of image and spatial audio. The team has been extremely competent and helpful and supported me during the creation of my work. I look forward to continuing my collaboration with CULTVR." – Marian Essel, Artist in Residence.
CULTVR Open Day on Saturday 14th May, 12:30pm-8pm. A day of activities that the whole family can enjoy including immersive film screenings, audio and video installations, VR experiences, crafts and digital exhibitions. This FREE 'day of discovery' also includes live music from local young talents presents by Sound Progression. There will also be an opportunity to vote for a favourite virtual exhibition which will then by exhibition in the gallery space at CULTVR in 2023.
For further information, photos, interviews about the zero barriers of engagement strand Catalyst 360º programme- CULTVR Open Day or the team behind CULTVR, please contact Patricia O'Sullivan:pmosullivan67@yahoo.co.uk – Mobile 0784 1421075.
CULTVR LAB, 327 Penarth Road, CF11 8TT Cardiff, Wales, UK. For more detailed information on CULTVR, creative opportunities, venue hire and other, please visit www.cultvr.cymru. Follow us on Facebook: @CULTVRLAB Twitter: @cultvr Instagram: @cultvrlab