From fresh sea scents to those designed to help you relax, there's something for every space. We take a look at Apothecary64's new retail space on Cornerswell Road.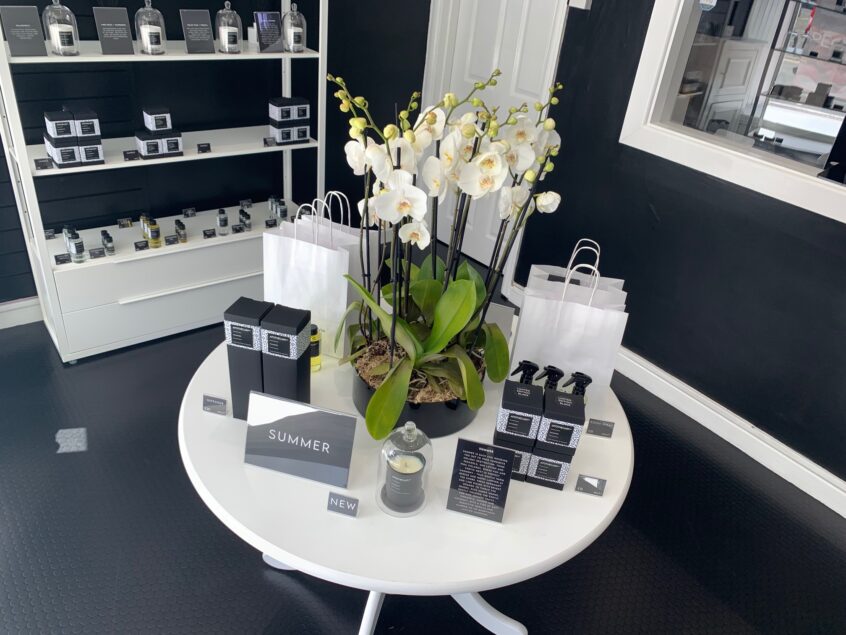 From floral and fruity, to woody and musky, to scents that transport you around the world (and only to Penarth Pier too), Apothecary64's new retail space is now open on Cornerswell Road, Penarth.
For Craig Parker, the alchemist behind Apothecary64, the affair with fragrance began with his Grandad's ripe tomatoes growing in his warm greenhouse, the pungent smell as Craig brushed passed the vines lay heavy on those long hot summer days and stays with him still. Even now, with each new fragrance and scent in the Apothecary64 range, everything starts with Craig's own taste. And it's not just any fragrance. A synthetic copy is no substitute for nature's vibrance, and it is this that has led him to produce his collection of eco and ethically friendly candles, diffusers, and oils.
Making some scents
Summer and leather scents are Apothecary64's top scents, but the highlight of the range has to be Penarth Pier. A mix of sea salt and sage, reminiscent of Penarth Pier, where bracing mineral scented air captures the fresh and spirited sea salt as it tops the rugged cliffs and fuses with the comforts of grounding sage. This clean fresh scent washes through the toughest of days recharging with renewed vigour.
Aspirational
If you've stepped inside the apothecary, you'll notice that the space is aspirational and engaging. Craig's vision was to create an artisan, unique and bespoke space, slightly reminiscent of Holborn in London, and playing on the apothecary theme, where everything is dreamt up in this artistic, experimental space. The smart products, with their elegant black and white labelling, invite you to step in and pick them up. That's not to say that Craig hasn't taken effort to ensure the space is covid-safe. Customers are asked to lift the glass cloche and smell the perfumed air inside, not to handle the candles and diffusers themselves. The glass cloche will then be wiped down and replaced after each customer.
What's next…?
We were excited to hear of Craig's next product launches, which will include charcoal soaps and massage oils. Again, all of which will be eco and ethical, and will be further testament to Apothecary64 being an experimental room.
Pop in to see Craig at Apothecary64, 7b Cornerswell Road, Penarth, CF64 2UW, or you can shop online here.