Brød Penarth: Exclusive interview with Betina Skovbro, owner and founder of the Danish bakery Brød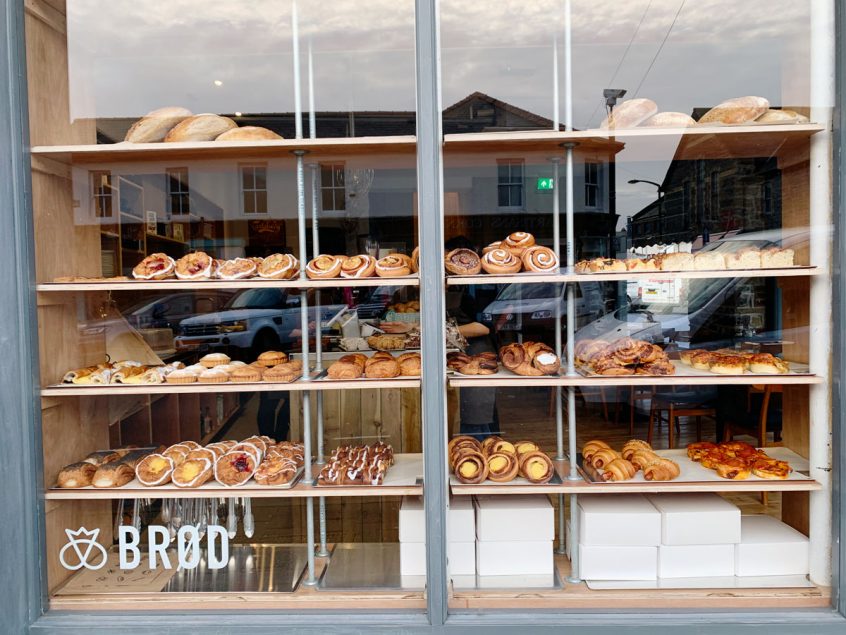 From CPH, to CDF, and now to PEN, here, we speak to owner Betina Skovbro as we take an exclusive look at Brød's new store in Penarth. Brød (Danish for bread) is a little taste of Denmark, in the heart of Penarth. A cosy coffee shop and bakery, serving freshly baked Danish goods to eat in or take away.
Welcome, Betina, to Penarth. How would you describe Brød, and what makes Brød special?
More than you can know, I'm happy to be here. What makes us special is the people, the team. We're small, so everyone works together. Without a good team… it's hard to explain… we want to more than just a cake and coffee shop. We want to be an experience. We work hard to have a good, fresh, easy atmosphere. A comfortable and easy space—not too classy, but not too shabby either.
We also train our staff to be proud of where they work. For example, we make all our pastries fresh in our Pontcanna bakery every day—and that's a 3am start every day! The front of house team in Penarth take over when the baked goods are delivered, and they are trained to know every product.
How did you come to start Brød?
Being Danish, I had the British version of a Danish pastry in my hand, and I wanted to set the record straight. What you get in a British supermarket, is not a traditional Danish pastry. We also offer a full variety of sweet and savoury pastries, baked using traditional Danish recipes, in a traditional way.
What makes the recipes special?
Ah, that bit is a secret.
Why was Penarth the location for your second bakery?
I love the community here. I love how people interact with each other, and how people help each other out. I've never set out just to create a coffee and cake place. I've always wanted to be part of a community. It's very similar to Pontcanna. Brod is about stopping stressed life, just for a moment.
What or who drives you each day?
My own stubbornness. I have a saying… "how hard can it be". I've found that it can be really hard sometimes, but I work through. Family is important to me too—do good for your own family. My grandad on one side was a baker, and my grandad on the other side was a blacksmith. I suppose their determination has spurned me on too.
For anyone new to Brød, what would you recommend off the menu?
The overskåren. As you eat it, it changes flavour. It starts off with cinnamon, then custard, then marzipan. Any of our sweet pastries go with our good coffee. All our coffee is roasted in Bristol by Clifton Coffee. It's a dark roast that pairs well with our sweet pastries. In fact, all our front of house staff are barista trained by Clifton Coffee themselves here in Penarth.
Could you tell us a little more about the bakeries' interiors? What's the inspiration? Have you incorporated this bakery's past lives in the interiors?
We've stripped the interior right back to its original features. I'm a massive fan of letting a building breathe, so we've left a lot of exposed stonework, after having repaired some of it. Leaving the original wooden floors adds a warmth to the space. The tables and chairs are similar to those found in the Pontcanna shop, which were actually my grandmother's originals, and have been shipped from Denmark, so they're Danish originals, adding to this little spot of Copenhagen in Penarth.
Similar to the wall of rolling pins in Pontcanna, I also have planned a wall of about fifty cameras, which were collected by my father. It also hints to my background as a photographer, so it feels good to have a piece of Dad in Penarth.
Both bakeries are corner units, is this purely a coincidence?
In fact, when I saw this unit in Penarth, I felt it was a mirror of the Pontcanna store. So it felt like work-home straight away. Because displaying the bread is a big deal for me, having as large a window as possible is important. I suppose there's also a nice story that a corner shop is also a central point, where many roads come together—a hub.
Which other local businesses do you admire?
All of them. Glebe Street is all independent, and we've received so much support from local neighbours. Both through the time setting up, and after opening—with others saying how hard it is to open a business. If you run a shop, you know how hard it is to start and keep it going.
What does the future hold for you and for your bakery?
I'd love to grow Brød in a sustainable way—I feel we have a lot to give. But right now, I'd love to sleep.
We're massive fans of Copenhagen ourselves. If you were to bring another piece of Copenhagen to Penarth, what would it be?
Liquorice! The stronger and saltier the better! As many of the better things in life, it takes a little practice to get used to, but once you've got the taste for salty liquorice there's no going back.
Penarthians can now grab a slice of Denmark themselves at 6 Glebe Street, Penarth, CF64 1ED. Brød Penarth is open daily. Tuesday – Saturday: 8.30am – 5.00pm and Sunday: 9.30am – 4.30pm. The full Brød experience isn't available yet, only a small selection of what is to come, as the everyone finds their feet in the new Penarth shop. The upstairs seating area will open shortly too.