Driving home for Christmas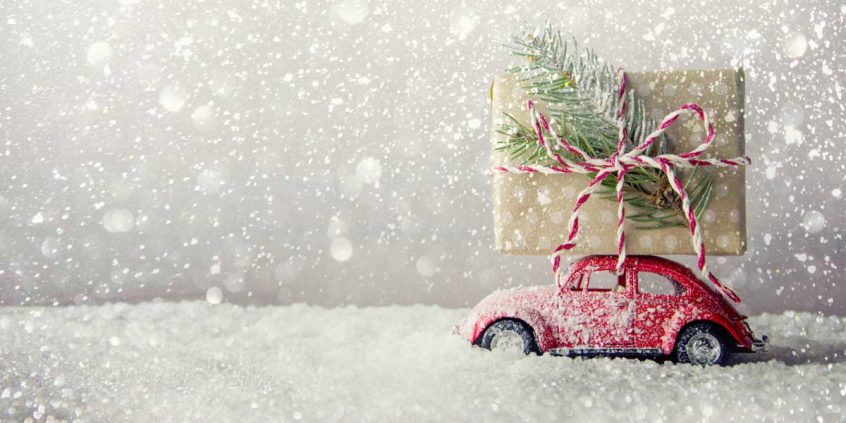 Driving home
FOR CHRISTMAS
On the road again this winter? Whether it's seeing loved ones, grabbing that last Christmas bargain or the daily commute, Simon, Tom and the team at Victoria Garages have put together some handy tips to keep you safe and on track!
VICTORIA GARAGE
At Victoria Garage, we provide economical maintenance to the highest standards offering main dealer facilities at much lower prices. Appointment times can be made to accommodate your schedule.
Maintenance
MOTs—average test taking just 45 minutes, offering a fast and efficient service
Servicing and annual inspections
Tyres, brakes, exhausts and batteries
Clutches and cam belts
Diagnostic testing
Engine tuning
Air conditioning regas
029 2070 1025
enquiries@victoriagaragepenarth.co.uk
Check that tyres are properly inflated, all fluids such as water, antifreeze and oil are topped up and you have a full tank of fuel.

Clean all windows with de-icer and clear any snow from the roof to ensure your view isn't blocked whilst driving.

If you don't use your car often, give it a regular overnight trickle charge.

Turn off electrical items like lights, heated rear windows and wipers before trying to start the engine.

Use the starter in short, five-second bursts and if the engine doesn't start quickly, wait 30 seconds between attempts.

Air-con de-mists screens faster and reduces condensation.

Don't leave your wipers on auto when you park up. Your blades may freeze to the screen, and you could damage the wiper motor when you turn the ignition on.

Frozen locks? Use a cigarette lighter to warm your key.

Plan routes via major roads, which are more likely to be cleared and gritted in winter.

If you get stuck, lay a sack or old rug in front of the driving wheels to give the tyres some grip.
PLANNING
Pack a winter emergency kit: water, emergency contact numbers such as your breakdown provider and policy number, snack bars, warm clothes, water proof jacket, trousers and a high-vis jacket. If it's snowing, take a small shovel and a mat or large plastic sack.

Think about getting winter tyres or all-season tyres.
Keep an eye on the weather and wherever possible plan a route around it. You can check the internet for traffic update sites and listen to radio traffic alerts, we recommend www.traffic-wales.com and www.trafficengland.com for live updates on incidents, congestion and roadworks.
Having a road atlas will make use of those school orienteering classes and keep you on the right track when your phone runs out of juice. Alternatively a USB cable and mapping app on your phone is a must-have for long road trips.

Consider purchasing a breakdown policy. You won't regret it when your car breaks down on a lonely back road.

Keep costs down by conserving fuel as you drive. Minimise sudden starts and stops, empty your car of all unnecessary weight, and slow down—it takes much less fuel to drive 55 miles an hour than it does to drive 70.

Don't wait until your fuel gauge is sitting on the red to refuel. As soon as you hit a quarter of a tank, start looking for a place to fill up.
Top 10 tips when
visiting Croatia
Ask me where my favourite place in the world is and (after Penarth!) I'll answer you in a heartbeat: Croatia. I'm smitten with the crystal clear sapphire sea, the endless beautiful islands and the delicious seafood, wine and gelato. I dream of the summery background hum of cicada tree crickets and the smell of hot crunchy pine needles and sea salt carried on a warm breeze.  And I admire the humour and warmth of the infinitely welcoming Croatian people.  The 1,100 mile stretch of coast and more than 1000 islands means there are a surprising variety of places to choose from when planning a visit. Despite the country growing increasingly popular with tourists in the past few years this hasn't faded its charm and appeal. 
Jo Baldwin
I have worked in travel all my life as an adventure tour leader and now as an independent Travel Counsellor. I provide friendly, professional travel advice and trusted tailor made holidays. I live in Penarth with my son and I love running, yoga and travel (of course).
02920 003530 or 07581 181 236
jo.baldwin@travelcounsellors.com
To start with you need to visit Dubrovnik, the Pearl of the Adriatic, famous for its imposing medieval stone walls that encircle the old city surrounded by dazzlingly clear blue water. Walk on top of the entire 1,940m wall diameter for the dizzy drops and heights, and take a sea kayak out at sunset for the ultimate view of this majestic, proud city. The city of Split is home to waterfront Roman Emperor Diocletian's Palace and has a great selection of bars, cafes and boutique shops, all set within the ancient, crumbling palace walls and surrounding streets. From Split you can jump on a ferry to many of the Dalmatian islands but don't pass through too quickly as you'll be disappointed you didn't stay longer.
Towns don't come much prettier than picture-perfect Trogir, a small town with a labyrinthine network of narrow cobbled streets worn smooth by centuries of pedestrians. Venetian stone buildings hide shaded courtyards blossoming with flowers; it is a town with soul. At sunset the warm stone paved quay is lined with bobbing wooden boats, artisans, performers, and people simply strolling along with an ice cream in their hand, watching the world go by; a typical Croatian scene.
If you fall in love with Croatia's natural beauty, then you're in good company.  According to legend, Odysseus was enchanted after being shipwrecked here, and stayed for 7 years. See where he livedon peaceful Mljet Island where the National Park has a network of spellbinding pine-scented forest trails you can explore by foot or bike. There are also two vividly blue saltwater lakes perfect for swimming or kayaking. My favourite National Park is at Plitviče Lakes where hundreds of waterfalls cascade into 16 sparkling azure interconnecting lakes.  There's nowhere else on earth like this; it should be on everyone's bucket list.
The island town of Hvar is Croatia's most notorious hotspot, with a marina that rivals St Tropez's glitz and glamour. Holidaymakers rub shoulders with celebrities while yachters mingle with in-the-know backpackers. Don't be put off by this if you're after some serious culture and history as the town is steeped in both. Cafes and restaurants spill out onto the largest piazza in Croatia and you can instantly see the town's appeal in its jumble of pretty narrow streets, its fortress and dazzling architecture. Nearb, sleepy Korcula has less international notoriety but ample picturesque charm and is known as 'mini Dubrovnik'.
When to go? The weather is typically Mediterranean with peak visitor numbers between March and September. I like June the best for the spring flowers, endless sunshine and marketplaces selling the best cherries you'll ever taste.  Croatia is less than a 3 hour flight away, so it's perfect for short breaks or longer.
Direct flights from Cardiff to Dubrovnik starting in 2019. Flights from Bristol to Split, Dubrovnik and Pula opens up the whole country to exploration. Speak to Jo for more information about booking your trip to Croatia:
travelcounsellors.co.uk/jo.baldwin
02920 003530 or 07581 181 236