Discover Places To Eat in Penarth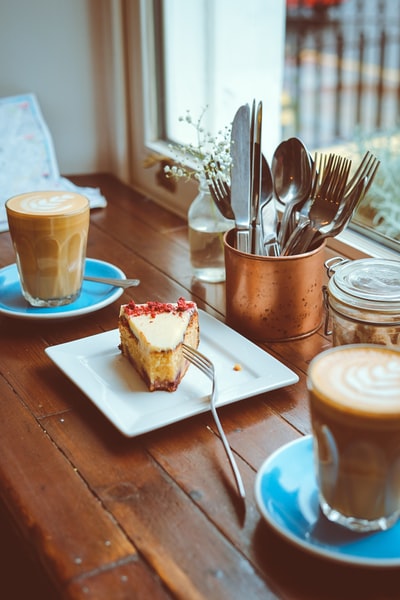 Part of our series of #DiscoverPenarth features, Penarth has many fantastic places to eat, drink, and socialise with friends and family, suitable for all budgets and tastes. We've compiled a list of our favourite restaurants to visit for great dishes, guaranteed to tantalise your taste buds and make you want to discover more of what our town has to offer.
Keyif Turkish Restaurant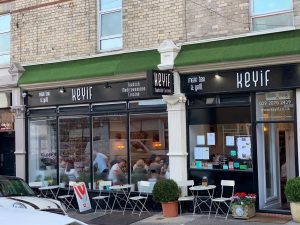 Keyif's menu is full of Turkish treats and has proved very popular with locals and visitors to Penarth. Nestled in Glebe street, the intimate restaurant boasts a varied menu that also offers great vegetarian and vegan dishes. It's one of our editor's favourite places to eat!
Mehmet and his team provide great, friendly service which makes Keyif a great place to bring your family and friends.
" As delicious treats of Turkish cuisine are mostly involved in small moments of pleasure, Keyif Restaurant didn't have any difficulties adopting the concept, thanks to the meals and the ambience it presents to its guests. Keyif invites people to experience the lovely treats of Turkish cuisine while enjoying every moment to the fullest!"
21 Glebe Street, Penarth Visit www.keyif.co.uk
Call: 02920 702 429
Willmore's 1938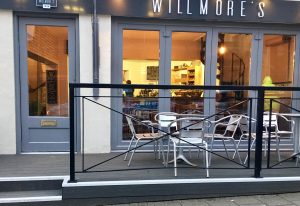 Named after the Willmore bothers who opened Penarth's Washington cinema on Stanwell Road, Willmore's 1938 is the perfect cafe for a coffee pitstop, or to have a delicious lunch. Located right in the centre of Penarth's busy town, the Willmore's team pride themselves on locally sourced, homemade food. Expect a menu of classics, to eat in or take away. Matt, Charlotte and their friendly team have built up a great relationship with the locals and visitors alike. You'll also find us there in the corner with a pot of tea, large latte and a slice of their delicious cake!
We recommend the gentleman's afternoon tea, great selection of baguettes if you need a quick takeaway and their famous breakfasts. Ask about their monthly Sunday lunches too! To find out more about the history behind Willmore's 1938, read about it in the summer issue of Penarth View!
4 Washington Buildings, Stanwell Road, Penarth
Call: 029 2070 9600
Check out their Facebook Page: Willmores1938
James Sommerin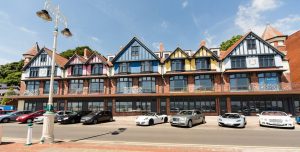 Restaurant James Sommerin is ones of Penarth Esplanade's jewels. Perfectly situated for panoramic views over Severn Estuary, the family-run, Michelin star restaurant puts great hospitality, service, and good quality food to the forefront of every meal. Each dish from their a la carte menu, or 6 and 9-course taster menus, will grab your attention and have you reaching for your phone to take a picture to show off to your friends.
Another of our editors top picks, we'd definitely recommend advance booking for an evening meal with a someone special or a great place for a big celebration. Also, ask about their cooking demonstrations and Chef tables.
The Esplanade, Penarth 
Call 029 2070 6559
www.jamessommerinrestaurant.co.uk
Bottle Shop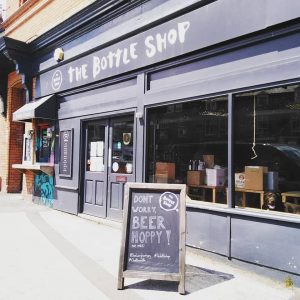 With over 300 wines and beers to choose from and winner of the IWC Reginal Wine Merchant award, the Bottle Shop Penarth is a great meeting spot with friends. Its relaxed and Scandi atmosphere lends itself nicely for gatherings of all groups and has proved popular with many Penarthians. We love catching up with friends over a board game and a slice of pizza from Pizza Pronto!
Ideally situated next to Penarth Train Station, it's great to pop in on the way home. The friendly and relaxed staff know their stuff, and are on hand for any needed wine inspiration!
Station Approach, Penarth
Call 029 2115 7349
Crafty Devil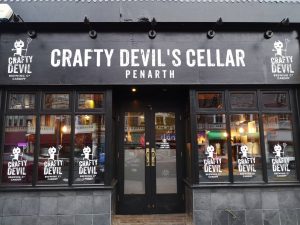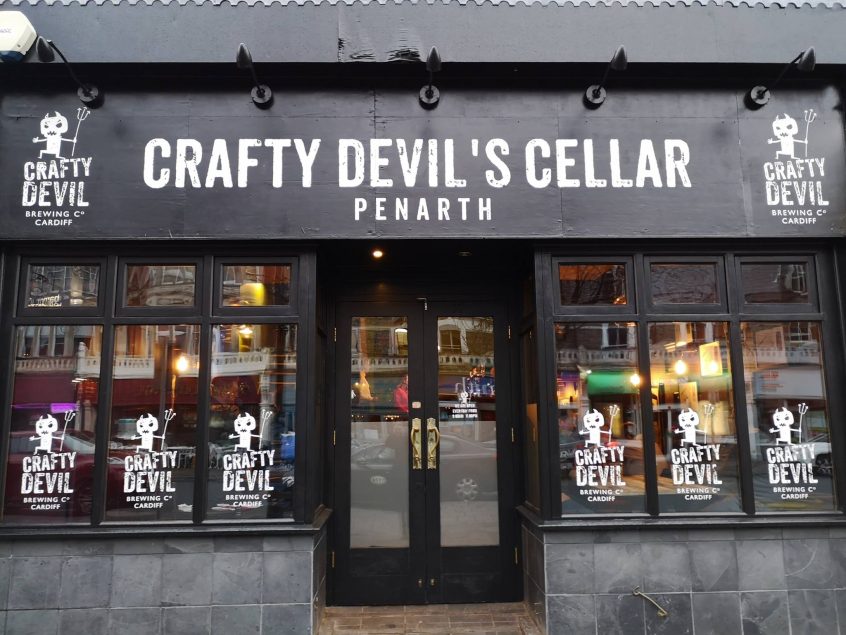 One of Penarth's newest destinations, especially for those who love the taste of a master craft ale, beer, or larger. Crafty Devil's Cellar has been a hit with Penarth since opening in April and offers it's own Crafty Devil brews alongside a large selection of spirits and wines. They also serve a great selection of platters to satisfy the taste buds.
The owners have been community driven from beginning their venture, keen to forge a good relationship with local customers through crowdfunding, and it's paid off! We recommend the IPA and a good seat to catch up on the week's sport.
Windsor Road, Penarth
Make sure to check out their Facebook page: thecraftydevilcellarpenarth
Foxy's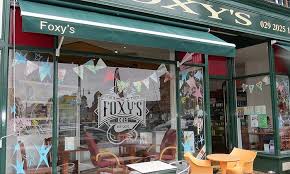 Established in 2002, Foxy's Deli has been a staple in Penarth's Station approach offering homemade food, afternoon tea and a great selection of delicatessen goods. Sian and the team have created a welcoming and relaxed atmosphere and have a great relationship with the locals. You can also find many community groups, events and art exhibitions!
We recommend their delicious hampers, afternoon tea and full-to-the-brim sandwiches! Check out their recipe in The Cardiff and South Wales Cook Book.
Station Approach, Penarth
Check out Foxy's website here!
The Galley
Nestled in Penarth Marina, The Galley offers great locally sourced food. Famous for their delicious breakfasts and section of confectionary, the team have scooped numerous awards over the past few years for their great food and hospitality.
Their delicious confectionary wakes the senses and that's before you taste the coffee! What we love about Compass isn't just it's great quality food, but its team as well who are always friendly, jolly and put a smile on your face. It's the perfect opportunity to take our Cairn terrier, Winston, for a walk and enjoy a delicious breakfast served by a team who know their customers – it's lush! You'll be hard- pushed to find anything not to love.
Compass House, Penarth Portway, Penarth Marina 
Check out The Galley's website here!
The Celtic Lounge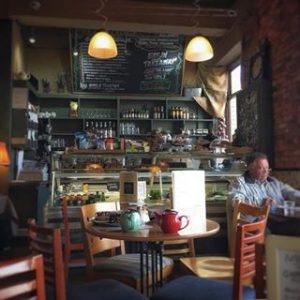 With it's industrial, yet cosy decor, The Celtic Lounge can be found at the far end of Penarth's Victorian Windsor arcade. The lounge fits in with the charm of the Victorian structure and doesn't disappoint with its breakfast and lunch menus. Great for a peaceful read, tea or coffee or some home cooked food.
We recommend the Lemon Chicken door wedge sandwich or traditional fry up!
Windsor Arcade, Penarth
Check out The Celtic Lounge Facebook page here!
The Old Custom House Penarth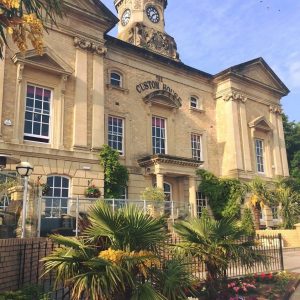 Housed in a beautiful Victorian building that was once the Customs and Excise office for Cardiff docks now houses The Old Custom House Restaurant and Bar. With an extensive vintage wine cellar with more than 800 wines, curated over our 30-year history and freshly prepared food, the Old Custom House is the perfect pitstop after a walk over Cardiff Bay's barrage. With lunch and evening menus available, booking is recommended!
Cardiff Bay Barrage, Penarth 
Check out The Old Custom House's Facebook page here!