Crime Fiction Friday with Griffin Books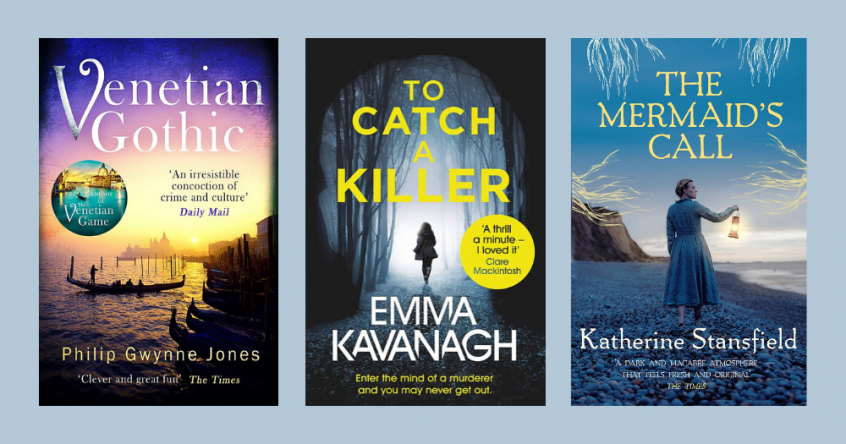 Join Griffin Books and crime fiction writers Emma Kavanagh, Philip Gwynne Jones and Katherine Stansfield on Friday 26 June, for an evening exploring the darker side of human experience. Hosted in partnership with Crime Cymru, this online event forms part of Griffin Books' wider Independent Bookshop Week celebrations.
Delve into three new novels that each unearth painful secrets of the past, journeying to a small Canadian town, a Venetian island and the windswept cliffs of Cornwall as the panel discuss the fascinating ways crime fiction works its magic on readers.
Emma Kavanagh is the bestselling author of The Missing Hours and Falling. Her latest novel, To Catch a Killer, was published in May. After graduating with a PhD in Psychology from Cardiff University, Emma spent many years working as a police and military psychologist. Philip Gwynne Jones is a Welsh author now living and working in Venice. He is the author of a series of popular Venice-based thrillers featuring Honorary Consul Nathan Sutherland. Venetian Gothic, the fourth in the series, was published in April.

The event will be chaired by poet and award-winning novelist, Katherine Stansfield. The most recent instalment in Katherine's award-winning historical crime series, Cornish Mysteries, is The Mermaid's Call. All three writers are members of Crime Cymru – a diverse collective of Welsh crime writers, spanning crime fiction and non-fiction, who aim to raise the profile of Welsh crime writing in the wider world.
The event will take place on Friday 26 June at 8.00 pm via Zoom video call. Tickets cost £5.00 and include a discount on book purchases. To find out more and book tickets, visit www.ticketsource.co.uk/griffinbooks or call 029 2070 6455.

Griffin Books has announced that the shop will reopen on Wednesday 1 July. Keep an eye on their website and social media channels for details of new opening times and the social distancing measures that will be in place. They will continue to offer an online ordering and home delivery, plus a new click and collect service, beyond Wednesday 1 July. Get in touch to find out more: info@griffinbooks.co.uk