Centenary celebration planned to remember repatriated WW1 prisoners of war from Penarth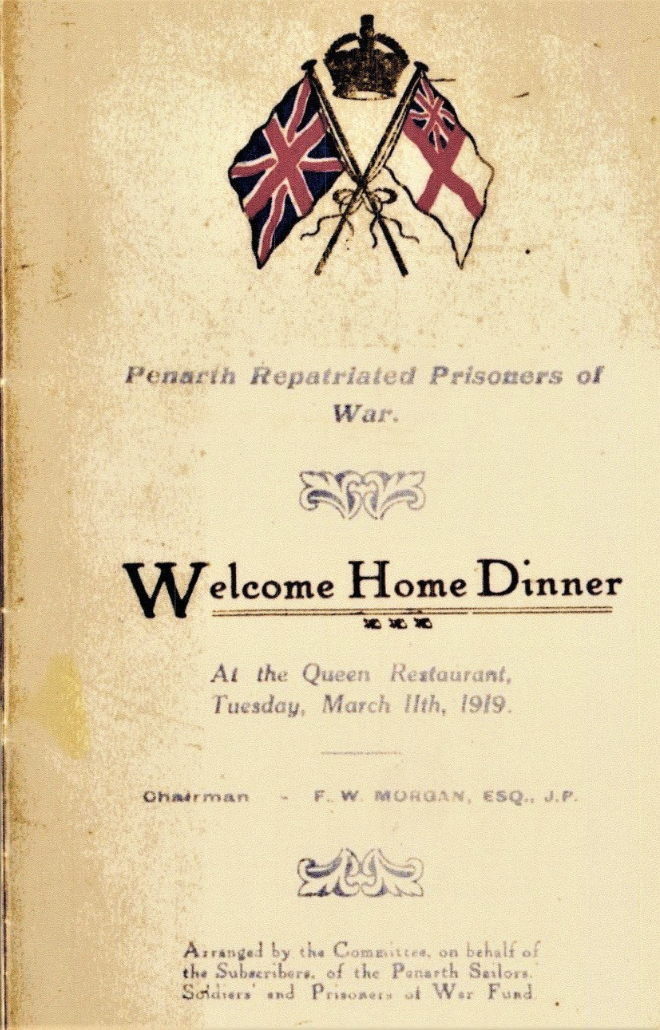 A Penarth historian who has been searching for the descendants of Penarth men taken as POWs during the First World War is planning a reception where some of the descendants can meet each other.
Bruce Wallace, who comes from Penarth, has been researching the lives of the men after discovering his grandfather's name on a menu card for The Penarth Repatriated POWs Welcome Home Dinner, hosted by the Local Council. The Dinner was held in the Queen Restaurant, 1 Royal Buildings, Winsor Road on the 11th March 1919.
Mr Wallace has since been looking for descendants of 46 men listed as Penarth POWs. So far six people who recognised names on the list have come forward. He is now planning a reception where he hopes to meet the other descendants. The reception will be at the Conservative Club in Penarth on Saturday the 9th March starting at 2.00pm.
Mr Wallace said; "I am grateful to Penarth resident Dorothy Foulkes, granddaughter of Catherine Meazey (organiser of the WW1 Penarth POWs Parcel Fund) for providing me with a copy of the 1919 Dinner menu card because it contained the names and addresses of 35 returning POWs on it. I am also grateful to Marcus Payne for cataloguing all the references to POWs in wartime editions of the local press".
"The Conservative Club was chosen because it is immediately across the road from where the 1919 Dinner took place. Representatives of the Town Council, local organisations and other researchers who have helped me in this project have also been invited".
Anyone who is interested in this forthcoming event or who can help find further descendants of the names listed below is asked to contact Bruce Wallace on 07817 583720 or on email; brucewallace.cowin@gmail.com".
Repatriated Penarth POWs listed on the 1919 Welcome Home Dinner menu card
1. Gustaf Aberg, 118 Windsor Road. Sergeant.
2. Llewellyn (Leo) Boole, 6 Victoria Square. Civilian.
3. Walter Buckland, 46 Salop Street.
4. George Pring Critchett, 45 Arcot Street.
5. Cecil Davidson, 9 Paget Place. Signaller, Welsh Regiment.
6. Gomer D. Evans, Cogan Hall Cottage. Private.
7. Ivor John Evans, 29 Grove Place. Civilian.
8. George W. H. Frost, 65 Salop Street. Lance Corporal.
9. D. G. Griffiths, 2 Maughan Terrace. Bombardier.
10. F. R. Griffiths, 56 Arcot Street. Private.
11. Arthur Griffiths, 14 Westbourne Road. Private
12. G. F. Hill, Erw Delyn Lodge. Private.
13. Ivor Hodson, 42 Plymouth Road. Private.
14. Arthur Hooper, 23 King Street. Private, East Lancashire Regiment.
15. Frank Humphries, 30 Hickman Road. Private/Lance Corporal.
16. C. James, 4 Ludlow Street. Corporal.
17. William Jones, 9 Bridge Street, Cogan. Private.
18. ? Joyce, 25 King Street. Private.
19. Edgar Kipling, 86 Stanwell Road. Civilian, marine engineer.
20. T. C. Lawer, 16 High Street. Mercantile Marine.
21. A. Llewellyn, 119 Plassey Street. Private.
22. Edward W. Lobb, 133 Plassey Street. Lance Corporal.
23. James Mathews, 37 King St. Cook, Mercantile Marine, s.s. Bulgarian.
24. J. A. McDougall, 13 Glebe Street. RFL.
25. Allan Musgrove, 3 Bedwas Place. Private.
26. A. O'Gorman, 20 Plassey Street.
27. Thomas Rich, 127 Stanwell Road. Captain, Merchant Navy.
28. W. R. Rundle, 1 Paget Place. Lieutenant.
29. George R. (Ivor?) Smailes, Monkton House, 1 Holmesdale Place. Private.
30. George Herbert Stephenson, 19 West Terrace. Lieutenant, R.A.F.
31. John Noel Hudson Tinneswood, 18 Clive Place. Lieutenant, South Wales Borderers.
32. Thomas Wallace, 49 Salop Street. Lance Corporal, 7th Battalion, Norfolk Regiment.
33. Wattley, 22 Hickman Road. Captain, Merchant Navy.
34. John Winspear,19 Ludlow Street. Lance Corporal.
35. Percy Winstone, 60 Salop Street. Private, 6th Lancashire Fusiliers.
Other Penarth POWs referred to in wartime editions of the Penarth Times
36. A. Douglas R. Bacchus, Selbourne, 43 Cornerswell Road.
37. William Joseph Bennett. Private, Durham Light Infantry.
38. William John Davies, 41 Maughan St. 9th Batt. Welsh Reg.
39. F. A. Dunn, 19 High Street.
40. W. F. Herbert, brother of Misses Herbert, St. Hilda's School, Plymouth Road. Civilian.
41. G. F. Jenkins, 45 Plassey Street. Army Service Corps.
42. Thomas James Lewis 5 Plassey St. Lance-Corporal, Lancashire Fusiliers.
43. N. Mears. Sergeant.
44. Thomas Paterson, 29 Maughan Street. Lieutenant, Royal Navy.
45. Joseph Henry Williams, 11 Dingle Road. Corporal.
46. W. G. Wooley. Sergeant, 1st. Battalion, Welsh Regiment.