Broadcaster James Naughtie Joins Griffin Books For Online Meet The Author Event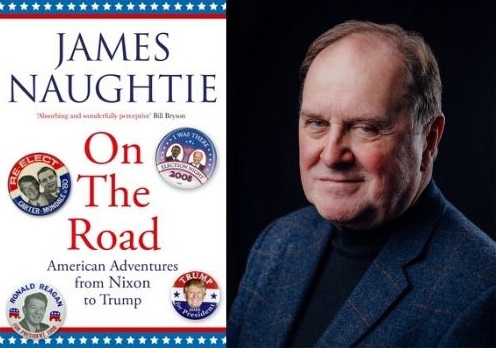 Broadcaster and author, James Naughtie, will headline a week of online events organised by Penarth bookshop, Griffin Books. The event forms part of the shop's wider Independent Bookshop Week celebrations, which will run from 20-27 June.
As special correspondent for BBC News, James Naughtie, is one of the country's best-known broadcasters. He has reported for the BBC from around the world for more than three decades, presented the Today programme on BBC Radio 4 for twenty-one years, and has hosted every edition of BBC Radio 4's Bookclub since it began in 1998. In his latest book, On The Road: American Adventures From Nixon To Trump, he explores the country he has known for fifty years – its allure and its contradictions, its strengths and some painful legacies that weigh so heavily on its people.
James Naughtie has been travelling in America since the 1970s – witnessing many of the important events that have shaped the country as it is today. He tells a spellbinding story that encompasses the Watergate scandal, the end of the Cold War, the cultural conflicts that swirled around the Clintons, the trauma of 9/11, and the transformational elections of Obama and Trump. On the Road is America revealed.
He will be speaking to Mel Griffin on Wednesday 24 June (8.00 pm) via Zoom about On the Road, as well as his varied career in broadcasting, before taking questions from the audience.
Independent Bookshop Week is celebrated across the UK from 20-27 June. To mark the occasion, Griffin Books has organised a bumper week of online activity for all ages and interests. Don't miss: Storytime LIVE! – perfect for lively toddlers and tired parents; a Crime Cymru Panel event featuring Emma Kavanagh, Philip Gwynne Jones and Katherine Stansfield; workshops for children with illustrator Beatrice Blue and Children's Laureate Wales, Eloise Williams; plus a very special Friday Giveaway! To find out more, visit: www.griffinbooks.co.uk
To book tickets for the James Naughtie: On The Road author event, visit www.ticketsource.co.uk/griffinbooks or call 029 2070 6455.