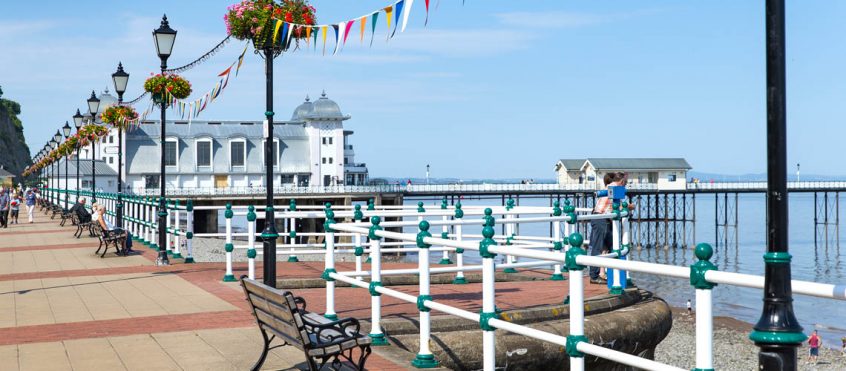 A new campaign will launch in March 2019, aimed at making Penarth's shops and services as accessible as possible to disabled people.
For some years, the well-known Shop Penarth initiative has helped promote the value of supporting the local economy, through a well-established loyalty scheme involving offers in local independent shops.
Now the scheme's instigators Gwyrddio Penarth Greening (GPG) have teamed up with Penarth's Mayor Cllr Jon Luxton and representatives of local organisations to raise awareness of the difficulties faced by some members of the community, seeking to use their local amenities.
The scheme will centre on a pledge, which shopkeepers and service providers will be invited to display a declaration in their window.
"People may assume that access to our local amenities is a problem only for a few," said GPG Chair Gideon Calder.  "Our aim is to show how it's an issue for all of us to tackle." 
And it's not just about the most obvious or familiar kinds of disability.  "Barriers come in all kinds of forms, from not being able to gain physical access to a shop, to staff just not being sure about how to respond to someone with a less visible disability, like a learning difficulty.  We're finding that there's a lot of goodwill out there, but also that workers in shops and other services really value support in helping make themselves as open as they can." 
For Jon Luxton, the project is a key part of his year's term as Mayor.  "It is not often in life that you can take part in a project that will have such a positive impact on so many of our citizens and visitors.  Creating a more accessible Penarth will change lives, enabling more choices and participation and thus increasing people's real levels of independence.  It will also benefit those businesses who make the required changes so that they are welcoming to all.  Mayors often talk about creating a legacy for their time in office, and if mine is to have taken part in a project that increases the independence of disabled people in the town where I live, then I am more than content.  However, when I cease to be Mayor I will still be actively involved in this project, helping make its promise into reality.  In addition, I don't see this simply as a Penarth project, because if we succeed, we can become an exemplar for others to follow, and now that is truly exciting!"
Access Penarth has received valuable support from members of several key disability organisations, including Disability Wales, Vale People First and Action on Hearing Loss.  It has also taken inspiration from Dementia Friendly Penarth, a successful initiative to highlight the value of dementia awareness launched in 2018.  "It's not about wagging our finger, or criticising shops for not already being perfect," Gideon was keen to stress.  "It's about taking positive steps which are realistic but genuinely effective."   
Access Penarth been working with Penarth Youth Action to develop a survey of local shops, to take place in late February.  The aim is to get a fuller picture of the issues – and to encourage sign-up to the pledge.
The campaign then launches on 23 March, at 4pm in West House – and all will be welcome.  For more information about Access Penarth, contact Gideon Calder on gideon.calder@gmail.com