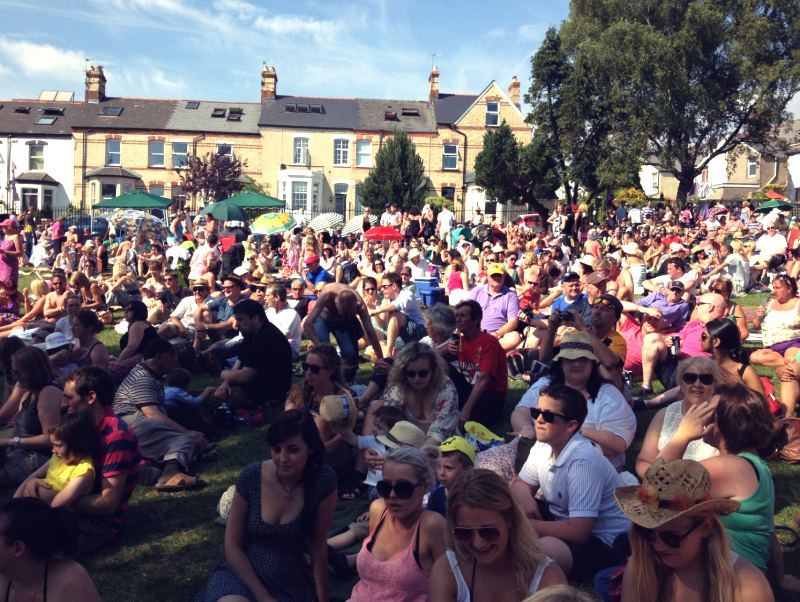 A LOOK BACK
AT BELLE VUE PARK
With Music in the Park returning to Belle Vue Park this summer for its 10th consecutive year, we thought we'd take a look back through the archive to find out the history of this popular Penarth park.
Martin Gossage  and Karen Martin
Words by Martin Gossage, Penarth Civic Society and Karen Martin, Chair of Friends of Belle Vue Park
02920 304996
bellevuepenarth@gmail.com
The park occupies the site of a former quarry, which produced some of the blue lias limestone used in local houses. The quarry was filled in at the turn of the century and used for grazing livestock. The ground would never settle to allow house building, so the council acquired the land and opened the park in 1914. It is named after the plant nursery and cottage previously sited on Albert Road.
During WWII, most parks lost their fences to provide war materials. However, the Belle Vue pavilion was used as a warden's hut and the original 1914 fencing was left in situ for security. That original fencing is still in place today.
The Friends of Belle Vue Park group made improvements over the years, including sculptures, new fencing, a new children's playground and establishing the sloping play field. As part of the park's 2014 centenary event, a new American-designed drinking fountain was unveiled, and a time-capsule was buried, due to be opened in 2064.
Music in the Park is a highlight of the Penarth calendar. Andrew, the festival's Musical Organiser tells us a bit more about the beginnings of the festival
"The festival began in 2008. It was very low-key and nothing like it is today. Each year it has grown."
"We had a very eclectic mix of entertainment in the early days. In 2008, The Snorklers headlined, as they did for the first few years. The line-up also included Jessica Morgan (daughter of Mary Hopkin and Tony Visconti), young band Endangered, opera singer Reisha Adams, and the Penarth Male Voice Choir. We even had an Elvis Presley impersonator."
"One highlight for me was when professional singer and guitarist Martyn Joseph, sang and played through the audience. There was a fantastic atmosphere."
"We are also a platform for younger performers to make a mark. We first saw Houdini Dax at Music in the Park, and last year they played at the Isle of White festival, under their new name, Monico Blonde!"