A History of Robert James Limited, Glebe Street, Penarth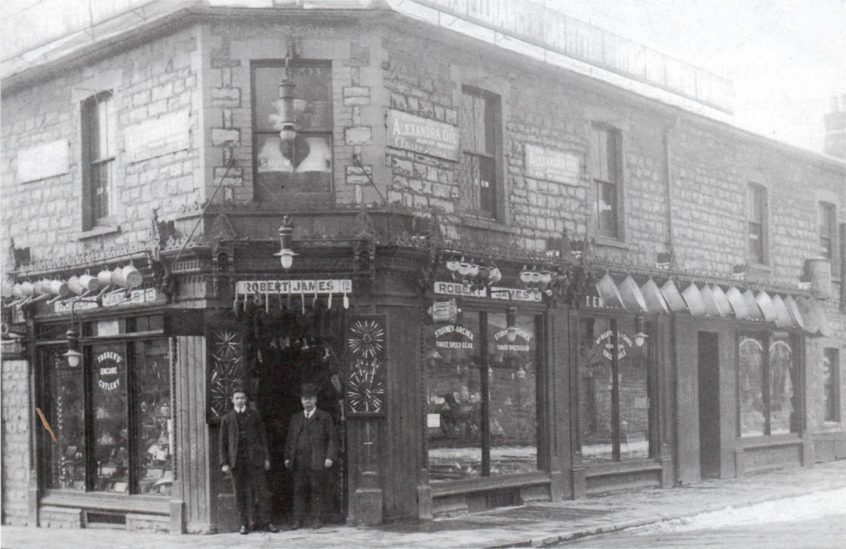 Words by Audrey Poole, President of Penarth Civic Society. Audrey's great grandfather is on the left in the photo above from 1900, who, along with the family, owned the shop. It was the longest same-use shop, dating back to c. 1880 – it has, of course, now closed. That accolate now passes to Pearns, née Gerhold the Chemist.
Audrey has many memories from past decades, which she shares with us below.
What I remember most about Robert James Ltd,  General and Furnishing Ironmongers and Plumbers, was a shop full of nooks and crannies to be explored – a place of adventure.
When my grandfather had acquired the business in 1905 a staff of around 20 were busy installing much of the heating, lighting and plumbing in a newly developing town.  By the time my sister and I came to know it there were fewer staff but the history remained. A long counter extended a quarter of the way along the left of the ground floor, manned by two members of staff.  Further along was the office – a small room of mahogany and glass which housed the safe, a wall-mounted telephone (tel. no. Penarth 28 ) and the wooden till from which my father would sometimes conjure up  pennies for the sweetshop across the street.
Following on from this, the "nail house" contained all shapes and sizes of nails imaginable stored in  their relevant buckets and meticulously counted out and placed in paper bags for customers' orders. Opposite,    the "back office" never seemed to be used for anything and was intimidating with its barred iron windows.   We later discovered  this was where  the ledgers were to be found,  with bills  sent out by post on a  regular basis.
Finally we came to the yard at the end,  where the paraffin was stored.  With its stone floor and double doors opening onto the street we imagined this was where the delivery cart would have been kept although we knew the horse had been housed in stables in the yard behind the family home in Windsor Road. Then there was the cellar containing the shiny metal dustbins which would soon be filled with warm ashes from coal fires.  A dark place – I never ventured down the steps.
In the centre of the shop a carved mahogany staircase led to the first floor where oil heaters and other large items were kept. Towards the back of the floor was an Aladdin's cave of partitions ,  the long room and its "saucepan house" containing all manner of kitchen utensils.  My father had been known to take a lid from a new saucepan to sell to a customer who needed one.  He was never considered a born business man and should really have gone on to university as his teachers had hoped.  But when fathers owned businesses they expected their sons to follow.
During the 1930s and 1940s, when most homes were heated by coal fires, portable oil stoves were popular and customers would bring their cans into the shop to be filled with paraffin for their Valor or Beatrice. Errand boys with their specially adapted bicycles provided a home delivery service and often my father would drop off a delivery on the way home on his bike.  Then one day a van appeared in the back yard, with a new driver, and life became easier.  Finally, a car made my father's life more enjoyable.
As shopping patterns have changed, so has the shop's interior but to the casual observer the street scene remains the same.  Incidentally, we understand the upstairs floor originally housed accommodation so this does indeed mirror today's thinking . Finally, above all, my father was proud of the fact that Marconi had bought paraffin from the shop when he was conducting his radio experiments at Lavernock and Guy Gibson had called in before embarking on his dambusting raid.