A Chronicle of Photography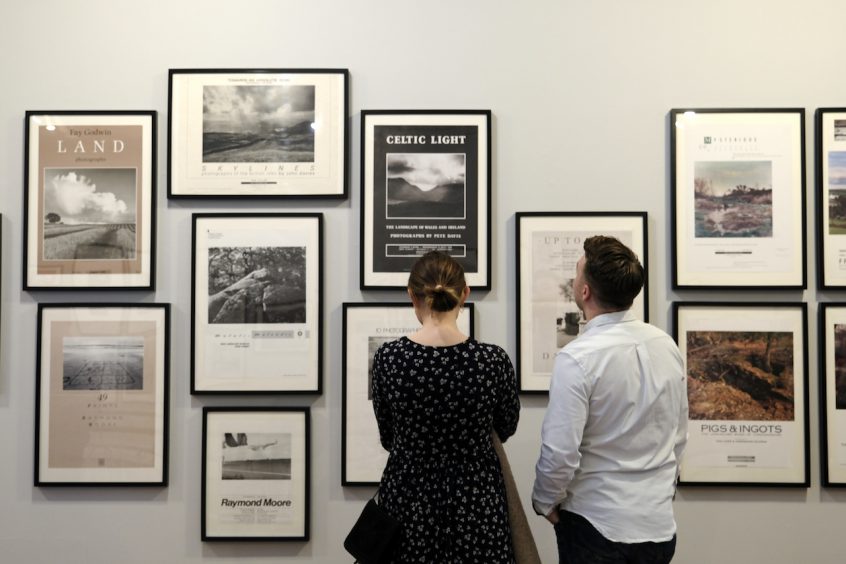 A chronicle
of photography
Penarth View held an exclusive interview with Ffotogallery's Director, David Drake and their Communications Officer, Phil Scully, to learn more about the gallery's history, its thriving present, and exciting future.
Words by Louisa de la Concha for Penarth View
As soon as one heads out of the train station and walks towards Plymouth Road, a captivating construction emerges in the distance. It is quite difficult to ignore Turner House's pink walls, and how they peculiarly contrast against its 1887 architecture, and it is even more challenging not to wonder what is going on inside.
The 1970s were an exciting time for photography; the contrasting aspects of British society, and the quick urban growth that transformed the country's landscape gave emerging photographers a wide scope of stories to take inspiration from. In the middle of this fuss, the founders of Ffotogallery noticed that to be able to keep up with this fast-paced environment, Wales needed its own space dedicated to photography. In 1978, Ffotogallery first opened its doors in Cardiff, and it quickly became a stepping stone for emerging photographers, such as Martir Parr and David Hurn.
In 2003, Ffotogallery moved to Turner House, and since then, the gallery itself and Penarth's community have mutually benefitted from this constantly evolving relationship. The gallery is always looking for new ways to transcend the walls of the medium. This means that they are not afraid of including the community and diverse visual elements, such as video installations, in their exhibitions. One of the projects developed under this idea was Penarth Heights, in which children from different schools were invited to tell the story of Billy Banks, allowing them to understand how creativity can have a social impact.
Since its foundation, Ffotogallery has been creating a space that helps Wales-based photographers promote and develop their vision, while building up the country's national and international prominence in photography. Looking back, they have achieved this and much more. As a celebration of their 40-year anniversary, Ffotogallery is currently holding a temporal exhibition, Chronicle, which looks back at the evolution of photography and how the gallery has played an essential part in it.
David and Phil have an endless list of photographers that really stand out from the crowd and have helped Ffotogallery showcase some brilliant works. Helping us choose was no easy task, but here are some of the photographers that have caught our eye over the last three months. With thumb stopping Instagram feeds and exhibitions that really make you stop to think about the world we live in, here's a little more about our three featured photographers.
Phil Lewis
Living in Penarth for almost 40 years, Phil first became interested in photography around 4 years ago. With some of his pictures being featured in publications such as "This Is Britain", which raised money for Children In Need.
More of Phil's work can be seen in the pages of Penarth View where he captures the towns iconic buildings and views with dramatic backdrops and landscapes that make each picture pop. We fell in love with Penarth Pier at dusk on page 7.
Phil has recently started to showcasing his photos to a wider audience after being encouraged by friends on social media and is proud to have his work on "walls around the world" in France, Canada and as far as Australia.
To find out more about Phil and his photography you can visit his Instagram: @artnouveauman
Eric Aydin-Barberini
Eric's passion for photography grew out of a "love for creating & telling intricate stories but with a complete lack of patience to draw them". With photography being a faster track to express himself, Eric has created a collection of photographs that show a narrative in each still.
One of Eric's recent achievements has been confirmed as a young ambassador for The Photographers Gallery in London. This has given him the opportunity to help educate other young people (14-24) on how to forge themselves a career in photography by using his own experiences.
Eric has also worked closely with local rapper/musician Dom James, shooting music videos abroad and focusing on photographing live music events, Eric's next project aims to be more ambitious and conceptual, recreating his family history.
To find out more about Eric follow his Instagram feed @Eric.Aydin.Barberini and follow the link to see his latest music video 'Unusual' by Dom James. www.youtube.com/watch?v=6W6KHcDfVf0
Suzie Larke
Based in Cardiff Suzie is a creative portrait photographer who has travelled around the world, photographing events in Spain, Switzerland, Italy, Australia and France.
Having been featured in Ffotgallery in the past, Suzie has used her vast experience in photography to create thought-provoking exhibitions using herself as the subject. One of our picks, 'In The Minds Eye' offers a candid-like approach to mental health, drawing you into the focus of how photography can convey more than words in one still. It makes each shot relatable to every person who views them. With the backing of Arts Council Wales, Suzie has toured 'In The Minds Eye' around Wales.
Graduating with a degree in photography in 2003 Suzie now works as a commercial/portrait photographer creating images using conceptual digital art. You can find out more about Suzie and her photography by visiting suzielarke.com or following her on Instagram: @Suzielarke