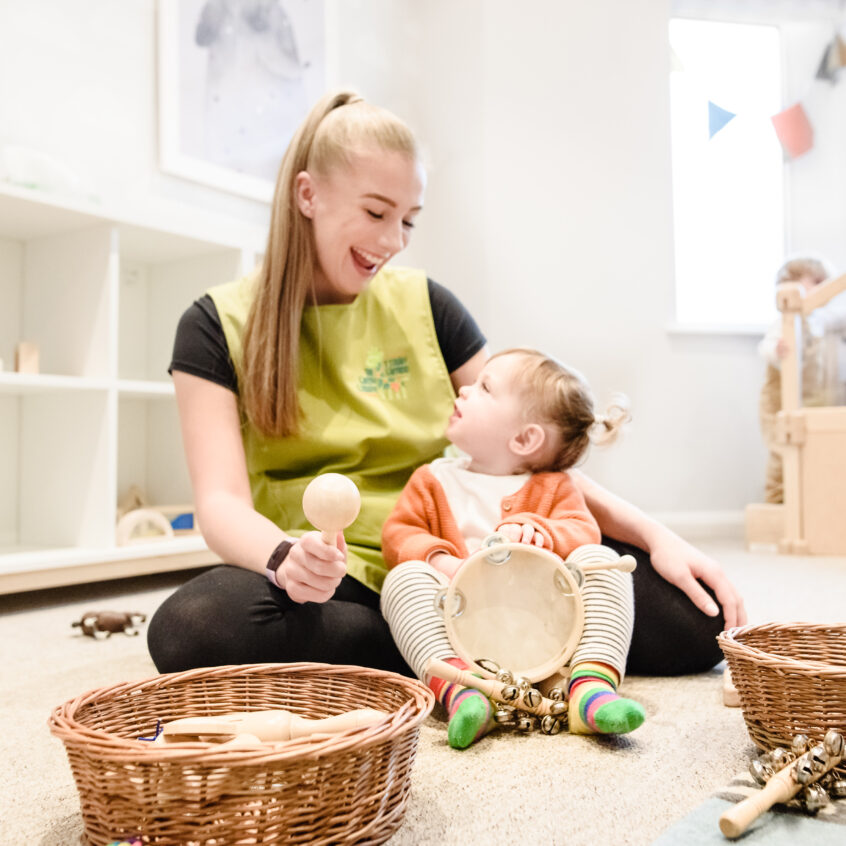 Montessori education helps your child develop independence, a sense of empathy and social justice, and a lifelong love of learning.
At The Green Giraffe Nursery, we create a safe, calm, welcoming and friendly environment where children feel secure allowing them to explore, learn and grow independently.
Gentle Loving Care Ethos and Staff
Our Nursery ethos is Gentle, Loving Care, and we pride ourselves on recruiting staff who are patient, loving and compassionate, individuals that always put children's individual needs, safety and well-being above anything else.
Montessori and Environment
Here at The Green Giraffe Nursery, we strongly value and believe in the Montessori method of teaching. Providing quality care and education is of the upmost importance to us. As Montessori teachers, we create an environment that promotes freedom of choice, movement and freedom of repeat. This allows each child to follow their own interests and learn at their own pace.
Maria Montessori believed that practitioners should help children to help themselves, therefore we aim to create an environment where children can build their skills and lead on a path towards independence. Our curriculum at The Green Giraffe Nursery is built around the Five Principles of Montessori:
Respect for the Child
The Absorbent Mind
Sensitive Periods
The Prepared Environment
Auto Education
"The child's work is to create the person he or she will become. Adults work to perfect the environment but children work and play to perfect themselves"- Maria Montessori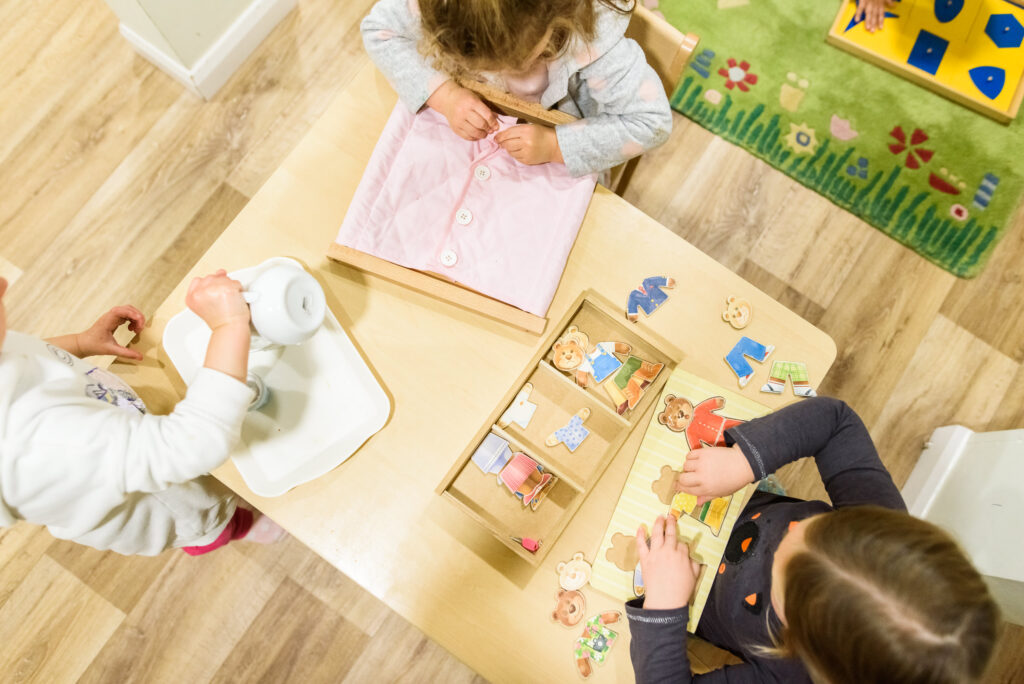 Our nursery environment has a home-to-home feel, using neutral, calming colours, soft furnishings and child-friendly, safe furniture. All of the wooden toys that are in each playroom are age appropriate and safe for the age group to use.
We promote our babies and children to be autonomous learners and to develop a sense of classroom etiquette, helping out children to be kind, respectful and considerate to others around them. We provide lots of opportunities throughout the day for babies, toddlers and pre-schoolers to practice activities of everyday living, with our practitioners facilitating and supporting the care of self, and of the environment. A core contributor to our children's knowledge and understanding of the world.
In our pre-school rooms, they aim to help children develop skills for life. These rooms have experienced pre-school teachers that have a passion for the Montessori method of teaching. The classroom has designated area for each Montessori curriculum area with a large selection of activities that can fulfil each child's developmental needs.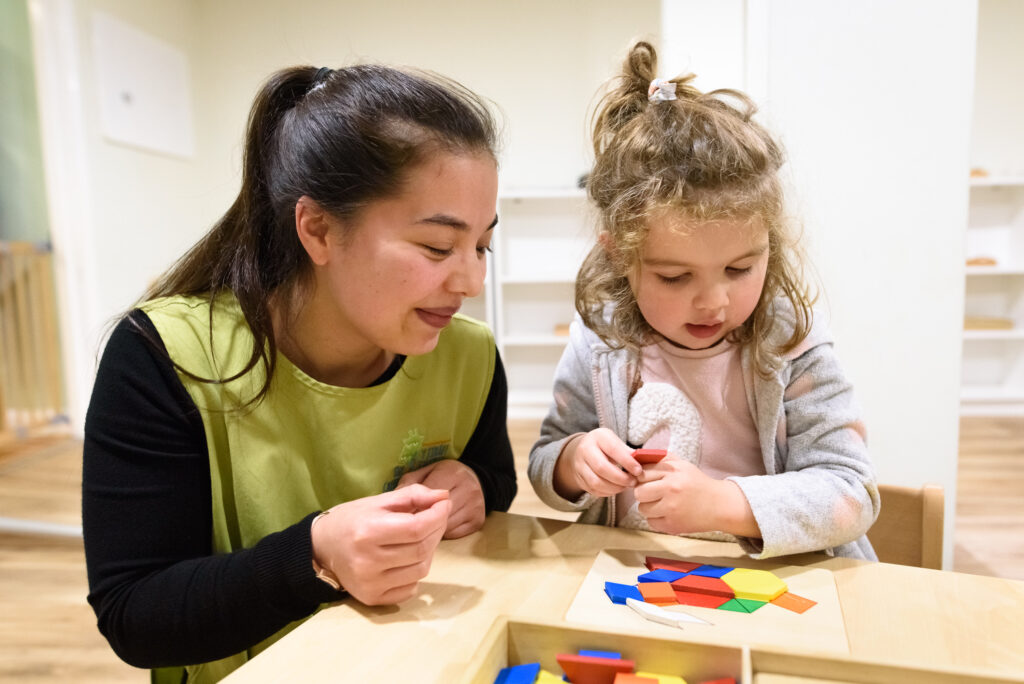 Activities of everyday living: children practice their fine motor and manipulative skills through practical activities, such as pouring, transferring objects using spoons or tongs, latches and locks.
Our sensorial areas focus on education of the senses. Here we work on discrimination of shape, colour, dimension, texture, temperature, weight sounds and our visual senses.
Literacy and numeracy are core aspects of our curriculum with designated areas for the development of these life skills using concrete objects. We also promote the Welsh language as much as possible throughout the day.
Creative development: all the children engage in creative and physical activities throughout the day such as art and crafts, forest schools, outdoor play, through small world and construction. The children engage in imaginative role play as well as performing arts, storytelling, music and movement, dance and yoga.
Organic Life and Eco-Friendly
All of our Green Giraffe meals are prepared fresh, daily and on site, using healthy, organic ingredients. We believe that children needs healthy, nutritious food in order to create good health and a good mind, and promoting a healthy lifestyle is extremely important. It is essential in giving children the energy to play learn and enjoy life. We promote eco-friendly values and teach children to love, respect and to protect the environment. We use eco-friendly cleaning products, as well as offering the choice of eco-friendly nappies and water wipes, and where ever possible, we strive to reduce our carbon footprint.
For further information on the benefits of our Montessori approach, please contact The Green Giraffe Nursery.
Dunleavy Drive: 029 2039 9397
Cathedral Road: 029 2022 6806
Radnor Road: 029 2034 1620
The Parade: 029 2280 0909
Email: info@greengiraffenursery.co.uk
Visit the website: www.greengiraffenursery.co.uk
Check out our Facebook