Tec Marina Welcomes the Lord Mayor of London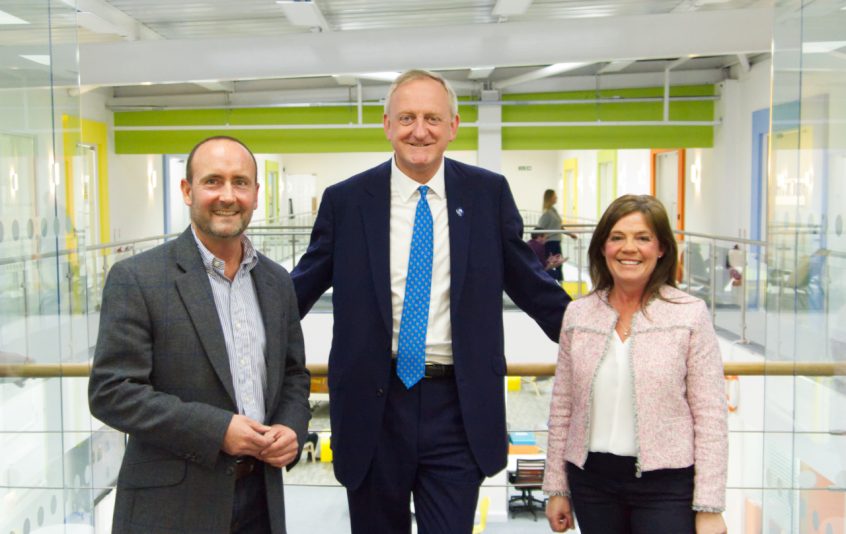 Tec Marina, a Penarth-based serviced office space and innovation hub, hosted a visit from the Lord Mayor of London on the afternoon of 22nd November.
During the visit, Lord Mayor Alderman Peter Estlin and his party met with Chris and Gaile Griffiths, founders of OpenGenuis and Tec Marina, and took a tour around the Tec Marina office space.
A selection of Tec Marina business owners and CEOs enjoyed refreshments in the building's central atrium with the Lord Mayor.
Peter Estlin is the 691st Lord Mayor of the City of London. A key reason for his visit to Cardiff, the Lord Mayor of London hopes to strengthen the links between the two cities. As part of his wider role, Alderman Estlin promotes the UK as a top global destination for foreign investment, promote innovation and technology.
"I'm delighted to be visiting Cardiff and meeting a number of key business leaders to discuss the challenges and opportunities facing our two cities. Cardiff is an innovative hub with an increasingly vibrant financial and digital offer."
Lord Mayor of the City of London, Peter Estlin
"We've built a small piece of Silicon Valley here in Wales and we were delighted that the new Right Honourable Lord Mayor of London chose to visit OpenGenius, the team behind the development, and to meet many of the other fast-growth businesses located here in Tec Marina."
Gaile Griffiths, Operations Director at OpenGenius
"We are very excited to have hosted the Lord Mayor of London and his party. What a great honour that the Lord Mayor chose to visit us here at Tec Marina!"
Rebekah Raynor, Tec Marina Manager
Located in Penarth Marina, Tec Marina is a 20,000 sq ft hi-tech, creative office workspace. It houses the headquarters of OpenGenius, world leaders in creative and innovative thinking.