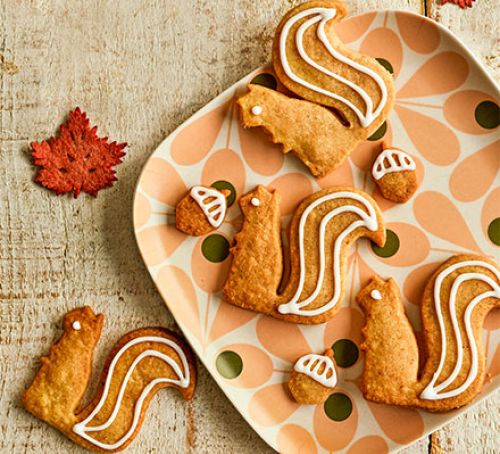 // 200g unsalted butter, cubed
//Â  275-300g plain flour, plus extra for dusting
// 25-50g acorn flour
// 100g golden caster sugar
// 1 egg, plus 1 yolk
// ½ tsp vanilla extract
// 1 tsp mixed spice or cinnamon
// white icing or melted chocolate, to decoratespread
Rub the butter into the flours using your fingers until the mixture resembles breadcrumbs, then stir in the sugar, the egg and yolk, vanilla, mixed spice or cinnamon and bring together to form a dough. Roll out on a lightly floured surface and stamp out 6cm round biscuits (or any shape you like). Re-roll the trimmings and repeat. Arrange on parchment-lined trays and chill for 30 mins. 

Heat oven to 200C/180C fan/gas 6. Bake the biscuits for 10 mins, then leave to cool. Decorate with icing, or dip one side in chocolate and leave to set.