Penarth Town Mayor Thanks Attendees Of Civic Service.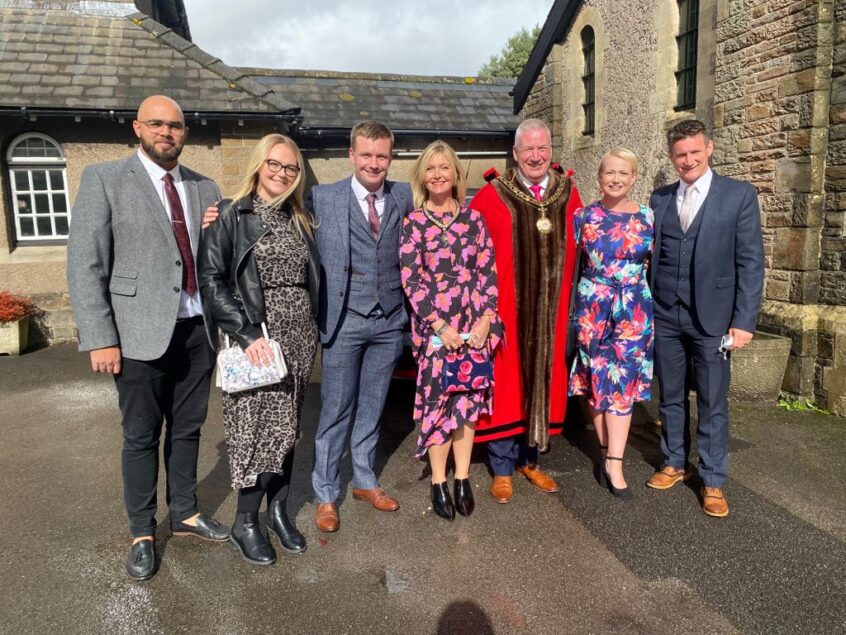 (Pictured: Cllr Buckley with wife Samantha, children, and in-laws.)
Penarth's Town Mayor, Councillor Ian Buckley held his Civic Service at St Joseph's Roman Catholic Church, Penarth on Sunday the 3rd of October 2021. The Civic Service is a traditional fixture of the civic calendar and is a chance to formally recognise the incoming Town Mayor.
Cllr Buckley was accompanied by his wife Samantha, his children, and in-laws. The service, conducted by Monsignor Boardman, was well attended by family, friends, civic dignitaries, Town and Vale Councillors, community representatives and representatives of the Town Mayor's nominated charities.
Following the church service attendees proceeded to a lively karaoke reception at the Paget Rooms where a grand total of £2579.12 was raised for the mayor's chosen charities: Amelia Trust Farm and Woody's Lodge.
Town Mayor, Cllr Buckley said:
"I want to say a huge thank you to everyone that attended my civic service (some in body, some in spirit) not just your support, but more importantly for your friendship. It was great to have so many friends, family, and people that I hold dearly congregated together for in what turned out to be an awesome party! Thank you to Monsignor Boardman & the choir for a brilliant church service, and all the staff who worked tirelessly including Abby Woods, Democratic Services & Facilities Officer, for putting the whole thing together."
Special thanks also go to PACA for organising the bar, Chris Crandon from Brains, 1st Platinum chauffeurs for providing a limo, Sharon Crockett and Babs Dixon of Tesco for donating raffle prizes, Dean Rees and Dean Ford for donating auction items.