Penarth Penguin Returns from North Pole Adventures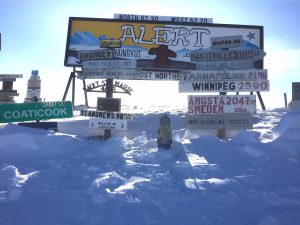 Guy Wooles of Artisans Corner, Penarth is the artist and designer behind the Paper Penguin Project. Twenty years ago in 1999, as part of his university degree, Guy created the website paperpenguins.co.uk to document and record the adventures of his hand created Paper Penguins as he sent them on their adventures around the world. Destinations have included New Zealand, Hong Kong, Canada, and NewYork. Guy was even interviewed about the project in 2003 by renown Radio 1 disc jockey and journalist John Peel.
"I would like to establish a network of 'paper penguin' residents around the world in locations of conservation, ecological or educational interest, that will send back documentation and photographs." The information of each penguin's experience of the culture and lifestyle of their location can then be published on the website and hopefully used for educational purposes.
Dennis was the first of the family to realise that the urge to travel was very strong within him. When Dennis left the country his brothers and sisters have all expressed the need to travel great distances in search of some kind of reason for their existence.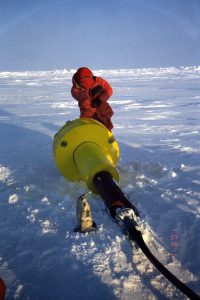 On the 18th November 2000 Ferdinand the Penguin left Penarth to begin his great adventure to the North Pole. There at Canadian Forces Station Alert, the most northerly permanently inhabited location in the world, Ferdinand was involved in important environmental research.
"My hopes are to raise awareness to the issues that can be found within the work such as conservation, waste and wildlife protection. I have approached them using humour, as I believe that humour is far more effective especially with children. I was contacted by a number of kindergarten schools regarding the work and the issues involved."
The intention is to make this project a fun and educational, as well as being environmentally informative. The penguins give an insight into different cultures and lifestyles around the world and will hopefully raise awareness of the fragility of life and the need to educate people to protect it. The work being done here is unique and has great potential, creating an exciting, unpredictable project that will capture the imagination of many people around the globe.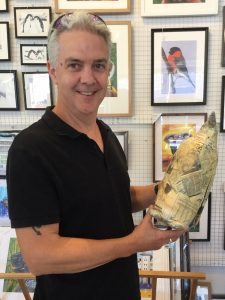 Each penguin is made of text and stories; each penguin is sent by post; each penguin is received by another person; the other person contacts me and a dialogue is established. The work relies on communication, not with people I know but with complete strangers.
Your involvement in the work is as important as mine and none of this work, couldn't be carried out without the cooperation and enthusiasm.
More information and pictures of his work can be found on his dedicated webpage. Last week Ferdinand completed the long journey home, to take up his new residence in Artisans Corner, Penarth CF64 1EB, where Guy is regularly available to share tales of his Penguin's adventures.
07816 979784