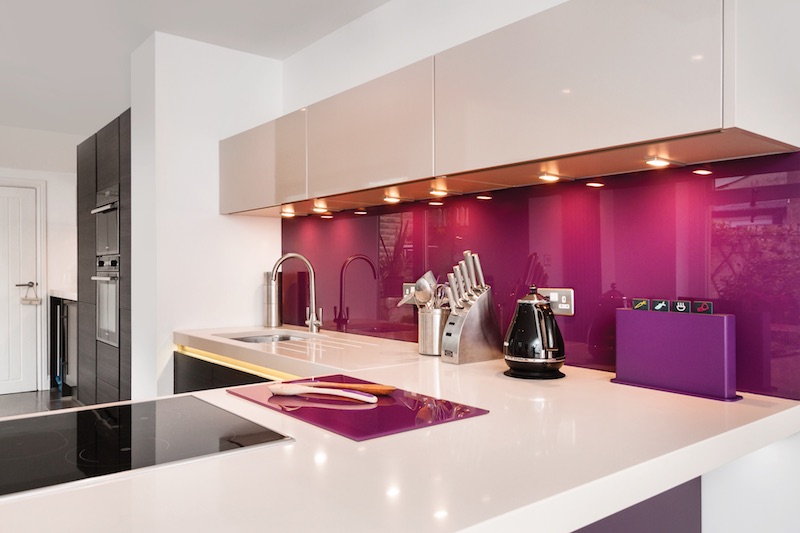 Three of our contributors give their take on Pantone's Colour of the Year…
Miffy Shaw
My name is Miffy Shaw and I am completely obsessed with interiors! I live in Penarth with my builder and husband Gareth our 2 year old daughter Frankie and Tugboat our awesome French bulldog!
I studied interior design at college and have been renovating properties with Gareth for the last 15 years. I love modern, rustic interiors, plants and getting stuck into some DIY.
I'm thrilled to be part of Penarth view and am really looking forward to sharing some of my favourites with you.
Call Miffy on 07962 238 871

Miffy Shaw Interiors
A dramatic and intense colour that's not for the shrinking violets out there! For the brave, add violet by block-colouring a stair runner or a luxurious velvet sofa. For those that want to dip their toes into the latest purple craze, try accessories and soft furnishings such as cushions and throws that can easily be updated with a new look. I personally like to add touches of purple with plants and flowers using vintage cups and saucers with pansies, violets or some beautiful grape hyacinths.
Whether you have a deep passion for purple or you just want to add a hint, there are plenty of ways to add some Ultra Violet into your home.
Your Space Living
People are often quite conservative with their kitchen cabinetry and worktops. The reason is the cabinets and worktops make up the bulk of the cost and that's too risky. But all is not lost. Take a look at this fabulous contemporary kitchen from a lovely home not too far from Penarth town centre. Lava black and champagne cabinets mixed with violet painted glass panels. Stunning!
Chalkhouse
Ultra violet is vibrant, energising, the colour of royalty, of luscious figs in the sunshine, of beautiful French macarons. This isn't your safe, boring, colourless colour. It's definitely not for the faint hearted amongst you but if you have a crazy side, a desire to shock, and don't care what the neighbours think then this just may be the colour of your year too. Start with a dash of concrete grey, toss in a handful of zinging lime green and yellow, finish off with a sprinkling of dark wood, and you have got yourself some serious wow factor.
Chalkhouse interiors are based just of Penarth Road. With a passion for creating interior spaces with the client in mind you can get in contact with Ceri, Graham and the team on: 029 2023 3308
Your Space Living is a home design and renovation studio. Jo and her team transform kitchens, bathrooms, bedrooms, studies and living rooms rooms into inspiring one-of-a-kind spaces. You can contact Jo on 01446 796 731