Made By Hand Cardiff celebrates its fifth anniversary at City Hall in November
The organisers of Wales' largest contemporary craft fair, Made by Hand, have announced details of this year's event.
Made by Hand 2018 will take place from 2nd to 4th November returning to the historic and prestigious City Hall, Cardiff for the fifth year running.
This truly special event brings together an exceptional, handpicked selection of 135 leading award-wining makers from all over Wales and the UK. As part of the programme of events, artist demonstrations will give visitors the chance to learn more about the inspiration, materials, making and stories behind the work that will be on sale. The highly skilled collection includes jewellery makers, potters, furniture makers, textile artists, glassmakers and many more, all selling their finely made products directly to the public.
Returning is the event's very popular 'The Pottery Thowdown', which will feature the BBC's show's star's Tom Knowles-Jackson, Clover Lee and Richard Parker. Get ready to roll up your sleeves and meet the makers, buy the ceramics they make and challenge them in the Pottery Throwdown. Cardiff based potter, Billy Adams is guest judge and challenge setter for the Thowdown, which is presented in association with Potclays.
Children and adults of all ages are welcome to Made by Hand to come along and try their hand at a wide range of exciting craft activities and watch a number of different craft demonstrations and masterclasses by some of the UK's most prestigious makers.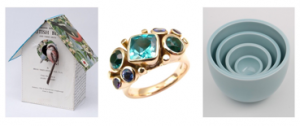 Make it in Wales and Adult Learning Cardiff are offering a range of workshops exploring a range of materials and techniques including jewellery making, stained glass and mosaic making. We are also honoured that, World renowned, Welsh potter Walter Keeler, will be giving a masterclass making his powerful and exquisite pots as well as South Wales textile artist, Michelle Griffiths, explaining the intricate and fascinating technique of shibori indigo dying. There will also be a range of makers demonstrating their craft where pottery, jewellery, leather work, stained glass and textile techniques will all be explained.
Made by Hand is part of a portfolio of events organised by Made by Hand Events Ltd which includes the multi-award winning Contemporary Craft Festival in Bovey Tracey and Made by Hand, Cheltenham. The Contemporary Craft Festival has just celebrated its 15th year and has established itself as one of the leading craft events for buying contemporary craft in Europe.
Sarah James says: "Made by Hand has become synonymous with quality and the unique, meeting the makers behind the work is one of the main reasons why so many people come to the event. I particularly love our programme of workshops and demonstrations at City Hall and this really bring craft skills and making to life, which is an important part of what we do"
Made by Hand is produced in association with Cardiff Council, Llantarnam Grange Arts Centre, madebyhandonline.com, Potclays, Make it in Wales, Kings Monkton School and Adult Learning Cardiff, Kin +Ilk, Brickworks and Axminster Tools & Machinery of Cardiff. For information, including details of exhibitors visit www.madebyhand-wales.co.uk
---
Made by Hand, City Hall, Cardiff, takes place from 2nd to 4th November 2018
Open Friday & Saturday 10-5pm & Sunday 10am-4pm
Adult daily ticket £7, concession £6
Adult Super Saver Weekend Ticket £13, concessions £11
Accompanied Children Under 18 FREE