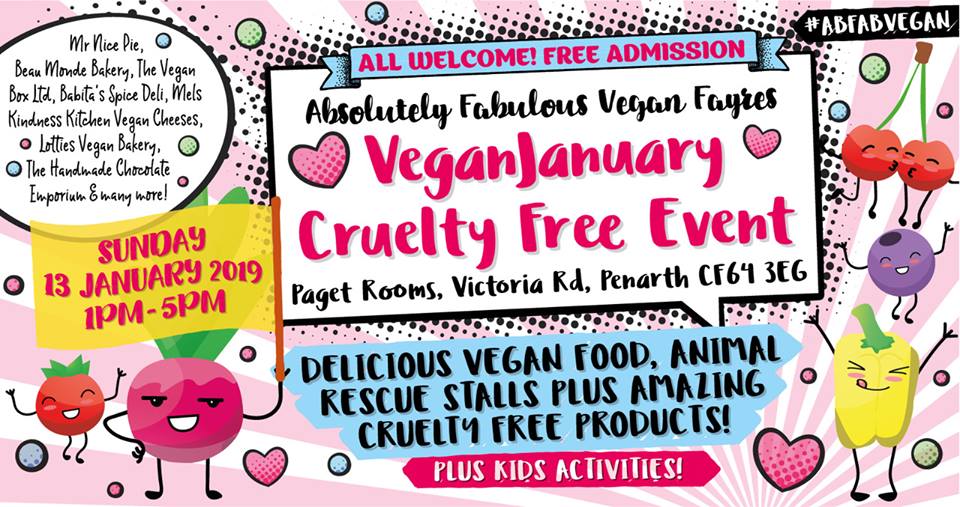 VeganJanuary Cruelty Free Event
You will love VeganJanuary
160 FREE VEGAN EGGS-100% PLANT BASED EGG REPLACERS-GIVEN TO THE FIRST 160 ADULTS TROUGH THE DOOR-THANK YOU FOLLOW YOUR HEART FOR THIS GENEROUS GIFT TO US.
Full of amazing Cruelty Free Stalls
Upstairs-Hot food
Great place to lunch etc
The Vegan Box Limited & Those Vegan PizzaGuys take over the Kitchen
Babita's Spice Deli-Gluten Free Indian & Asian Food,However-Samosas not gluten free.Spices & Herbs freshly ground etc0Also talk to Babita about booking her Cookery Courses at Swansea
Grady Atkins-Bodloni.com-Grady-a wonderful Chef with amazing soups for you to sample & buy
Downstairs
In the Foyer-Children & Adults love Pottery Painting with Dunwich Pottery.
FAUNA WILDLIFE RESCUE-Vikki FAUNA/ANIMAL RIGHTS-leaflets-Badges.Mugs etc. Please support this amazing stall
Sax For Fun-to play saxaphones from 1pm until 4pm on stage. Jazz,Reggae,Blues etc
Cakes,refreshments,Mr.Nice Pie,Vegan Cheeses,The Handmade Chocolate Emporium-gluten Free vegan Chocs,Cruelty Free Makeup.Skincare,Household products from norwex & Animal rescues have FREE STALLS. Please support them.Vegan Web Design-Illustrators,Organic Fruit & veg,refreshments, Free stall given to Eat Ouit vegan wales-selling their Cardiff vegan Guides,Cookbooks & giving samples of Non Dairy etc.
Raffle Prizes would be amazing,Donations & New Supporters for the Animal Rescues -Cat Food etc for the cat stall & anyone who might like to help them etc.All hmes vetted for animals-cats-dogs etc need homes.
Please telephone Sue for more information 02920 709292.We would love to hear from you,.
I shall dress in my Cow onesie for this one to meet & greet. I always dress for the occasion.