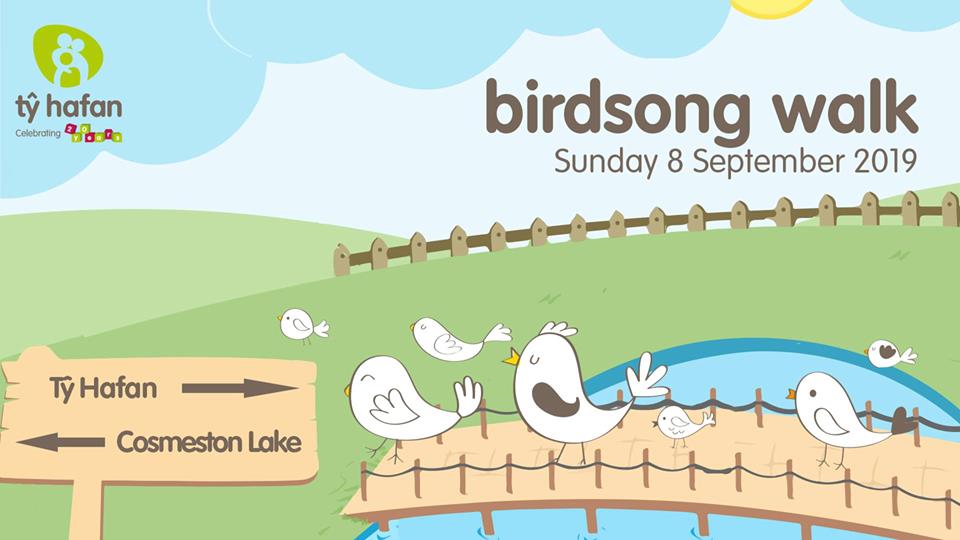 TÅ· Hafan Birdsong Walk
Walk 10K for TÅ· Hafan at the first ever Birdsong Walk!
Join TÅ· Hafan on Sunday 8th September 2019 and walk 10k with friends and family from the beautiful TÅ· Hafan grounds in Sully to Cosmeston Lakes and back. After the walk you can enjoy a picnic and activities on our lawn – a lovely morning out for all the family!
(5k route option will also be available on the day).
Every participant will receive a free Birdsong Walk t-shirt!
Individual tickets £7.50
£5 for groups of 4 or more people
(£20 sponsorship target – sponsorship raised will go to TÅ· Hafan Children's Hospice)
Ticket price includes an exclusive Birdsong t-shirt!
(Under 5's are free – please note under 5's will not receive a t-shirt)
REGISTRATION IS NOW OPEN – sign up today at
www.tyhafan.org/birdsong-walk/
(Start at finish point is at TÅ· Hafan, Hayes Road, Sully CF64 5XX)