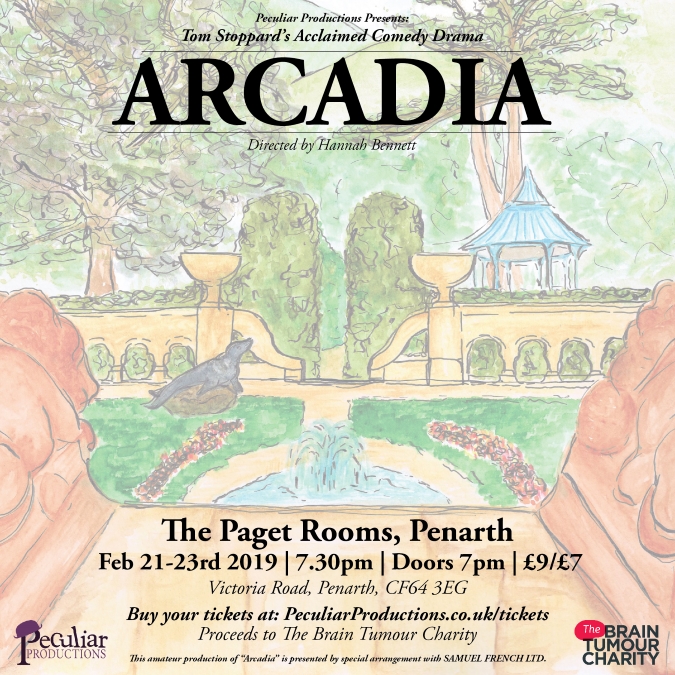 Tom Stoppard's 'Arcadia'
Peculiar Productions presents Tom Stoppard's fascinating and witty comedy, Arcadia. Winner of the 1993 Laurence Olivier Award, Stoppard's script is a sparky, intellectual masterpiece from one of the UK's most talented playwrights.
At Sidley Park in 1809, the house is rife with intrigue and happenings, as the infamous Lord Byron is staying with the Coverly family. Whilst the gardens are being redesigned – much to Lady Croom's distress – the youngest daughter, Thomasina, is being tutored in the classics by Byron's friend, Septimus. Two centuries later, a group of academics convene at the same location to discuss the events that followed: did Byron take part in a fatal duel? Is the story of the mysterious Sidley Park hermit really just a myth? And who was spied with Mrs. Chater in the gazebo?
Tickets are available at peculiarproductions.co.uk/tickets
Directed by Hannah Bennett
Proceeds from this production will go to The Brain Tumour Charity 
Please note: this production has a minimum recommended age of 15, due to strong language. There will also be flashing lights during the performance.
For more information or for any enquiries, contact info@peculiarproductions.co.uk