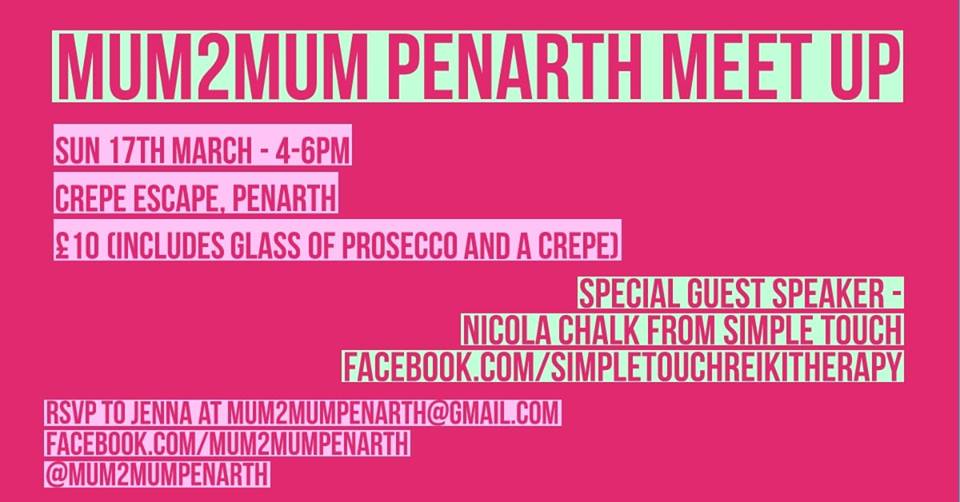 Mum2Mum Penarth – March Meet Up
Penarth and Cardiff Mums! Come along to our next Mum2Mum Penarth Meet Up on Sun 17th March, 4-6pm at Crepe Escape, Penarth. Its £10 and includes a glass of prosecco and a crepe ? ?
Come and relax, chat to other mums, share experiences and talk about self care – leave the kids at home and have some time just for you, you deserve the break!
Our special guest speaker is Nicola Chalk from Simple Touch, who will be talking to us about how kinetic shift can help us with the challenges of motherhood. Kinetic shift is a therapy which is based on a hypnotherapy technique to remove unwanted behaviour such as stress, anxiety, feeling overwhelmed etc.
At this meet up, I'd like every mum that is coming along to bring a donation for The Hygiene Bank, a charity which collects new, unused and in-date hygiene essentials, beauty and personal care products. List of suggested donations here: (https://www.thehygienebank.com/products-we-collect).
I feel like as a group of mums, it's a great opportunity to help families who are in need. The donations will be a regular thing which I hope to incorporate at each meet up. Thank you ?.
Looking forward to seeing you there, confirm via FB or message me to confirm your place, Jenna x