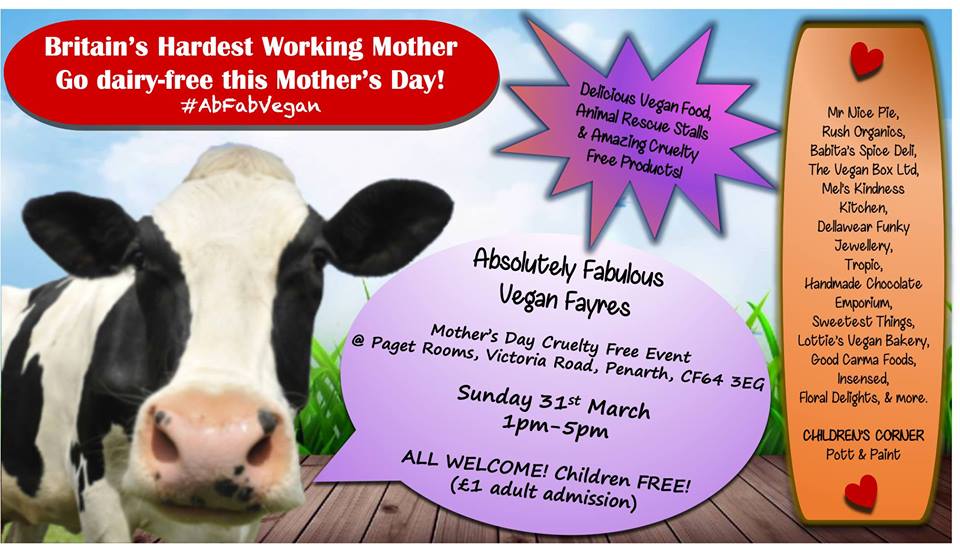 Mother's Day Cruelty Free Event
Fabulous Day Out For All the Family
140 FREE VEGAN EGGS (Egg Replacers)-kindly donated by Follow your Heart given to the first 140 Adults through the door.These retail n many places at £7.99 each
100 FREE VEGAN JELLY CRYSTALS-Strawberry, Lemon etc give to the first 100 people to donate or buy raffles from the Hillside Stal I will run-Thank you Just Wholefoods-Their fab new Jellies.
Emma davies has a great draw FREE ON RUSH ORGANICS STALL-No purchase required-just write your namer & address on a piece of paper. She will contact the winner-Fab basket of her wonderful bars etc. So lovced at the veganJanuary event.
Omnis-Veggies & vegans love our events.Come & discover amazing Food -Cakes,Organic fruit & veg from local Windsor Fruit Stores-Penarth-great Family Business-who also sell amazing vegan Goodies & will sell flowers etc too.
Cakes-Pies & Savouries
Beau Monde Bakery Glebe Street Penarth-Sweetest Things,Lotties Vegan Bakery,Mr Nice Pie,Daddies Lil Pickle Gluten Free savouries-amazing Pastry chef.
Florianda-The Pumphouse,Penarth Rd Cardiff-Gina & her amazing shrubs in china & flowers etc.
Refreshments
Ve wilde Cafe-Whitchurch Cardiff
Hot Food Upstairs
tables & chairs laid outwhy not have lunch from 1pm -Those vegan Pizza Guys take over the kitchen-love their Margherita,Barbecue Chickun,Garlic Mushroom & more.Vegan Box limited Caerphilly-Sticky Ribz,Kebaps, Facun Pancakes,Iced Slices & more. also in the kitchen. Babita's Gluten Free Vegan Northern Indian & Asian Style hot food-a regular at our events. people travel miles to enjoy this.Samosas also-however-not Gluten Free.
Gluten Free Chocs
Homemade chocs-made by Newport Chocolatier Irene Duncan-come & samplethese wonderful chocs.. £10 for Box Of 12. Or £5 for box of 6. Heaven in a box.
Fab double stall of jewellery. You will love the range of silver rings & fab handcrafted Jewellery made in Cornwall & England. Theres has a fab selection for everyone.
Carft by wendy-Penarth-Elemolicraft-plant covers crochet -not wool-acrylic-All vegan-aprons & lots of sweet baby bootees & hats etc.
Eccentric Gin-Superior Gin-Different sizes. Distilled in Vale of Glamorgan. Great cardiff Gin etc. Rhubarb,pink or Violet Gin. You will love if you like Gin.Now sold on Arriva Trains.
Nu-Eco Ltd-Barry Based-Household Cleaners., Pet Shampoos etc -all aproved by Beauty Without Cruelty. No chemicals etc.
Norwex-Household porducyts etc
Make-up-Skincare-Soaps etc
Tropic,Bohemian Chic minerals,Sey Beaute Naturell & Perfumes,Rush Organics-Shampoo & Conditioner Bars,Ino Scents-Moisture Bars-amazing -childsafe for children .Hedge Witch,Insensed.
Children love Nicola Hale's pottery Painting stalls in the foyer-aprons,acrylic paints & pottery wheels supplied. Choose a Bisque model to paint-£2.50 to £5.Take your fab work home. Nicola is from castle avenue Penarth_Dunwich Pottery. She was at the Amelia Farm Trust. Beautiful pottery, & takes on commissions too
Animal Rescues -FREE STALLS GIVEN
Hillside Animal Sanctuary-New Goods & raffle-my great friends I always fundraise for who saved many Welsh horses for me I fought for.
FAUNA-WILDIFE RESCUE-VIKKI FAUNA ANIMAL RIGHTS
RozMogz Cat Rescue Cardiff
Of course I always dress up. Yes-My Cow Onesie comes out for the day. I will Meet & Greet.
Please telephone Sue if you can help with the Animal rescue Stalls-Donate Cat Food on the day or Cat items to sell for the cat stall please.Newsletters from Hillside to be given out etc.
Wonderful Cheeses to try from Mel's Kindness kitchen from Bristol.Good Carma Foods have amazing Parmesan style toppings & have amazing Cheese spreads-available in waitrose too & gluten free. Won awards for these products too.
.,