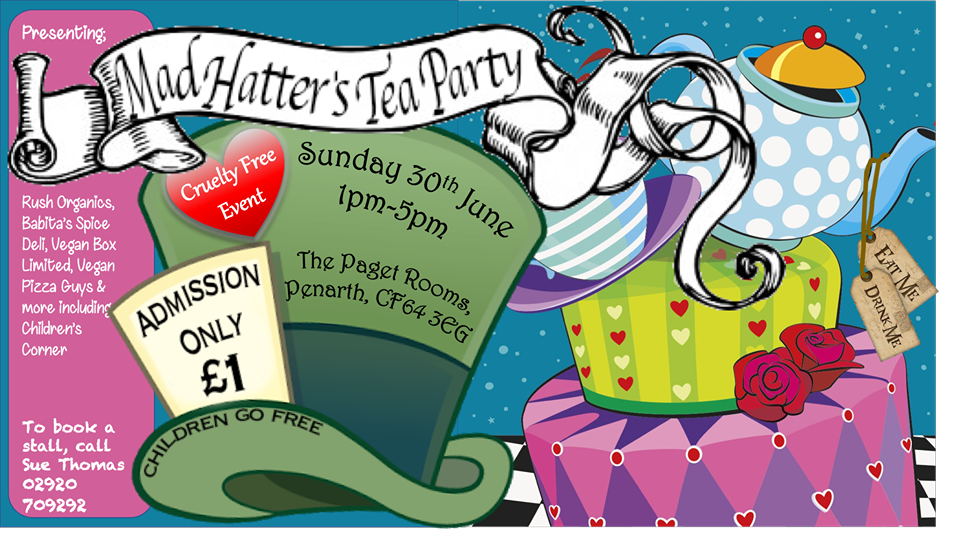 Mad Hatters Tea Party
I will Meet & Greet as the Mad Hatter-A few Stallholders will be Mad Hatters,Alice & a Cheshire Cat.Why not have fun & dress up too.Adults & Children -we need more Characters.
We will have Sax For Fun-(On stage from 2pm-5pm).Amazing Saxaphones playing Jazz-Blues-Reggae & popular songs including Robbiw Williams etc. (Usually 7 players & they do wear Mad Hatter Hats etc). Many love their Music.
The Foyer
The foyer has tables set out-aprons-Pottery Wheels-Acrylic Paints & Bisque Wonderland character models to choose to paint & take home your works of art.Potter Painting for children aged 3 upwards to Adults love Nicola Hales Craft stall-Choose your model to paint from £2.50 to £5. You may know Dunwich Pottery from the Amelia Trust-where she used to be. Nicola is Penarth based.,Great Pottery also for sale.
Biodegradable Glitter Makeup & Glitter Face Painting for Children & Adults-reasonably priced Crafts-Make Card Bunting-Mad Hatter Hats-Colouring & more.The Mad Hatter Fun Corner from S & J (GlitterCraft).The Mad Hatters Corner will be dressed & themed.
Hillside Animal Sanctuary-I always run a stall for Hillside who saved many horses I fought for in this area.New Merchandise for sale-beautiful Horse Cards-just £2 for a pack of 6. Heavy Horses (pack of 6)£4.Fridge magnets,Horse Key rings & more. FREE NEWSLETTERS to join etc.
www.hillside.org.uk
Whispering Willows Sanctuary (Pontardawe)
Amazing new Horse rescue in Pontardawe, Saving many horses & ponies .We will have a Raffle for this wonderful Rescue. Already have Port-the Bosch Vegan Cookbook. Vegan Wine.Windsor Fruit Stores always give a wonderful prize.Fab Shoulder bag with dogs on & more.(Free Stall Given)
UPSTAIRS-HOT FOOD-REFRESHMENTS
Why not have lunch?Also takeaways available. Tables & Chairs set out.
Vegan Box Limited (Caerphilly) take over the kitchen again with Those Vegan Pizza Guys.
Babita's Spice Deli-from Swansea-Has been a regular at all my events for 5 years. Gluten Free Vegan only- Indian & Asian (Northern style food). However-Samosa not gluten Free.I love the Alloo Tikki Chaat-
Refreshments-Crepe Escape-Glebe Street, Penarth-Vegan only-Coffees & soft drinks. No Dairy!! Mylks-Soya,Almond,Oat etc.Scones with vegan Cream & Jam, & wonderful Homemade slices of cake.
Downstairs-Cold Food
The No Meat Steak Company-from Brecon-1kg Vegan Roasts,Various cuts of vegan steaks including the Chateau Steak 12 oz-Chinese five spice Pulled Beef (Not Beef),Burgers,& more.
Alice's Vegan Kitchen-from Gloucester-Quiches,Frittata,fruit Tarts & more.
Daddies Lil Pickle-Danielle is a Pastry chef. Will sell lots of Gluten Free pastries. Hear she is The Queen of Hearts & her son The Cheshire Cat.
Happy Daisy Food -from Gloucester-Award Winning pies-her newest ones too Mac N Cheese-also Mushroom Stroganoff pasties & wonderful cakes & Muffins.
Mr Nice Pie-Port Talbot-Great news-will be selling their latest pies-made with Soya-Mince & Onion,Drunken Mushroom.Morrocan Tagine.Sweedey Todd & rendang Curry. They sell out fast.
Grees Vegan-Nic Janicijevic & Jo Greenaway-Business Partners will be having space with us-can't wait to try the Coconut Homemade Ice Cream in colours.Mad hatter Ice Cream hats.Of course they will be Mad Hatters with a fab themed stall, Cannot wait for their fab new place to open at Number 10 Windsor Place Cardiff. Will book a party once we know., So central for us in Cardiff too.100% Vegan-this is my type of business. I really only want to go to 100% Vegan places myself.
Windsor Fruit Stores Penarth-I love this Magical shop in the Windsor Arcade, Family Business I love to support, They sell the best Organic fruit & veg-and deliver FREE in Penarth (Orders over £10) They always have a fab double stall & sell amazing Vegan goodies. My favourite shop-well -I live in Cosmeston & they sell so so many Vegan goodies now & fridged vegan things I buy also.
Naked Vegan (Bakery) Mermaid Doughnuts I love & sell out fast. Cardiff Based.Pretty Cupcakes & amazing White Rabbit Biscuits etc Always at my events now.
Sweetest Things (from Dudley) West Midlands, came to veganJanuary etc. Sold out fast., Wonderful protein Bars. Cookies,Cakes including the best Viennese Whirls & Jaffa cakes.
Irene Duncan-Chocolatier from Newport makes amazing Vegan Gluten Free Chocs-Boxes of 12 £10. Boxes of 6 £6. Worth every penny. Come & sample.
Craft Stalls
Cards-Li Ang-from Polaroid
Sea Sun & Me
Cara's Creations
Makeup & Skincare
Tropic-Lynne Rogers
Neals Yard-Ruth Ford
Soaps-Shampoo Bars etc
Rush Organics-Emma Davies-Shampoo Bars-Conditioning Bars etc
Hedgewitch-Jodie Owens-Soaps-Bath Salts,Incense sticks etc
Household-Cruelty Free
Norwex
Jewellery
Double Stall-Dellawear Funky Jewellery-Therese has a great selection of Silver ringsetc people love .Lots of wonderfulHand Crafted jewellery from designers across England & Cornwall.
Telephone Sue 02920 709292 for more information-or to book a stall., Nearly full now though.
Also would love to hear from you if you can help with the Animals Rescue Stalls-Donating Raffle or new goods for the Animal Rescue stalls. Sell Raffle tickets etc.Also-giving out flyers etc.Please telephone Sue 02920 709292