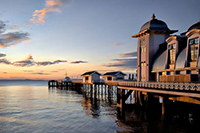 Low & Slow 5K
Get away from the desks, stretch the legs and burn some calories!
A relaxing scenic trot through Penarth, the seafront and the train tracks. The run will be enjoyable, pushing your limits only slightly. No egos. No heroes.
This is a team effort, we stay together and support each other throughout.